Best Bets June 2011
Your best bets for what to see and do this month.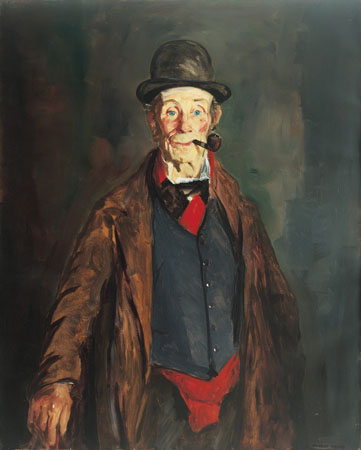 Mint Museum Uptown
Though he was born in America, the early-twentieth-century painter Robert Henri spent twenty-five years of his career visiting and studying the Emerald Isle. He was a master at painting dark, provocative portraits and landscapes that celebrated Irish culture. This month, the Mint Museum Uptown features Henri in From New York to Corrymore: Robert Henri and Ireland, on exhibit until August 7. Details here.
Kenny Chesney

Now considered a prince of country pop, this Tennessee-born superstar has released fifteen albums and won hearts with hits like "When the Sun Goes Down" and "She Thinks My Tractor's Sexy." When he hits the stage donning his signature straw hat and coy grin after opener Billy Currington, it'll be a classic, all-American summer soundtrack. June 2 at Verizon Wireless Amphitheatre. Details here.
Shrek the Musical

This national touring musical, which launched in London, takes the animated saga's quirkiest characters and sets them to an all-new score, including "What's up, Duloc?" "Freak Flag," and, of course, the incessantly feel-good "Accidentally In Love." The kids will love a chance to relive their favorite fairy tale, and you'll enjoy the same subtly grown-up humor that made the movies great. June 14-19 at Belk Theater. Details here.
[title of show]

When a nasty case of writer's block got Hunter Bell and Jeff Bowen down, they decided to turn it into a building block for a new show that's all about the creative process. The meta-musical, on stage at Actor's Theatre of Charlotte this month, follows Bell and Bowen as they watch their theatrical brainchild go from blank paper to Broadway. June 8-25 at Actor's Theatre of Charlotte. Details here.
Ryan Bingham and the Dead Horses

Until this singer-songwriter from the Southwest won an Oscar for his song "The Weary Kind" in Crazy Heart, his career wasn't unlike that of Jeff Bridges' character in the movie. Bingham sang plenty of rugged tunes in equally rugged bars until his first major album, Mescalito, caught the ear of T-Bone Burnett. T-Bone just produced Junky Star, Bingham's first album with his backup band, the Dead Horses. June 7 at Amos' Southend. Details here.
Neon Psalms

In this dark, desert comedy by Thomas Strelich, Luton and Patina Mears busy themselves with in-trailer turtle racing, prayer, TV, and watching their grown daughter (also in-trailer) spin out of control. It's a quirky show of Napoleon Dynamite desolation, but its thematic oomph makes it worth a ticket. Plus, this will be Carolina Actors Studio Theatre's first production in their new NoDa location. June 16-July 19 at Carolina Actors Studio Theatre. Details here.
Def Leppard

The public's continued reverence for this British band's hard-edged but melodic brand of rock ′n′ roll (and the record-breaking sale of their albums) proves that nothing is quite as timeless as a great power ballad. After hitting explosive fame in the 1980s and 1990s, Def Leppard has spent the last ten years entering various Halls of Fame, releasing compilation albums, and touring the world. June 22 at Verizon Wireless Amphitheatre. Details here.
Owl City

Owl City's wistful, electronic songs (including "Fireflies" and "Vanilla Twilight") have been capturing romantic imaginations for the past two years, making it almost disappointing to learn that the "band" is actually Adam Young, a twenty-something from Minnesota who started synthesizing the now-hit tunes from his parents' basement in 2007. The (literally) underground songwriter will release his latest album, All Things Bright and Beautiful, just a few days before his Charlotte show. June 17 at The Fillmore. Details here.
Harvey B. Gantt Center for African American Arts + Culture

This is the last month to catch both The Art of Maria Magdalena Campos-Pons and Black Music After 1968: The Photography of Jim Alexander. The first features the multimedia, socially charged works of Campos-Pons, a Cuban expat who was fascinated with the role of femininity in racially mixed societies. In the second, you'll see striking images of Duke Ellington, Michael Jackson, Ray Charles, and more, all taken from Alexander's fifty-year career. Details here.