Best Bets June 2012
Your best bets of what to see and do this month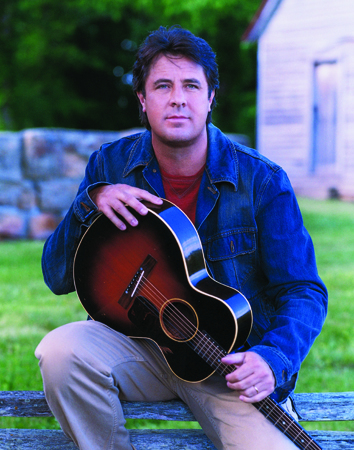 The country star has said that he traded in bluegrass for country because there was no money to be made in the former. Now that he has made a comfortable living off of country music, he can afford to return to his roots. He's covering Bill Monroe, the Stanley Brothers, and other bluegrass greats on this tour. He's breaking out the mandolin, too. June 17 at Knight Theater.
CHARLOTTE SHAKESPEARE FESTIVAL: THE TEMPEST
Every summer, The Green gets converted into a grand, outdoor set for the staging of Shakespeare. This year, the urban oasis becomes an island at sea. The mood is both festive (people bring their own picnics) and reverential (we are, after all, witnessing the work of greatest playwright the world has ever produced). In this somewhat convoluted offering, there are fights and forgiveness, but ultimately, as the Bard himself said, "All's well that ends well." It's free, but a minimum $5 donation is encouraged. Through June 17 on The Green.
READ MY PINS: THE MADELEINE ALBRIGHT COLLECTION
Any serious lover of bling should not miss the opportunity to see the former secretary of state's astonishing pin collection. The exhibit tells a story of American diplomacy through one powerful woman's jewels—more than two hundred of them in fact—that she chose based on the messages she wanted to send. Every politician is expected to wear an American flag lapel pin these days. Albright's pins outshine them all. June 30-Sept 23 at the Mint Museum Uptown.
THE ODD COUPLE (FEMALE VERSION)
Twenty years after the original, Neil Simon gave women their due in his female version of The Odd Couple. Florence Unger and Olive Madison (spouses of the original mismatched friends) get together for Trivial Pursuit in Olive's messy apartment. The recently separated Florence moves in. Just as in the original, when one roommate has OCD and the other is slovenly, it leads to big laughs. Any time a play by the witty Simon—playwright of Brighton Beach Memoirs and Biloxi Blues and screenwriter of The Goodbye Girl—is staged, it's a good reason to head to the theater. June 14-24 at Theatre Charlotte.
Prepare to be rocked. With tongues planted firmly in cheeks, Jack Black (of School of Rock and Kung Fu Panda) and Kyle Gass play their hearts out and spoof the heavy metal genre at the same time. Common themes in their music are how powerful they are on stage—and in the sack. With songs like "Deth Starr" and "The Government Totally Sucks," you can expect a heavy dose of humor along with the metal. June 26 at The Fillmore.
Once a year, Charlotte gets a dose of comeuppance. But the sketch comedy and musical revue is all done in the spirit of fun and good humor, thanks to WFAE's Mike Collins. This ought to be prescriptive medicine for Charlotteans—before the national media has its way with us during the DNC. If you can't laugh at some of our foibles—the money pit the NASCAR Fall of Fame turned out to be, the economic woes brought on by the banks we used to be so proud of—you'd have to cry. Photo courtesy of Blumenthal Performing Arts. June 8-30 at Booth Playhouse.
This country trio put drunk dialing on the charts with their lovely, if not desperate, ballad "Need You Now." The Grammy-winning darlings got their start singing backup for adult contemporary pianist Jim Brickman. They sound nothing like him now. Photo courtesy of ladyantebellum.com. June 9 at Verizon Wireless Amphitheatre.
This one-woman play by Pulitzer Prize finalist (for 2006's Red Light Winter) Adam Rapp recounts the story of sixteen-year-old Bernadette, an aspiring writer, who travels by train to deliver some important news to her boyfriend. The audience is along for the ride as Bernadette shares her encounters, and we come to feel her need to simultaneously be noticed and to disappear. This play proves true the old cliché: It's not so much about the destination—it's the journey. Photo by Shannon J Hager. Through June 23 at CAST.
A 1950s girl group called The Wonderettes—Billy Jean, Cindy Lou, Missy, and Suzy—is called on to perform as a last-minute replacement at their senior prom. The off-Broadway musical contains popular songs from the era of bobby socks, poodle skirts, and drive- ins. "Lollipop," "Dream Lover," "You Don't Own Me," "Wedding Bell Blues," and "It's My Party" are among the feel-good numbers from an age of innocence. Here's to girl power! Photo courtesy of The Marvelous Wonderettes. June 6-23 at Actor's Theatre.
The boy—even when he has a hirsute face only a mother could love—always gets the girl in Disney productions. You know how the story ends, but who doesn't need a little "happily ever after" these days? Broadway Lights' final production of the season features the animated film's Academy Award–winning score. Your daughters and nieces are going to insist on seeing the princess tale, but there's plenty of pageantry and sweetness for adults to appreciate too. Photo courtesy of Blumenthal Performing Arts. June 26-July 1 at Belk Theater.