Best Bets May 2011
Your best bets for what to see and do this month.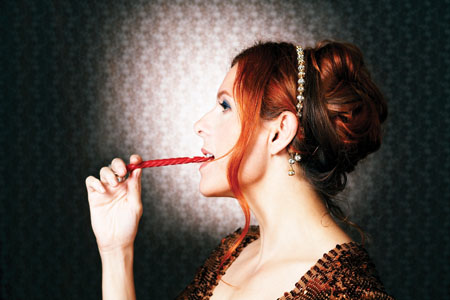 Neko Case
Indie music connoisseurs will recognize this acoustic redhead from her days as the vocalist for the New Pornographers, but her solo career has earned a regal reputation among alt-country diehards. Her latest solo venture, Middle Cyclone, picked up a 2010 Grammy nomination for Best Contemporary Folk Album. May 19 at Knight Theater. Details here.
The Flaming Lips

While alt-rock tunes like "Psychiatric Explorations of the Fetus with Needles" have generally proved a little too offbeat for Kiss FM, the Flaming Lips have one of the most reverent cult followings in the country. Since their 1993 breakthrough, "She Don't Use Jelly," the Oklahoma-born group has permeated the indie underground with albums as bizarre and engaging as their wacky, unpredictable live concerts. May 17 at the Fillmore. Details here.
The Mint Museum Uptown

This is the last month to see Janet Biggs: Going to Extremes, a collection of four works from the NYC-based video artist. Biggs travels to the ends of the earth to film shocking stunts (a high-speed motorcycle ride across the Bonneville Salt Flats, for example), but you'll want to catch the Mint-commissioned work, Duet, which zooms in on NASCAR pit crews. Through May 29 at Mint Museum Uptown. Details here.
Charlotte Roller Girls

Be warned: this is not the "ladies only" spin around the local skating rink of your youth. Charlotte's girls-only derby team is in the midst of its fourth competitive season, and will have a high-speed "bout," as they're called, against Charleston's Lowcountry Highrollers. May 7 at Grady Cole Center. Details here.
Rent

You can measure a life in coffee and minutes, but the best way to determine this Broadway blockbuster's success is by counting up its twelve touring years and four Tony Awards. While this won't be the bohemian rock show's first appearance in the Q.C., Theatre Charlotte's production will mark the first time a local theater company has taken it on. May 13-29 at Theatre Charlotte. Details here.
H.M.S. Pinafore

Sopranos and sailors will mingle on stage in this classic Gilbert & Sullivan production. Set aboard the Royal Navy's H.M.S. Pinafore, this upbeat opera tells the story of a captain's young daughter and her fraternization with a lowly sailor—a match that dear old dad doesn't approve of. This is Opera Carolina's third and final production this season. May 12-15. Details here.
METLive

If you crave the sun and socializing of Alive after Five but could do without the volume and Jack-and-Coke consumption, this Thursday-night spring concert series might be just what you're looking for. Local acts, Billy Joel tributes, and Motown montages are on the lineup this season, and with the Little Sugar Creek Greenway now open near the Metropolitan, there's plenty of grassy space to lounge on with buddies and beverages. Thursdays from 6:30 to 9:30 p.m. through May 26. Details here.
Panic at the Disco

This emo-pop boy band from Las Vegas infiltrated Top 40 stations with songs like "I Write Sins Not Tragedies" and "Nine in the Afternoon" in 2005. Though they lost two of their four original members in 2009, they rallied enough talent to pull together another upbeat album this year, Vices & Virtues. May 31 at the Fillmore. Details here.
Charlotte Symphony Orchestra

It's not often that you can bribe the kids into a classical music concert with the promise of cartoons. The CSO's Bugs Bunny at the Symphony concert, however, will feature a program of Looney Tunes … well … tunes, along with screenings of the classic animated shows starring Elmer Fudd, Tweetie Bird and the rest. Conducted by George Daugherty. May 19-20 at Belk Theater.
Agnes of God

With an intimate, atmospheric auditorium and themed lobby décor, Carolina Actors Studio Theatre is one of Charlotte's best spots to see a dark, underground drama like this one. Written by John Pielmeier in the early 1980s, the story follows the investigation of Dr. Martha Livingstone, who's called to a convent to determine whether a dead baby (discovered outside the church's door) was, as the Mother Superior claims, a divine birth. Through May 21 at Carolina Actors Studio Theatre. Details here.