Best Bets May 2013
Your best bets on what to see and do this month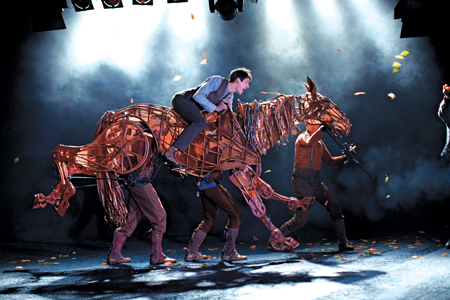 Before it was a Steven Spielberg blockbuster, War Horse was one of the most talked-about stage shows in the country. The story about a boy who must travel into the battlefields of World War I to retrieve his beloved horse is heartfelt and powerful. And the innovative use of a puppet to animate the horse onstage will take your breath away. The production stirs something inside audience members, reminding them of a time when they were overcome with youthful energy, passion, and love. May 28-June 2 at Belk Theater.
A movie's score can be just as integral to the story as any actor or line of dialogue. Music can heighten a scene and create a sensory memory that can become impossible to shake. Just a few opening notes of the sawing cello from Jaws can make you fear the ocean all over again. The Charlotte Symphony will perform some of the most famous movie scores in recent memory, allowing the audience to re-live some of their favorite film moments. May 3-4 at Knight Theater.
Since forming in 2004, this alt-rock band has been a critical darling. The group's soulful and haunting songs about misplaced love, longing, and the fear of losing something as we age have helped them grow a sizable and loyal following. The band is touring to support its fourth album, Mirage Rock, but expect to hear plenty of early hits as well.
May 10-11 at Fillmore Charlotte. Details on page 35.
Many people have compared this acrobatic and athletic stage show to the popular Cirque Du Soleil series. While the comparison is apt in many respects, Traces is grittier and more frenetic than the French-Canadian spectacle. Part of the Duke Energy Broadway Lights Series, Traces is enthralling from beginning to end. The unrelenting pace and mind-bending action have helped this show become one of the most popular touring acts in the country. May 7-19 at Knight Theater.
Details on page 36.
Jonathan Green has an astounding ability to capture the Lowcountry in a vivid array of colors. As the Gullah people of South Carolina have seen their numbers dwindle and their children assimilate into the Southern backdrop, artists like Green have been instrumental in keeping the history and perspective of the people alive through their work. Don't miss this show. Through June 22 at the Harvey B. Gantt Center for African American Arts + Culture.