Best Bets September 2011
Your best bets for what to see and do this month.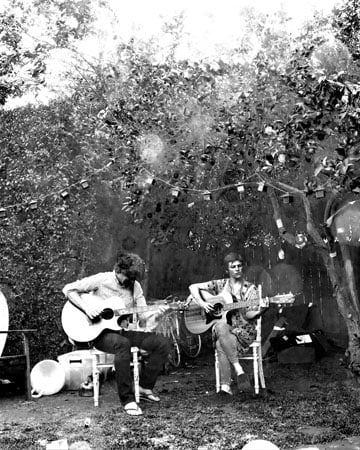 Singer-songwriter Bruce Cockburn is probably known as much for his humanitarian work as his music. "Each One Lost" and "Comets of Kandahar," from his most recent (and thirty-first) album, Small Source of Comfort, derive from a 2009 trip to Afghanistan. His songs have been covered by artists as diverse as Barenaked Ladies, Jimmy Buffett, Ani DiFranco, and fellow Canadian k.d. lang. His music doesn't fit neatly into any one genre, having dabbled in reggae, jazz, rock, blues, folk, and country in his long career. The one constant is the political tone of his lyrics. September 9 at McGlohon Theatre.

The most famous artist Charlotte has ever produced would be 100 years old this year, and the Gantt Center for African American Arts + Culture is marking the milestone by dedicating three exhibitions to the master. One showcases his seldom-seen watercolors and prints. (Bearden was primarily known for collage.) Photographs document his private life and civil rights advocacy. Beyond Bearden: Creative Responses looks at the artists he influenced. Spend a couple hours here and a couple more with the retrospective at the Mint Uptown and you'll have a full immersion into the work of one of the giants of modern art. Gantt Center through January 22.
You've probably heard The Weepies without realizing it. Deb Talan and Steve Tannen (husband and wife, as well as partners in the indie pop-folk group) have had their songs featured on more than 100 TV episodes (Grey's Anatomy, Brothers and Sisters, Gossip Girl) and movies, plus an Obama campaign ad. They were already making names for themselves individually when they met in Boston in 2001. Since becoming parents, they rarely tour—which makes their intimate, acoustic show in Charlotte an even brighter gem. September 7 at McGlohon Theatre.
Yes, it's really about what you think it's about. Sarah Ruhl's play about the invention of a certain device was nominated for a Tony for "Best Drama" in 2010. The implement was actually a prescription for "hysteria" in Victorian-era women. Dr. Givings treats his patients with the new gadget in his office, while his wife is in the next room (hence, the play's title), wondering what all the fuss is about. A sensitive look at marriage, motherhood, and intimacy. September 9-October 1 at Actor's Theatre.
If you're prepared to settle in for the three-hour-and-twenty-minute duration, you're in for a roller coaster theatrical experience. Director Michael Simmons warns that you'll need a seat belt for the bumpy ride Tracy Letts's Pulitzer- and Tony-winning dark comedy provides. Beverly Weston, the patriarch of an Oklahoma family, has gone missing, and as his clan gathers to await news, addictions, dark secrets, and long-held grudges come to light. Maybe there's a good reason Beverly has taken leave. Through September 25 at Carolina Actor's Studio Theatre (CAST).
Life's unfair. Other people have had bigger hits with Kim Richey's songs than she has. Trisha Yearwood recorded her "Believe Me Baby (I Lied)," and Radney Foster scored a hit in 1993 with "Nobody Wins" (which he cowrote with her). The catchy postbreakup song "I Know" is the biggest hit she's had. If you haven't heard of the country crooner—or haven't heard her in a long while—now's your chance. Her new album, Wreck Your Wheels, is every bit as good as her earlier material. September 14 at Evening Muse.
From beloved bedtime stories to Broadway and now to the Charlotte stage, Dr. Seuss and his zany characters never get stale. The Cat in the Hat, Horton, the Mayor of Whoville, and Theodor Geisel's other creations are all here for the fun. (The Grinch makes a cameo appearance, too.) It's such a good time, your kids won't even realize they're learning about compassion, getting along, and honoring our differences. September 23-October 23 at Children's Theatre, ImaginOn.
There have been plenty of retrospectives of Romare Bearden's work over the years, but the Mint mounts the first one to examine how his native South influenced his work. Romare Bearden: Southern Recollections features about seventy-five works, including the collages he's famous for, paintings, watercolors, and prints from the Mint's collection, as well as private and public collections. Bearden is not only the most significant African American artist Charlotte has ever produced; he's the most important artist of any ethnicity our city can claim as our own. Through January 2012 at the Mint Uptown.
Thanks mainly to Bo Derek, Boléro is one of the most popular orchestral pieces of the modern era. The love theme from the 1980 movie 10 was originally composed as a ballet and premiered in 1928 at the Paris Opera. Fittingly, Boléro is the finale and follows Sarasate's Gypsy Airs, Carmen Fantasy, and two other pieces. Christopher Warren-Green conducts; Romanian-born (and CSO's own) Calin Lupanu is concertmaster. September 30 and October 1 at Belk Theater.

Grammy-winning Earl Klugh is a little bit jazz, a little bit R&B, a little bit pop. No matter the genre, he's a guitar wizard on par with the great Chet Atkins, who was, in fact, one of his early influences and collaborators. His latest CD, Spice of Life, has tinges of jazz (as you'd expect), Latin, and pop. He's recorded more than thirty albums in a career spanning three decades. September 16 at Knight Theatre.