Best of the Best: Charlotte Beer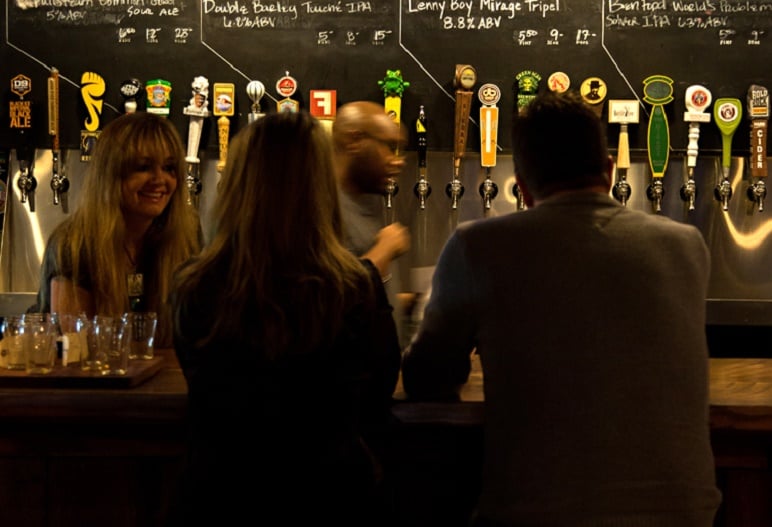 > New Concept
Craft Growler Shop and Tasting Room
Dan Davis's idea was simple when he opened Craft with his wife, Alyson: Put all of his favorite things under one roof, and hope others will like them, too. And because those things are 36 great taps, a stellar small plate menu (the charcuterie is phenomenal), and a specialty grocery/growler fill area, it didn't take long for Craft to become a must-stop for local beer lovers. 1320 S. Church St., 980-207-3716.
---
> Brewery
Olde Mecklenburg Brewery
Olde Mecklenburg opened a breathtaking 8.5-acre facility in August and later won a nationwide competition for "Best Brewery Tour." But what hasn't changed in OMB's new home is the beer. It strictly adheres to the Reinheitsgebot, which states beer may only be brewed with pure water, yeast, barley/wheat malts, and hops. 4150 Yancey Rd., 704-525-5644.
---
> Brewery Dogs
Maris and Maggie at Triple C Brewing Co.
If you ask your canine which brewery you should visit on a Saturday afternoon, he'll likely suggest Triple C. The two hostesses know how to throw a party. Maggie, the black labradoodle, and Maris, the Anatolian shepherd-chow-husky mix, hang out here. It's their turf, but they don't mind sharing. 2900 Griffith St., 704-372-3212.
---
> Brewery Snack
Peanuts at Birdsong Brewing Co.
Grab a beer; grab a bucket. The Rubbermaid tub full of salted, in-the-shell peanuts just inside the door of Birdsong Brewing's taproom (almost) steals your attention from the wooden placards listing the craft beers on draft. Last year, customers cracked 7,125 pounds of peanuts. That's nuts. 2315 N. Davidson St., 704-332-1810.
---
> Beer
Hop, Drop 'n Roll, NoDa Brewing Company
This beer continues to set the standard for craft beer in Charlotte—and arguably all of North Carolina. We're spoiled to be able to walk into nearly any bar or restaurant in our own town and order a World Beer Cup gold medal winner. 2229 N. Davidson St., 704-900-6851.
---
> Seasonal Beer
Honey Pie, Birdsong Brewing Company
Take three different hop varieties, add in more than 80 pounds of local wildflower and blueberry Cloister Honey, and what do you get? A tremendous double IPA from Birdsong, and one of the few reasons Charlotteans actually look forward to winter. 2315 N. Davidson St., 704-332-1810.
---
> Series of Beers
Triple C Brewing Company's barrel-aging program
From The Force to The Dude Imbibes to the most recent addition, the highly recommended Chocolate Covered Pretzel Stout, Triple C head brewer Scott Kimball is a master at creating top-notch barrel-aged beers. 2900 Griffith St., 704-372-3212.
---
> New Brewery
Sycamore Brewing
Sycamore opened in November with a party that seemed to bring out most of the city, and it's been operating at a breakneck pace ever since. The young brewery introduced more than 40 dynamic beers in its first four months of business. 2161 Hawkins St., 704-910-3821.
---
> Worth the Wait
Brawley's Beverage Tasting Room
Michael Brawley first filed a rezoning application for his new tasting room in 2012. Over the next two years, he did much of the construction work himself, and the result is stunning. Huge windows from floor to ceiling are a nod to the building's former life as a service station and help add to a setting that makes you want to stay and talk with one of the pioneers of Charlotte craft beer. 4620 Park Rd., 704-521-1300.
---
> Beer Bar
Duckworth's Grill and Taphouse
Its new uptown location opened in March with more than 150 taps, adding to the legacy of this local favorite, which now has five restaurants across the Charlotte area. But this spot has something else coming this month—a downstairs speakeasy-style setting that will be called The Cellar. With rare and limited-release beer on tap and a walk-in cooler full of special bottles, The Cellar is sure to change the city's craft beer scene. Multiple locations.
---
> Bottle Shop
Salud NoDa
Homebrewers and beer novices can feel comfortable at Salud. On any given day, the shop has hundreds of varieties in cans and bottles ready to take home. Don't rush out the door, though. Grab a pint from one of the dozen or so rotating taps and get owner Jason Glunt to point out something unexpected from his cache of brews. 3306-B N. Davidson St., 704-900-7767.