Best of the Best: Charlotte Shopping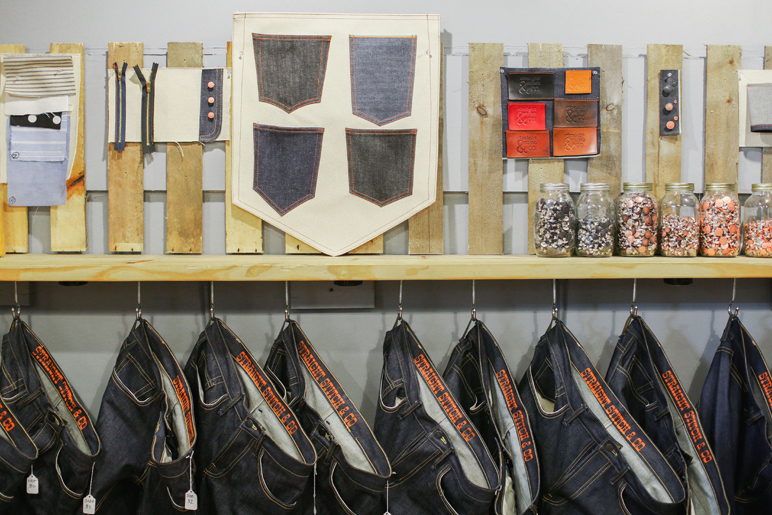 > Locally Made Jeans for Men
Straight Stitch & Co.
South Cedar, an unassuming street shadowed by Bank of America Stadium, has long been a haven for the city's design community. It's a suitable place for Stan Fraser, who turns out classy, hand-sewn jeans for men using mostly selvedge denim, made on a shuttle loom with a finished edge—making a "self-edge" or "selvedge" denim. Amid rustic walls, jars of buttons, rolls of fabric, and chalkboards displaying prices, Fraser sews and sells ready-made or bespoke jeans. Prices are lower than what you'd expect for something so labor-intensive: ready-to-wear jeans for less than $200 and custom starting at $299. 601 S. Cedar St., Ste. 205E, 347-551-4894.
---
> Place to Dress for the Boardroom (Men)
Abbeydale
What is it about a well-tailored suit that connotes power? Mark Twain said, "Clothes make the man. Naked people have little or no influence on society." When a suit or shirt fits like the custom-made ones from Abbeydale, it's hard not to feel more powerful. They're the kind of suits people notice—whether you're climbing the ladder or running the company. Influence away. 116 W. Fourth St., 704-737-4274.
---
> Store for Last-Minute Gifts
Green With Envy
Green With Envy helps take the pressure off gift-giving. Find candles, lotions, and décor for moms, or jewelry and novelty napkins with snarky comments for girlfriends. There are even fun gifts for guys, such as T-shirts with a local twist and superhero statues. And how cute is a strawberry hat on a baby? 1111 Central Ave. #200, 704-344-8774.
---
> Shop for Maps
The Map Shop
The GPS on our cell phones can get us from one place to the next, but there's nothing like seeing our experiences on a map. This shop has atlases and folding maps, world maps and nautical maps. And now it has wall maps for many cities and towns in the Carolinas. Buy one, get some thumbtacks, and mark the places you've been. 1500 E. Morehead St., Latitude: 35 degrees, 12 minutes, 17 seconds North, Longitude: 80 degrees, 50 minutes, 9 seconds West, 704-332-5557.
---
> Place for the Sporting Gent
The Sporting Gent
There aren't many places where you can buy bow ties and ties with fly-fishing prints in one stop. This Myers Park shop caters to men who appreciate the sporting lifestyle—whether they define that as hunting and fishing or sitting on the back porch with bourbon. The Sporting Gent carries brands for the Southern lifestyle, including shirts from Charlotte's Ole Mason Jar and handmade knives from Charleston's Williams Knife Co. 2848 Selwyn Ave., 704-896-5600.
---
> Record Store
Lunchbox Records
In a small storefront in Plaza Midwood, posters line the windows of Lunchbox Records. Quiet cashiers surprise you with accurate suggestions. Over there sit the familiar stacks of unsorted LPs, likely dropped off by an empty-nester cleaning out her attic. And then, you have the shelves—hundreds of acts per genre packed into one small location. 1419 Central Ave., 704-331-0788.
---
> Accessories (Men)
ColsenKeane Leather
As it ages and breaks in, a piece of leather takes on a character that is solely its own. Scott Hofert, who named his company after his two sons, makes beautiful leather goods—from satchels to iPad sleeves to belts—all by hand. The intent is to create goods that last for generations, heirloom-quality pieces he calls "long-haul" items. The nicks and scrapes and spills turn an ordinary hide into a treasure that reflects a man's life story. 1318 Central Ave., 704-750-9887.
---
> Greeting Cards
Paper Skyscaper
The first thing you see in the card department at Paper Skyscraper is a sign that reads "locally made." The rack holds Kristen Henderson's hand-lettered cards designed in Dilworth and printed in South End, and Charlotte artist Liz Saintsing's hand silk-screened, nature-inspired cards. Beyond that rack, many of the cards are made by small businesses in the United States, from Portland, Oregon, to Nashville, Tennessee, to Washington, D.C. You can find birthday cards that say much more and "just because" cards that pass along compliments, insults, or innuendo. 330 East Blvd., 704-333-7130.
---
> Florist
Nectar
You wouldn't know it from her arrangements, but Karisa Pennell stumbled into her career as a florist. She went to college with plans to be a yoga therapist. But after years of assembling show-stopping arrangements on the side, Pennell started Nectar, which has grown into an established shop at the McGill Rose Garden. What better home for a florist than next to a city's historic flowers? 940 N. Davidson St., 704-905-9808.
---
> Shop for the World Traveler
Sharon Luggage
Get some of the best quality brands in this store with everything you could need for traveling. Suitcases, briefcases, wallets, customized items—if you're looking to buy for someone who's always on the go, you'll want to stop here. Multiple locations.
---
> Consignment Store for Home Furnishings
Clearing House
Owner Betty Walsh has been at the same location since 1987 and knows many of the families in nearby Plaza Midwood, Eastover, and Myers Park. The atmosphere is friendly, and the constantly changing inventory is full of treasures, from heirloom dining tables or mid-century chairs to English fireplace tools and antique porcelain. Expect to find odds and ends such as vintage fondue pots or a mounted deer head. 701 Central Ave., 704-375-7708.
---
> Free Crafting Classes
Beads Inc.
Big windows flood two floors with light, and strings of beads sparkle within gilt frames on gray-green walls. Here, sisters Christine White and Anne Todd teach weekly classes on jewelry-making. For no charge you can learn simple skills, such as how to make a bracelet and earrings, or advanced techniques, such as silk knotting or assembling Czech glass into flowers. The sisters are patient and never pushy; on a recent visit, two children were making necklaces for a father/daughter dance. Free drinks are in the cooler behind the stairs. 339 Circle Ave., 704-334-1110.
---
> Wine Store
Vintner Wine Market
Ciao, bottle of Barolo sitting on a shelf below a chalkboard sign that reads "Italy." Hola, Tempranillo. We've been hoping to see more of you. A selection of more than 1500 wines from around the world, from good values to pricey collectibles, is expertly managed at Vintner Wine Market. A discount bin sits near the front cash register, and beer drinkers can find a craft bottle selection along the back wall. Ask for a recommendation, or buy a glass at the bar. If you like it, you can buy a bottle and some cheese to pair to take home with you (or stay and enjoy on Vintner's patio). The Arboretum Shopping Center, 8128 Providence Rd., 704-543-9909.
---
> Second-Chance Store
ReStore
The furniture and accessories are lined up, more or less, in unceremonious rows. But shoppers don't come to the ReStore for the ambiance. Deals abound: a solid oak dining room table and chairs for $200, a pedestal sink for $40. ReStores also carry new items; there's almost always a diverse range of ceramic and porcelain tile available for your next bathroom remodel or a kitchen backsplash freshening. DIY-ers, rejoice. Multiple locations.
---
> Place to Buy Gifts for, of, and about Charlotte
The Boulevard at South End
Go ahead and try to shop here and leave empty-handed. Co-owners Jennifer Branham, Carmen Ellis, and Angie Regan—all moms with school-aged kids—met as vendors at the first incarnation of this impossibly fun store when it was in NoDa. Now, after a 2012 move to South End, they work with 40-plus Charlotte-area artists and artisans. The trio encourages partners to supply Charlotte-themed gifts. Jewelry, art prints, North Carolina pride handbags, hand-crafted barware, one-of-a-kind clothing—it's all here, and it's all local. 1440 S. Tryon St., Ste. 100, 980-219-7526.
---
Erica's Favorite Local Things
One of the South's most stylish people handpicks these BOBs
ERICA HANKS HAS been a personal stylist for four years, and she's built a following of clients who trust her to put together ensembles for everything from major corporate meetings to social soirees. This magazine recently made her a contributing style editor, starting with the April issue. And earlier this year, Southern Living magazine named her one of its "50 Most Stylish Southerners."
"It's definitely out of my comfort zone to be spotlighted as best-dressed," the Florida native says. "I'd much rather it be my clients in front of the camera."
On any given day, Hanks jets across Charlotte, scouring the city for the best looks for her clients—hitting big stores and small boutiques along the way. Here are some of her favorite spots for stylish Charlotteans. — Adam Rhew
> Place to Get All Dolled Up
Woo and Blo
Hanks recommends this one-two punch in Myers Park before a night on the town. "You just make two appointments and it's a one-stop shop," she says. Get a facial or makeover at Woo, which also sells beauty and skin-care products from major brands and niche designers. Walk next door to Blo for a blowout. Hanks says these local spots offer more personalized service than booths in the mall. 2900 Selwyn Ave., 704-333-0443; 2850 Selwyn Ave. 704-375-7110.
> Boutique on a Budget
J.T. Posh
"I'm a major opponent of fast fashion," Hanks says. "Instead of spending money at [other stores] for something that's just going to fall apart, it's much better to go to a consignment shop and find something that's a gem for the same amount of money." This Dilworth spot carries gently worn items that Hanks says are perfect for a woman on a budget. 2400 Park Rd. #2A, 704-375-1334.
> Local Shopping App/Website
House Account
Laura Vinroot Poole, who owns Charlotte boutiques Capitol and Poole Shop, launched this app, which puts the selections from 450 boutiques at the touch of a finger. "There are things that I see just coming in, and I might not be able to find [them] at the boutiques here in Charlotte," Hanks says. "You're shopping local—just in other cities and states."
> Where to Find the Comfiest Pajamas
Cottage Chic
Most people know this Dilworth shop for its gifts and bed linens, but Hanks says Cottage Chic's pajamas are a little-known treat. "I've given pajamas to everyone from my mother to my cousins," she says. "They're soft and sophisticated and the type of pajama that Southern women gravitate to." 1232 East Blvd., 704-375-1888.
> Place for Custom Shirts
Taylor Richards and Conger
"Everyone wants to have a custom shirt, but some guys need to have one," Hanks says. "Whether they're an athlete, or tall, or a NASCAR driver [with] a smaller frame, their body type calls for a custom shirt that fits right." TRC has a wide range of fabrics, patterns, and colors—meaning the shirt will look as personal as the fit. 6907 Phillips Place Ct., 704-366-9092.
> Place to Get Your Kicks
Charlotte Running Company
"They have a really fun, funky selection," Hanks says. She recommends looking here for bright neons and multicolored soles. "Smaller stores typically get more fun stuff," she says. Multiple locations.
> Gel Manicure
Varji & Varji
"The experience and attention to detail is great," she says. "I feel like my manicure stays on longer than everywhere else." Hanks puts a lot of stock in customer service, and says that's what sets Varji & Varji apart from many other nail salons. 720 Governor Morrison St., 704-336-7366.
> Accessories (Women)
KK Bloom
The bold chandelier and bright pink chairs set the tone for the style owners Clay and Kendrick Slaughter curate in their Myers Park boutique. Hanks has found everything from everyday accessories to bridal jewelry here, making it a regular stop for her. 2823 Selwyn Ave., 704-919-1142.