Best of Wedding Awards 2013
Presented by Charlotte Wedding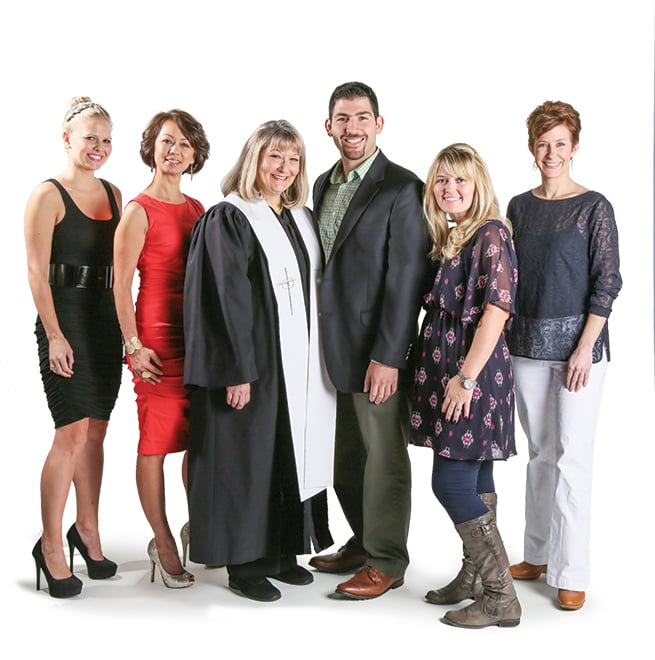 Charlotte Wedding's first Best of Wedding (BOW) Awards program began when we sent out a survey in September 2013 to our master list of more than 900 Charlotte-area wedding professionals asking them "who would you use if you were getting married?" The results are our 2013 BOW Awards winners. Congratulations!
Charlotte Wedding will celebrate the BOW Award winners at the Charlotte City Club on January 29, 2014. BOW winners will enjoy a fun evening with food, drinks, entertainment and a chance to mingle with brides-to-be. Brides attending the event will have the chance to win a tropical vacation provided by Mann Travels and the opportunity to bid on items from BOW Award winners in our silent auction. The proceeds from this fundraiser will go to our charity partners' education foundations. These organizations are the Charlotte Chapters of the National Association of Catering Executives (NACE), the National Association of Wedding Professionals (NAWP) and the International Special Events Society (ISES). For more information on how you can mingle with the Best of Wedding winners log on to www.CLTWedding.com.
ACCESSORIES
Best Overall
Hayden Olivia Bridal
Hair Accessories
Aubre's Bridal
Veils
Aubre's Bridal
Gentleman's Ties
Nordstrom
Shoes- Men
Nordstrom
Shoes- Women
Nordstrom

ATTIRE
BEST OVERALL
J. Major's Bridal Boutique
Bridal Gown
J. Major's Bridal Boutique
Bridesmaid Dress
J. Major's Bridal Boutique – TIE
Bridesmaid Dress
NY Bride and Groom – TIE
Suit
Men's Wearhouse
Tux
Men's Wearhouse
Flower Girl Dress
Classic Bride & Formals
Mother of the Bride
J. Major's Bridal Boutique – TIE
Mother of the Bride
Classic Bride & Formals – TIE
Left to right: Donna Santoro-O'Malley, The Honeymoon Planner; Frank Deaton, Cunningham Cleaners; Jessica Lamb, Diamonds Direct; Shirley Mendenhall, Cunningham Cleaners; Crystal Stokes, Crystal Stokes Photography; Lindsay Regan Thorne, Be Pretty

BLOG
Best Overall
Style Me Pretty

CATERER
Best Overall
Queen City Catering Company

CLERGY
Best Overall
Reverend Rebecca Nagy

CONFECTIONS
Best Overall
The Wow Factor Cakes
Cupcakes
Polka Dot Bake Shop
Groom's Cake
The Wow Factor Cakes
Wedding Cake
The Wow Factor Cakes

DECOR/RENTALS
Best Overall
Party Reflections
Furniture
AFR Furniture Rental
Linens
Party Reflections
Tents
Party Reflections

ENTERTAINMENT
Best Overall
Split Second Sound
Live Music: Ceremony
Charlotte Strings for Events
Live Music: Reception
East Coast Entertainment
Performers
East Coast Entertainment
Photobooths
Shutterbooth

EVENT PLANNERS
Best Overall
Carolina Wedding Design
(Budget $30,000 +)
Style Perfect Weddings & Events
(Budget $75,000 +)
Ivy Robinson
Most Creative
Ivy Robinson

FLORALS
Best Overall
Lily Greenthumb's

GOWN PRESERVATION
Best Overall
Cunningham Cleaners
Left to right: Karen Greenoe, Lily Greenthumb's; Kristin Dills, Lily Greenthumb's; George Greenoe, Lily Greenthumb's; Vinny Esposito, Split Second Sound; Diane Esposito, Split Second Sound

HEALTH AND BEAUTY
Best Overall
Be Pretty
Facials
The Spa at Ballantyne
Massage
The Spa at Ballantyne
Hair Stylist
Be Pretty
Make-up Artist
Be Pretty
Sunless Tanning
Palm Beach Tan
Mani-Pedi Salon
Polished Nail Bar and Salon
Fitness Center
YMCA
Yoga Studio
Yoga One

HONEYMOON PLANNER
Best Overall
The Honeymoon Planner

JEWELERS
Best Overall
Diamonds Direct
Fine Jewelry
Diamonds Direct
Costume Jewelry
Kristin Hayes Jewelry

PHOTOGRAPHERS
Best Overall
Crystal Stokes Photography
Boudoir
Critsey Rowe Photography
Bridal Portrait
Kristin Vining Photography
Black & White
Richard Israel
Engagement
Smitten and Hooked

REGISTRY
Best Overall
Crate and Barrel
Home Appliances
Crate and Barrel
China
Belk, Inc.
Linen
Pottery Barn – TIE
Linen
Bed Bath & Beyond Inc. – TIE
Left to right: Isabella Amorim-Kuhner and Gail Allen, Daniel Stowe Botanical Garden; Debra Hall, Olive Paper

STATIONERY
Best Overall
Olive Paper

TRANSPORTATION
Best Overall
Rose Chauffeured Transportation
Buses
Rose Chauffeured Transportation
Vintage Cars
Royal Rides
Limousines
SilverFox Limos
Unique Transportation
Trolley of the Carolinas

VENUES
Best Overall
Daniel Stowe Botanical Garden
Restaurant
Bentley's on 27 – TIE
Restaurant
Bonterra – TIE
Rehearsal Dinner Site
Byron's South End
Outdoor
Daniel Stowe Botanical Garden
Bridal Shower Site
The Duke Mansion
Historic Site
The Duke Mansion
Bar/Night Club
Label Charlotte
Museum
Mint Museum Uptown
Hotel
The Ritz-Carlton, Charlotte

VIDEOGRAPHER
Best Overall
Crown Alley Films
Left to right: Maurisa Beaver; Dan Hooks, Party Reflections; Heather Goodall Bryson, Carolina Wedding Design; Erin Hunter-Watters; Cortenay Munn Matters, Carolina Wedding Design