Betty and Lucille: A 70-Year-Old Friendship
A bond that started at one of Charlotte's segregated drugstore lunch counters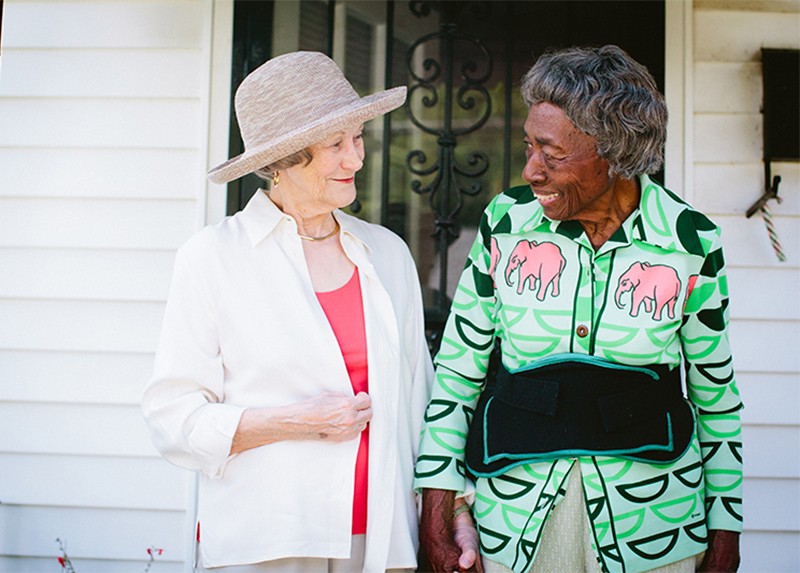 THE SMILE is what Betty McQuay-Tysinger noticed first. When she was just 16 years old and starting her first real job, at an Eckerd drugstore on the Square in Charlotte, Betty needed to see a kind face. That smile welcomed her.
It didn't matter that the grin came from Lucille Stewart, a 23-year-old black woman. And it didn't matter that in 1946, Betty, who is white, was hardly encouraged to befriend the woman who prepared food for lunch counter patrons at the store.
They became friends. And they stayed friends after Betty left Eckerd in 1949 to get married and eventually raise three children, while Lucille moved on to work at North Carolina National Bank, first as what she calls a maid and then in the cafeteria.
For years, they heard updates primarily from their go-between, Libby Helderman, who had been their boss at Eckerd. She remained friends with Lucille for the rest of her life, and became Betty's aunt when she set up the young girl with her nephew.
Since Lucille retired from her job at Bank of America in the late 1980s, Lucille and Betty have talked on the phone more frequently, and have visited each other for momentous birthday celebrations, Thanksgivings, and quiet afternoons of conversation.
"I don't think I ever saw her angry," Betty says. "Even now, I haven't seen her angry. She's just a good person."
That's 70 years of friendship during which Betty has never seen Lucille angry.
Lucille is now 94. Betty is 86.
Both live on their own, and both are as active as they can manage. Lucille still drove a car until a year ago, when she took a hard fall while raking leaves in her yard and broke a bone in her shoulder that still bothers her. She starts her car regularly, just in case doctors ever clear her to drive again. Betty sews clothes for orphaned children in developing countries, such as Haiti, estimating she's made more than 200 dresses and shorts for children in the past five years. She wears her trademark, wide-brimmed hat everywhere she goes.
Sit with them for a while in Lucille's tidy house, with photos hanging on nearly every square inch of wall space and filling every side table, and you'll hear stories of what Charlotte was like years ago—in some ways, immensely transformed, but in other ways, not so different at all.
Back in 1946, Lucille wasn't allowed to come to the front of the drugstore and serve white patrons who sat at the counter. Her job was to make sandwiches and salads in the back. Betty waited on the customers.
"I could take their money and ring it up," Betty says. "Lucille wasn't allowed to." Although Betty grew up in segregated Fort Mill, South Carolina, she never considered Lucille's skin color a deterrent to their friendship. And Lucille, who spent her early life working for white families before her job at Eckerd, shrugs at the varied races of her friends.
"For my part, a human is a human," Lucille says. "Just because your skin is a different color from somebody else's, that don't make you that much different."
"We all bleed red, don't we?" Betty interjects.
"That's right," Lucille nods.
Still, life was unquestionably different for Lucille. She was one of 15 children—ask her where she falls in the order, and Lucille begins reciting the names of all her brothers and sisters. She was sixth in that line of 15. Her father was a sharecropper in Pineville, and all the children helped him work on the farm. They raised animals such as hogs, goats, and guinea hens, and picked cotton.
"Ooh, my back would hurt," Lucille says, shaking her head as she recalls cotton picking. Her father's farm produced 23 bales of cotton each year, she says. A bale of cotton weighs 500 pounds.
Lucille knew from an early age that she didn't want farming to be her life, and after helping raise her siblings, she wasn't sure about having kids, either.
She began to pray that she would not marry a farmer and would not have children.
Her prayers were answered. She married John Henry Stewart, a landscaper, in her early 20s ("It's been so long; when you get old, your memory doesn't work as well," Lucille says when she tries to remember her exact age), and the two lived quietly in the same house she still maintains in northwest Charlotte.
She went to school only through the eighth grade before she began working for a family in Belmont, cleaning and taking care of the children. Her employer once tested her by telling her to dust a big, cedar chest. Among all the knick-knacks on the furniture was a pile of money. Lucille is certain the woman wanted to see if she would try to steal it.
"I took all the stuff off and dusted everywhere except where the money was," Lucille says. "I left that dust there, and I left that money there."
In Fort Mill, Betty grew up with both parents working for Springs Cotton Mill. But she never considered following in their footsteps. She saw the hard labor they endured.
"My mother was absolutely hell bent that I would not work in a cotton mill, because her theory was, if you ever go in there, you don't ever get out," Betty says.
The desires to escape their upbringings led both women to their drugstore jobs at the Square. As it is now, the corner of Trade and Tryon streets was the center of activity in Charlotte. Buses dropped off travelers, who often stopped for meals at the Eckerd lunch counter. Black customers had to stand; white customers took the seats at the counter.
And Betty and Lucille still became friends.
"She was always so friendly," Lucille says.
They walk gingerly now, shuffling across the manicured backyard at Lucille's house whenever Betty comes to visit. Lucille remains the same feisty woman who once got into an argument with her supervisor at Bank of America over her age, and took her complaint straight to the top. "People like you are what make this bank great," president Hugh McColl told her, and they remain friends. Betty is still the same kind soul who didn't see color when she saw Lucille's smile on her first day at work.
When they reach uneven ground as they walk, they hold hands to provide support, finding steadiness in each other, just as they've been doing for 70 years.
Jodie Valade is a freelance journalist based in Charlotte. Reach her at jovalade@gmail.com or on Twitter at @JodieValade.