Beyond the Banks
Charlotte is sometimes criticized for being too corporate. But those critics haven't taken the time to get to know the people who work in our largest industry. Meet eight Charlotte-area residents who are people first and bankers second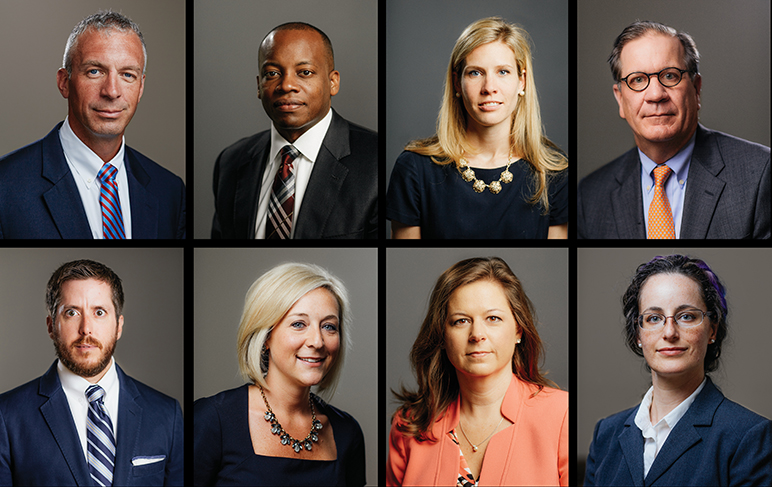 Editor's note: Some answers edited for space and clarity.
---
Doug Smith
46
What he does:
Charlotte market president, CommunityOne Bank
What else he does:
Father of three, soccer coach with Siskey YMCA and Charlotte Soccer Academy, corporate chair for CommunityOne Team Juvenile Diabetes Research Foundation Walk, incoming president of the Leadership Charlotte Board, site leader for F3.
"My parents were always involved in my life. I came from a pretty happy family. I think a lot of that was because they were always engaged. I don't think I had a whole lot of problems growing up because they were always there, always made themselves present.
My oldest [11], I dropped off at Boy Scouts last week. I had to talk to his pack leader about something. When I left, he comes up to right about here on me [holds his hand at his chest]. He gave me a kiss on my chest as I was leaving. He said 'Bye, Dad, I love you.' I thought, How many more times will that happen? In front of all these boys. There's still this innocence, of elementary school. He starts middle school in the fall. I thought, How many more times will I get that kiss, or that honest, genuine love as we're parting ways? I hate to think about it."
---
Will Manning
43
What he does:
Senior client manager, Bank of America
What he did before that:
West Point graduate and Army Ranger
"One of my professors said to me, my senior year, 'To those whom much is given, much is required.' That stuck with me. What he was saying was, 'You've been given this great opportunity to learn about new things, meet all these different people at the academy—presidents come by, generals come by—you need to do something with that. You need to give back.'
How that informs me now as a banker is, we're looking for opportunities to give homes to veterans. … It helps me look for ways to continue to give back and volunteer. It also gives me the courage, really the mental obligation, to tell others that, you know what, you're doing well as a customer, as a client, but don't forget to lend a hand back as you're reaping this bounty."
---
Katherine Hunter
33
What she does:
Vice president, products consultant, Bank of America (she works on a team that manages the bank's ancillary deposit services—wires, check orders, and deposit products)
What she used to do:
Teacher and fund-raiser for an education nonprofit group. She left that industry to get an MBA and pursue a career in product management.
On the hardest part of that transition:
"The variety of tasks and topics that you cover in a single day working here. You go to multiple meetings in a day that might relate to multiple different projects. You work with different partners who don't necessarily know each other, versus a school environment, where the things you do as a teacher don't vary all that much."
On how that has come to be a part of the job she enjoys:
"In the course of one project, you might get to talk to someone that's an expert on our financial center, the branches, someone else who is an expert on the websites, someone else who is an expert in our general counsel's office, someone else who is an expert on how we communicate to our associates. I really like that, all the different subject matter expertise that gets blended together in the execution of any project."
---
Tim Ignasher
54
What he does:
Executive vice president and director of commercial banking group, NewBridge Bank
What he asks people from time to time:
"My definition of bliss is when time becomes irrelevant. You look up and you say, 'Gosh, two hours have passed by.' You're so in the moment that it's a blissful event. I ask people, 'Tell me about your bliss, and no, I don't want to hear about work.' "
How he answers his own question:
"I have been very fortunate that I've had great mentors. I remember eating lunch with this elderly gentleman one day. There was a lot going on. He said to me, 'You need to do me a favor.'
'What's that?'
'I want you to get up every morning and walk around in the grass in bare feet.'
I was disgruntled. I said, 'Alright, I'll try it.' I'm out there, walking around in the grass, grumpy about it. But I kept doing it. I'd go back to him and say, 'What's the point of all this?'
He'd say, 'Just keep walking in the grass.'
Then, one day, it was an epiphany. The dew was wet on my feet. The sun was coming up. The birds were singing. And I said, I've got it. He wasn't going to tell me that. … It's life's little moments that bring you peace."
---
Marie Boucher
37
What she does:
Contract user insights analyst, Bank of America
What else she does:
Now a researcher, Boucher has worked in the forensic lab of the Connecticut state police, as a park ranger, and she currently works part-time for Orrman's Cheese Shop at the NoDa Farmers' Market. She and her husband are building a tiny house.
"Research is all about the next question. It drives every boss I've ever had crazy, because the result is always, Here's the answer to your question; here's eight more questions that we need to answer. It makes life worth living when there's always another question. There's no end point. It's a constant search for more information.
"The tiny house, for example. I don't care if we ever live in it. But I've learned framing and metalwork and electric and plumbing and flooring and how to work with a pneumatic nail gun. I may never use that stuff again. But it's fascinating to me. It's sort of useful, but it's also just using my brain in a place that it has not been used before. That feels like exercise. You know how some people get a high from running or mountain climbing? For me, it's like, Oh, I didn't know that before. Now I know it."
---
Tara Coffey
43
What she does:
Region head, Charlotte Metro Commercial Banking Office, Wells Fargo
What else she is:
Chairwoman of the board of directors of Child Care Resources Inc., which helped her find child care when she returned to work after she had twin boys, who are now 12
On finding work-life balance:
"To me, it's all intermingled, like a bowl of spaghetti. I might do work at home at night. Today, I've got to knock off a little early to go see their Little League playoff baseball game."
On What that game teaches about life and business:
"You go up to the plate and hit the ball and get on base, or strike out and go back to the dugout dejected. It's such a good life lesson on working hard and trying again and not quitting—knowing your team is depending on you. It's a very individual sport and a team sport at the same time. Hopefully, we can find a way to teach our kids that—in sports and in the community."
On managing to sound sane while raising twins and working at a high-pressure job:
"I fake it."
---
Kelli Raulerson
36
What she does:
Senior vice president, technology infrastructure communications and marketing, Bank of America
What else she does:
As a volunteer with CLTure, she handles publicity for festivals and writes for CLTure.org, which advocates for independent business, music, arts, and culture.
Why do you care about connecting music and art with businesses and nonprofit organizations?
"As we go through the transition of Charlotte being a small city into becoming something totally different, I want to have a voice in how the city is defined … before other commercial interests that are coming in define us."
What do you want that definition to be?
"Keeping the authenticity of our communities, the different interests we have, the eccentric nature of the different pockets, and not letting it blend all into one—really keeping the unique identifiers for Charlotte, that Southern hospitality, the local nature, the smallness of the city—[and] not letting it get too big, too fast, so we lose all of that."
How has that changed as the city has grown?
"It's a little bit easier than when I first started [two and a half years ago]. The interest is starting to grow. People are starting to see the unique value in the talent we have here in town and see its place in our city. Instead of letting the city be defined by whatever big attractions we bring in, it can be equally defined by what we already have here, our own people, which is definitely a change, and it's happened quickly."
---
Daniel Beckham
39
What he does:
Online product manager, Consumer Credit Services, Wells Fargo
What else he does:
A drummer in the alt-country band Pullman Strike
"I got a Facebook message the other day from a guy I've gotten to know a little bit. He had a daughter shortly after I did—he's got a six- or eight-month-old. He was playing our music for his daughter. I know what it's like to play music for my daughter, [so] I'm like, Holy shit. That is incredible. …
A magician can make a red foam ball appear out from under that cup. It seemingly comes from nowhere. It's kind of the same writing a song. It comes out of complete thin air. …
Success can mean a lot of different things. The bucket that I have my band in, that is success. It's not selling a bunch of albums. It's not playing in front of shit-tons of people. It's something that we pulled out of thin air [and] is now tangible in that little baby's ear."
---
A scene from a bank branch on a Friday Bank of America, 8625 Arbor Creek Drive:
It's lunchtime, the Friday before Memorial Day, at the Bank of America near Highland Creek. I visit this branch often. While filling out deposit slips, I've seen all of Charlotte in two-minute increments.
Customers pass a guard outside and deposit and withdraw dreams inside. They arrive with wads of cash and leave with one less thing to do. They depart with wads of cash and one more thing to do. They wear heels and hats, T-shirts and wing tips, jeans and jewelry. They are black and brown and white. They are regulars and newbies. They cut hair and grass.
They sell siding and insurance. They never hang up the damn phone. They look at nobody and talk to nobody. They rush in and out. They flirt with the tellers, who are also black and brown and white. They ask for help in English and Spanish and talk among themselves in languages I don't recognize.
Customers trickle in when I'm in line and after I leave. They need to get cash and get gone. A long, holiday weekend is coming, so they need this bank, right now, for money for beer and cerveza and sake and chips and barbecue and sunscreen and gas.
Don't we all? —M.C.