Beyond the Brochures: A Local's Guide to Charlotte
A longtime local offers up his picks for the best places to eat, drink, see live music, and more in Charlotte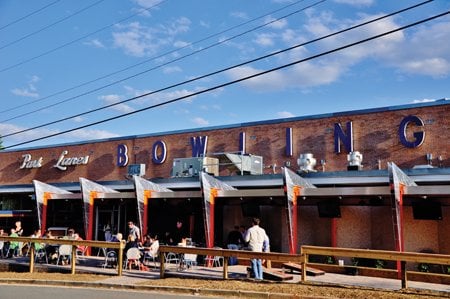 The last time Charlotte hosted a national event even close to this the magnitude of the Democratic National Convention was the 1994 NCAA Final Four. Back then, for what really amounted to a long weekend of college hoops, local leaders went so far as to fabricate (and somehow staff) an impromptu "nightlife district" in several vacant storefronts along uptown's Tryon Street.
These days, Charlotte is home to the annual ACC football championship, as well as the PGA Tour's Wells Fargo Championship, and it recently hosted an NRA convention, so we're becoming accustomed to massive influxes of out-of-towners. There are an abundance of nightclubs now, especially in the center city along College and Church streets. EpiCentre and N.C. Music Factory, a pair of nightlife megaplexes, are home to dozens of restaurants, clubs, and bars that figure to be party central zones during the Democratic National Cconvention. Other downtown landmarks, like the Bechtler Museum of Modern Art, Mint Museum, Harvey B. Gantt Center for African American Art + Culture, and the NASCAR Hall of Fame, are planning first-rate exhibits and will be on the agenda of delegates and other visitors. All of them are remarkable, but there is so much more to see and do here.
For decades, Charlotte has had a bevy of fine-dining restaurants to choose from, but the pace picked up considerably since the culinary school Johnson & Wales University relocated here. Carnivores take solace, for, with few exceptions, every chain steakhouse now has a presence in Charlotte. But look past the beef. If you're willing to venture outside the John Belk Freeway (otherwise known as I-277; it nearly encircles downtown), outstanding indigenous gourmet dinner spots going toe-to-toe with the higher-end national chains include Carpe Diem, Fig Tree, Barrington's, Bonterra, and Villa Antonio (with two locations). For a Sinatra-style throwback dinner of steak and potatoes, hit up Beef 'N Bottle.
A short drive from Beef 'N Bottle and Villa Antonio's South Boulevard location, but considerably lower on the price spectrum, is McKoy's, a biker bar at night and BBQ place by day. They smoke a variety of meats over pecan wood, including an entrée called "Living the Dream." Plan on sharing it or taking a bunch back to your hotel, because it features heaping portions of ribs, BBQ pork, pit roast, smoked BBQ chicken, and two sides. It's $23 well spent and worth the wait. Located just half a block north of the Woodlawn stop on the Lynx light-rail line, you may not even have to drive to get there.
Amelie's is a 24-hour French bakery that is a milestone of sorts. Charlotte may not be the city that never sleeps, but evidently people here sleep little enough that we support a round-the-clock pastry bakery, strategically located between downtown and the heart of NoDa. It's only a few square blocks, but NoDa is about as funky as Charlotte gets. It's my favorite place to bar hop, home to one of the city's best music scenes, an inordinate number of good eateries, and one of your best bets for stumbling upon the area's finer food trucks.
At what was once considered the southern edge of NoDa, Crepe Cellar has an outstanding menu that extends well beyond crepes and a terrific staff. Next door, Growlers Pour House is a rustic-by-design pub that's run by the same proprietors. Perhaps the best-known NoDa spot, Cabo Fish Taco, introduced Charlotte to seafood tacos and still offers some of the best people-watching in town, especially on those days and nights that the street-facing garage doors are swung open. Jack Beagle's is a relative newcomer that has a bunch of flat-screen TVs, consistently attentive servers, and above-average bar chow served until 2 a.m.
The first time I had lunch at Brooks Sandwich House, I found myself wondering how anybody found this little burger shack in the first place. (Turn down Brevard from North Davidson and drive until it looks like a dead end. It's on the left.) Time and again, it's earned stellar marks in local burger brackets. There's no seating, but just outside there's what looks like a carport with a long, tall table underneath. It may be a bit of a dive for some people's taste, but I've found it perfectly comfortable, even on a summer afternoon, with the high approaching 90 degrees.
Wine Vault, north of NoDa in University City, near the corner of W.T. Harris and North Tryon streets at University Shoppes, offers a popular after-work patio overlooking a scenic man-made pond. Inside and out, Wine Vault offers comfortable seating, a tremendous selection of wines by the bottle or the glass, occasional live, acoustic music, and a relaxed setting. There is also a choice selection of import and craft beers, packaged snacks, and some pretty clever souvenir T-shirts. If you get hungry for more than just a snack, there are at least eight places within a very short walk, including sandwiches, sushi, burgers, Italian, Mexican, and Chinese eateries, open for lunch and dinner.
The Double Door Inn has been booking world-famous blues, zydeco, reggae, and rock acts since 1973. Near the corner of Elizabeth Avenue and Charlottetown Road, this place epitomizes a Southern blues joint and once won the national W.C. Handy Blues Club of the Year award. Over the years, it's been joined by a host of live music venues: Spirit Square, Amos' South End, The Visulite, Neighborhood Theatre, Snug Harbor, and The Evening Muse, all of which are certain to have top-shelf musicians booked for public and private events during the DNC. Check for Charlotte shows on Pollstar.com or CarolinaTix.org.
If you want to dive a little deeper into the Charlotte scene, check out the intimate Comet Grill in Dilworth. Guitarist Lenny Federal has been gracing the tiny stage here for at least a decade, and old-school rock and blues fans owe it to themselves to stop by. Smokey Joe's Cafe is a rickety beach shack just past Lupie's Cafe on Monroe Road in Elizabeth. Both have been here for ages and have loads of personality. Smokey Joe's may not be in the finest of neighborhoods, but inside in its worn wood walls you'll find ample flat-screen TVs, a pair of pool tables, and a sandy patio area with a fire pit, swinging benches, and a Ping-Pong table. If you're looking for a bite to eat beforehand, head over to Lupie's for burgers, chili, and other "comfort food" daily specials (chicken and dumplings and meatloaf are standouts).
Selwyn Pub is another local watering hole with character. The front patio is prime real estate on a pleasant day, and the fireside couches are ideal at night. Not far away, on Montford Drive, there's a virtual restaurant row. My favorite Montford eatery is Moosehead Grill, a former Pizza Hut converted into a bar that has some of the best grub in town, especially at lunchtime. The wings (Donnie's Blackened) get my vote for best in Charlotte, the servers are among the friendliest in town, and their after-work regulars may never forgive me for sending folks there. If the Moose is crowded or a little too rustic for you, check out neighboring Brazwell's, Good Food on Montford, or Roasting Company.
Just across the street, Ten Park Lanes is a bowling alley that recently underwent a retro-remodel, adding three killer patios. Inside, you'll find art that will remind you of Roy Lichtenstein and Andy Warhol, a moonshine bar, and a kitchen that's producing the best food you have ever had at a bowling alley. It's mostly sandwiches, wings, and other things you'd expect on a bar menu, but the ingredients are top-notch and the finished product is far beyond what you might expect.
For something completely different, check out The Thirsty Beaver, a friendly country bar in a nearly windowless, cinderblock building with a brick façade and the sides painted bright neon orange. Located on Central Avenue in Plaza Midwood, The Beaver is a fun little dive that regularly hosts some of the best local live music. The Sunday Bloody Mary bar has become a fan favorite.
Nearby, Soul Gastrolounge has outstanding tapas (to paraphrase Yogi Berra, nobody goes there anymore because it's too crowded), while Whiskey Warehouse has one of the swankiest rooftop bars in Charlotte. You'll find another rooftop bar at Midwood Smokehouse, on Central Avenue. This is local restaurateur Frank Scibelli's deft take on barbecue and it is completely on point (much like his other establishments, Mama Ricotta's, Paco's Tacos & Tequila, and Bad Daddy's burger joints). Charlotte offers some stellar Sunday brunches, including those at Upstream, Bistro La Bon, Terrace Café, Zada Jane's, and Café Monte, but Scibelli's original Bad Daddy's, on East Boulevard in Dilworth, may be the reigning champ. Brunch ends promptly at 11 a.m., so get there early.
For the truly adventurous, Puckett's Farm Equipment is not at all what it sounds like. Even for locals, getting there is not always easy, but this bluegrass music haven is about as simple a watering hole as you'll find in town. The beer is cold, the folks are friendly, and the music is undeniably fun and entirely genuine. Another place that may require assistance from your GPS is Foskoskie's. This Polish-owned comfort food eatery, at 2121 Shamrock Drive, has throwback charm and outstanding cuisine that many folks in Charlotte have yet to discover. Those in the know have a habit of coming back again and again.
The Greenway is a series of creekside trails all over town that can be a terrific place for a bike ride, jog, or a nice long stroll. Showtime's hit television series Homeland filmed a memorable scene on the Greenway, near CPCC's Central Piedmont Community College's main campus. Wandering around the Queen City, fans of the show may recognize a host of locations that have been passed off as Washington, D.C., but don't bother looking for Showtime film crews while you're here. They have a two-week hiatus that overlaps with the DNC. In addition to the Greenway, Charlotte boasts some very nice parks. Perhaps best known are Freedom Park and Park Road Park, but others worth the trip include Reedy Creek Park, Cane Creek Park, and Latta Plantation Nature Preserve, home to the Carolina Raptor Center. The Raptor Center, at 6000 Sample Road and open until 5 p.m. seven days a week, is dedicated to the preservation of birds of prey. You can take a self-guided tour along a three-quarters-mile trail that is home to more than twenty-five species of raptors or enjoy live presentations, guided trivia tours, feedings, and even behind-the-scenes tours.
No visit would be complete without considerable time spent at the U.S. National Whitewater Center. You can choose from rafting, kayaking, zip lines, climbing walls, and bike trails. The man-made river rapids are a wonder of modern engineering, and the people-watching from the restaurant patio is well worth the $5 parking fee and the quick drive down I-85. So here's the secret: since it's so close to the airport, I like to pick up friends flying through CLT with medium to long layovers and take them to USNWC for a meal and a craft beer before they have to get back to the airport. It gets them to plan a return trip nearly every time.
Every bit as important as great food, nightlife, and outdoor activities is a place to truly unwind. From the moment it opened, Urbana CitySpa & Tea Bar felt like it belonged in a bigger city. In south Charlotte, not far from Ballantyne Hotel & Lodge, Urbana is upstairs in a modern strip mall near the corner of Carmel Road and Highway 51. The hip décor greets you immediately as the friendly staff offers you a glass of champagne or tea before heading back to one of the private therapy rooms. Urbana offers a host of treatments including couples massage, deep-tissue massage, hot stones, and my favorite, ashiatsu, where with the help of a ceiling-mounted rack, your masseuse walks on your back, legs, and arms, working out any knots with her feet.
Jay Ahuja moved to Charlotte in 1986 and lives here with his wife, Karen, and their two rescue dogs. He's been with WFAE 90.7FM, Charlotte's NPR News Source, for eight years; serves on the Charlotte advisory board for NC Outward Bound School, and is the author of two sports-travel guidebooks.