BFD of the Month: The Weepies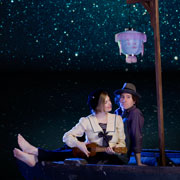 Everyone's strapped for cash and time these days. If you have just one cultural outing in September, let it be our BFD.
A BFD doesn't have to be a stadium-sized production by an artist or band that's graced the cover of Rolling Stone dozens of times. Sometimes, it's the little band or duo you may not have heard of … but should have.
Deb Talan and Steve Tannen were successful solo artists (as successful as indie-folk artists can be) before they met at Boston's famed Club Passim in 2001. They joined forces (in singing, songwriting, and holy matrimony) and have continued recording. But, they haven't toured much since the birth of their first son in 2006. You've probably heard them without realizing it. That was their catchy "Can't Go Back Now" in an Obama campaign ad, and their songs have been featured in a number of TV shows and indie movies. According to Pandora, people who like Joshua Radin, Norah Jones, and KT Tunstall might also like The Weepies.
The last time the acoustic duo played Charlotte, they were at the intimate and wonderful Evening Muse. McGlohon Theatre at Spirit Square seems positively cavernous by comparison. But, I'm delighted The Weepies have a bigger fan base in town this time around.
I bought my tickets for the Sept 7 show the day they went on sale. I'll be the one yelling out my request for Deb's "How Will He Find Me?" Tickets, showtime.