BFD of the Month: Vienna Boys' Choir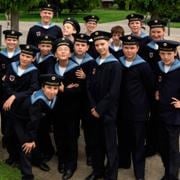 Everyone's short on cash and time these days. If you have just one cultural outing this month, let it be our BFD.
Let's hear it for the boys!
The cherubic Vienna Boys' Choir is one of the best-known and best-loved choirs in the world. The boys are selected mainly from Austria, but they hail from many other countries around the world, too. In a world where everyone seems to get fifteen minutes of fame and musical acts come and go like the wind, it's lovely to know this choir dates back to the late Middle Ages. They were established by a letter written by Maximilian I of Hapsburg in 1498.
CultureCapital.com said, "The world's preeminent children's choir has enchanted audiences across the globe with its purity of tone, distinctive charm, and a diverse repertoire that encompasses Austrian folk songs and waltzes, classical masterpieces, cherished pop songs, and medieval chant."
See a little bit of history on March 16 at 8 p.m. at CPCC. Sponsored by Charlotte Concerts.