Big Game Food
All the fixin's for a football feast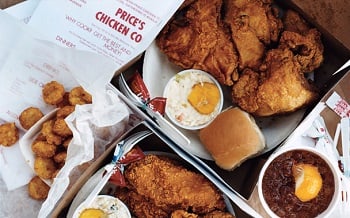 For those of you who love football: only two days to go. For those of you who hate football: only two days to go.
And for those of us looking forward to the ultimate cheat day: we're so close. The big game this Sunday will no doubt see plates and bellies full of things like wings, nachos, cheese dip, miniature hotdogs, and serving upon serving of pimento cheese. It's not the most figure friendly, but it is comforting. To help you figure out that menu this weekend, we've rounded up some of Charlotte's favorite comfort foods ready to be ordered in time for the big game.
Price's Chicken Coop's Fried Chicken: if you want fried chicken in Charlotte, this is your place. You can get a whole chicken (technically enough for four people unless you're very, very hungry) of either white meat, dark meat, or mixed meats to satisfy everyone coming through your door on Sunday.
Mama Ricotta's Lasagna: We aren't sure what makes the lasagna here so amazing – maybe it's the special blend of meat which includes house-made sausage, veal, and beef. Regardless, a tray of this stuff would likely be welcome at any big game party.
Duckworth's Cheese steak: Outside of Philly, a good cheese steak can be hard to find. Luckily, Duckworth's makes a worthy contender. With peppers and onions or without, the classic cheese steak is a great choice for game day.
Nachos from Cantina 1511: Layers of cheese, meat, beans, lettuce, tomato, guacamole, and more make nachos a perfect dinner or very, very heavy appetizer. Cantina 1511 dishes theirs up with seasoned ground beef or marinated chicken, caramelized onions and peppers, black beans, melted queso and of course pico de gallo, sour cream and guacamole on the side for dipping.
BBQ from Queen City Q: Let the arguments rage, but the barbecue at Queen City Q are some of the best in Charlotte. Be it brisket, pulled chicken, or whole slabs of ribs, give them 24 hours or more and Queen City can cater your big day.
Enjoy your cheat day, Charlotte! And also get ready to hit the gym on Monday to work it all off…