Biggest Moments in Charlotte's Nightlife and Social Scene in 2013
Relive the past year of partying, in case you weren't in a condition to remember it as it was happening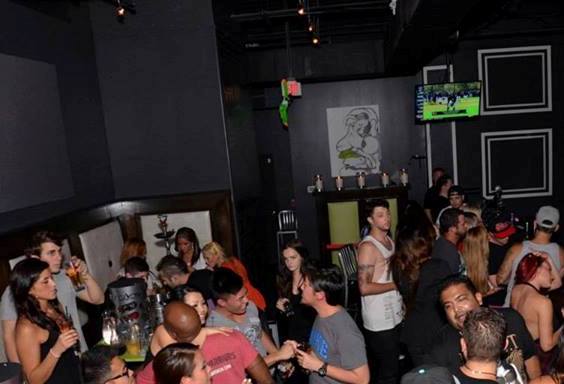 Like I say often on this blog, Charlotte's nightlife and social scene has come a long way in recent years. There are multiple things to do each night of the week, and the city now has an array of great bars, lounges, and nightclubs that I would put up against many other metropolises' offerings. Now that 2013 is coming to an end, take a stroll down memory lane as I give you my picks for the biggest moments that occurred in the scene this year.
Listed in the order in which they occurred during the year.
Mez closes.
Many locals were upset when it was announced in January that Mez, along with EpiCentre Theaters, would be closing. Even though the notice stated that a new theater concept would be replacing it, and
I reminded readers
that there are other movie-theater-bar-lounge concepts in Charlotte, the former Mez bar and lounge space hasn't been the same since
Studio Movie Grill
took over.
'Stache House Bar & Lounge opens.
We saw several nightlife venues open this year, and among the most impactful has been
'Stache House
, which
opened a few weeks after the New Year
. Nearly a year later, it's proven to be one of the city's most vibrant night spots, featuring a great lineup of DJs each night of the week, and drawing an attractive crowd and even celebrities.
Bubble Charlotte finally opens.
Another game changer was the opening of Charlotte's first true champagne bar and lounge,
Bubble
. It
opened at the EpiCentre in May
after about three years of "coming soon" verbiage plastered on the windows. It quickly became one of the city's top hotspots and hasn't slowed down.
Dixie's Tavern closes.
First off, most bars don't last anywhere near as long as 15 years, which is how long Dixie's Tavern thrived in Uptown. But the popular bar was forced to
close its doors in May
after the landlord decided it wanted to redevelop the prime real estate surrounding the building.
Suite celebrates five years; then ups the ante.
Ryan Lochte invades the Queen City.
Eleven-time Olympic medal-winning swimmer Ryan Lochte moved to Charlotte in October to train with SwimMAC Carolina, joining his friend and fellow Olympian Cullen Jones. He announced his arrival in this tweet: "Hanging in Charlotte for a few months, let's see how great this place is…" (Be sure to
click on the link
to see the great exchanges between him, Jones, and Ricky Berens.) Since then, Lochte has been spotted often at local bars and nightclubs, frequently captured in pics by onlookers, who of course shared those photos on social media. And keeping in the social media vein,
Lochte and a group of his SwimMAC teammates took an awesome photo of themselves dressed as characters from Robin Thicke's "Blurred Lines" music video for Halloween
.

Credit: Twitter
Dusk Till Dawn e-newsletter launches.
Celebrities party here.
The events lists I compiled this year often featured big names hosting parties, such as Drake, Kellie Pickler, Chris Brown, Mario Lopez, Daymond John, Floyd Mayweather, and many of your favorite reality TV stars (not to mention the
dozens of celebs
that came to Charlotte during CIAA Week). Plus, some of the world's most famous DJs, including David Guetta, Calvin Harris, Tiesto (each of them appeared at Label nightclub), DJ Clue, and DJ Jazzy Jeff rocked parties here. And oftentimes, NFL and NBA players hung out at local nightclubs after playing the Panthers and Bobcats, as well as artists like
Justin Bieber popping into a club
after their concerts.
Be sure to bookmark www.charlottemagazine.com/Blogs/Dusk-Till-Dawn to stay plugged into Charlotte's nightlife and social scene. Click here to sign up to receive the weekly Dusk Till Dawn e-newsletter. Follow me on Twitter @HollidayInk; email me at jarvish@grownpeopletalking.com.