Billiards is Back
Forget what you think of the smoky pool halls of the past. Charlotte's pool scene has experienced a resurgence, and these four new places might redefine your opinion of the old game.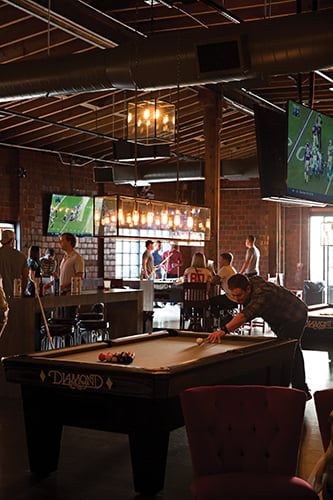 Slate Billiards
A new hangout spot in one of Charlotte's hottest neighbor­hoods, Slate Billiards opened this past fall, bringing its own style to the South End complex that houses All American Pub and Oak Room. The space is huge, with two dozen TVs, a large, wraparound bar that serves infused liquor, and plenty of seating from barstools to sofas. There are 11 pool tables, two of which are 10-foot professional tables, and one that's custom-made. The patio is lined with LED lights, catching the attention of riders on the Lynx light rail line that's just steps away. 200 E. Bland St., 704-372-5255.
Betty's Pool Hall at Automatic Slim's
Opened last June in an 11,000-square-foot venue at the N.C. Music Factory, Automatic Slim's is essentially three venues in one. Walking in, you'll first encounter Don Tiki, an outdoor patio resembling a Hawaiian bar. Then there's the large main room, filled with 1950s- and '60s-era memorabilia. That leads you to the back room, Betty's Pool Hall—arguably the star of the place. The four pool tables are the centerpieces of a throwback setting that includes dim lighting, hardwood floors, vintage sofas along the walls, and even a wood-enclosed, floor-model television (remember those?). Playing here, you might expect one of the members of the Rat Pack to walk in and challenge you to a game. 820 Hamilton St., 980-298-6145.
The Press Box Entertainment Café
Also open since June, The Press Box brings a homegrown sports bar, restaurant, and pool hall to University City. There are a dozen Diamond tables in the spacious setting, where both novices and billiard pros will feel comfortable playing. The bar offers more than 50 beers by the bottle and 24 on tap, and there's a large food menu of burgers, sandwiches, pizzas, and a handful of hearty entrées. Also, the place has 35 televisions, making it a destination for fans of college and professional sports. 9609 N. Tryon St., 704-717-2727.
SMG Billiards
In 2013, Studio Movie Grill took over the spaces formerly occupied by Mez and EpiCentre Theaters, then converted the formal dining room to SMG Billiards, an intimate lounge with banquet seating and leather wingback chairs. It's a place to extend your date night, or get it started a little early. Top 40 music blares from the house speakers, while couples top off a movie with a game of pool and drinks from the adjacent bar's large cocktail list. 210 E. Trade St., 704-972-1062.