Billy Graham: From Here to Heaven, a Timeline
Ninety-nine years ago, a Graham boy was born on a dairy farm just outside of the Charlotte city limits. Now, we look back on his most incredible life.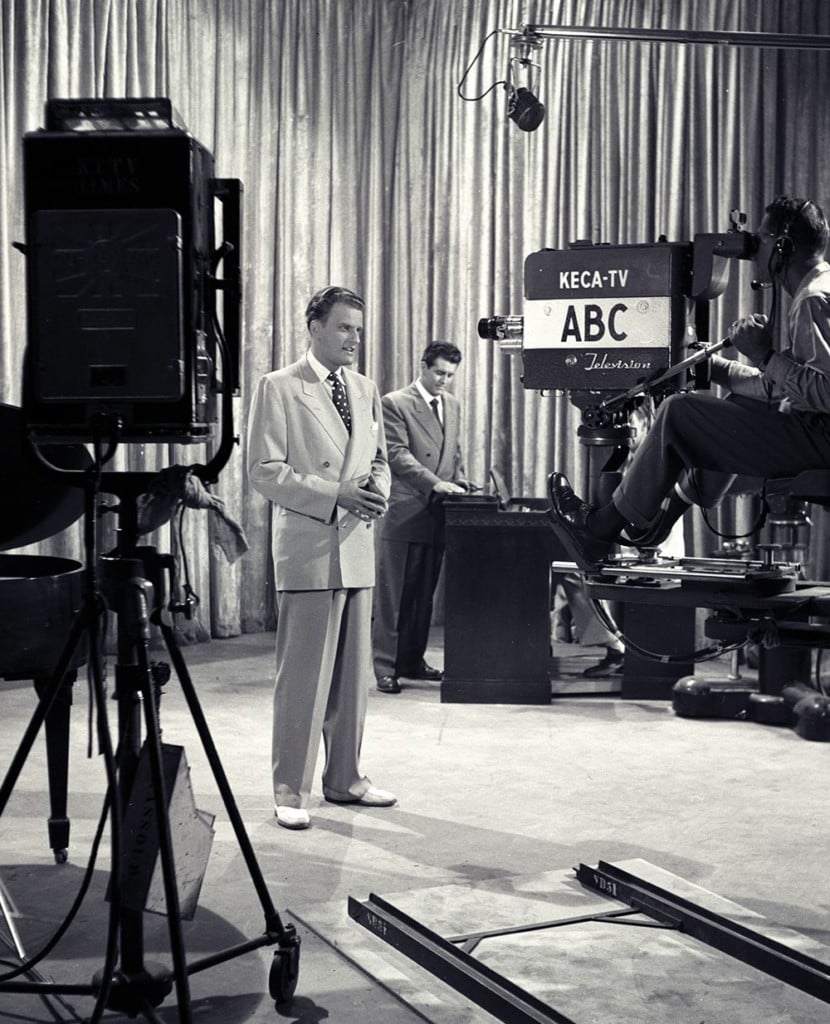 ---
Nov. 7, 1918. Born in Charlotte to Morrow Coffey and William Franklin Graham, who ran a dairy farm near where Park Road Shopping Center is today.
---
Nov. 1, 1934. About to turn 16, in a life rich in milking cows, playing baseball and reading Tarzan books, he professes his faith in Jesus at a tent revival on Pecan Avenue. He's not sure why he answered traveling evangelist Mordecai Ham's call to stand up and go down front for the altar call. "All I knew," he'll write years later in his autobiography, "is that the world looked different the next morning. … There seemed to be a song in my heart."
---
Aug. 13, 1943. He marries Ruth Bell, the daughter of Presbyterian missionaries in China. Billy and Ruth meet at Wheaton College outside Chicago, where they both are students. Their first date: A production of Handel's "Messiah." The connection is instant. The wedding ceremony is at Montreat Presbyterian Church, not far from where they spend their lives together in the N.C. mountains. They'll have five children in their 64 years together. The comedian in the family, Ruth Graham often tells the press and public that she never considered divorce in their time together. Divorce no, she jokes, murder yes.
---
Sept. 25, 1949. He begins his tent crusade in Los Angeles, the one that catapults him to fame, drawing 350,000 over eight weeks. "Puff Graham" become two of the most pivotal words in the Billy Graham story: They are uttered by newspaper mogul William Randoph Hearst, ordering his editors to hype Graham and his crusades—publicity that turns the world's attention to Graham.
---
Sept. 15, 1950. Establishes the Billy Graham Evangelistic Association in Minneapolis.
---
Oct. 25, 1954. Featured on the cover of Time magazine. The drawing of Graham also depicts a snake tempting Eve with an apple.
---
Sometime in 1969. The exact date is elusive. But at some point during this year, the nation sees proof of Graham's national celebrity, and his ease around the famous: He sits down for a national TV interview with famed agnostic (and neurotic Jewish filmmaker/comic) Woody Allen. (Years later, it will land on YouTube.) When talk turns to the afterlife, Graham tells Allen, "I can't promise you a white robe and wings, but I can promise you a very interesting, thrilling life." Allen's response? "One wing, maybe?"
---
Oct. 15, 1971. The highlight of Billy Graham Day in Charlotte, aside from a parade, huge crowd, and small number of anti-Vietnam War protesters, is the presence of President Richard Nixon. Years later, Graham apologizes for engaging in an anti-Semitic conversation with Nixon (about Jews controlling the media) in a 1972 Oval Office conversation caught on those now-infamous tapes.
---
March 30, 1981. Flies to Washington, D.C., to pray with Nancy Reagan and the family after the assassination attempt on his old friend, President Reagan.
---
May 2, 1996. Receives the Congressional Gold Medal at a ceremony in the U.S. Capitol featuring the most powerful in their day: Vice President Al Gore, Sen. Jesse Helms and House Speaker Newt Gingrich.
---
Sept. 26-29, 1996. Draws 305,000 to his crusade at then-Ericsson Stadium (now Bank of America Stadium) in uptown Charlotte. On the last night, under perfect autumn skies, Johnny and June Carter Cash sing "Precious Memories." Graham tells the crowd of 79,000, "You have a moment before God that will never come again." In the packed stadium, at the end, Charlotte's Katherine Bell says, "It's like I could reach heaven."
---
Nov. 15, 2001. Son Franklin Graham announces to Charlotte movers and shakers at the City Club that the BGEA will move from Minneapolis to a campus off Billy Graham Parkway.
---
April 23, 2005. Billy Graham speaks at the opening of the new association headquarters in Charlotte, telling the crowd, "I thank God for Charlotte and for all it's meant to me through the years."
---
June 24-26, 2005. Holds his last full-scale crusade at the old World's Fairgrounds in Queens, New York, drawing a culturally diverse crowd of 242,000. More than what he says, it's the sight of an obviously frail Graham struggling to finish his abbreviated message that endures. Not long after that, he confirms that this was his crusade finale.
---
May 31, 2007. The Billy Graham Library next door to ministry headquarters is dedicated in front of an invitation-only crowd of 1,500. Presidents Carter, Bush (the first one), and Clinton speak. Bush, the closest to Graham, cries. The gathering erupts in laughter as Graham tells them, "I feel like I've been attending my own funeral with all these speeches."
---
June 14, 2007. Ruth Bell Graham dies at age 87. Leaning on a walker at her memorial service, Graham tells 2,000 mourners, "I wish you could look in that casket because she's so beautiful." She's buried at the library, 100 yards or so from the main entrance. Her tombstone reads: "End of Construction—Thank you for your patience."
---
Nov. 7, 2013. More than 800 family, friends and celebrities (including Sarah Palin and Donald Trump) attend a 95th birthday dinner for Graham at the Omni Grove Park Inn in Asheville. Graham, looking weak and almost frightened in a wheelchair, enters the ballroom, modestly waving his hands in response to the standing ovation, as if to say, "Please don't."
---
Feb., 21, 2018. Billy Graham dies at age 99. He will be laid to rest beside his wife at the Billy Graham Library, just a few miles from the farm where he grew up.
---
Billy By The Numbers
215 million. Estimated number of people Billy Graham preaches to in person during his lifetime.
1.1 million. Number of people who attend his largest one-day event, on an airstrip in Seoul, South Korea, on June 3, 1973.
1 million. Forty years after Seoul, the number of fans for the Billy Graham's Evangelistic Association's Facebook page tops this magic number.
305,000. Number of people who attend his 1996 crusade in Charlotte, the crowds so large that on some nights, thousands watch on giant video screens outside the football stadium uptown.
185. Number of countries and territories in which Graham preaches.
64. Number of years he is married to Ruth Bell Graham before her death in 2007.
56. Number of times he appears on the Gallup Poll's list of "Ten Most Admired Men in the World," more than anyone else.
33. Number of books he writes in his lifetime. The last is Where I Am: Heaven, Eternity, and Our Life Beyond the Now.