Birdsong flying the coop to new location this Saturday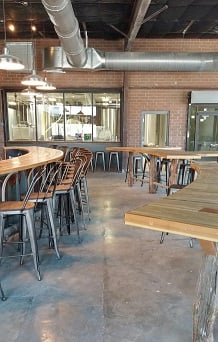 Since its expansion was first announced this past May, Birdsong has been steadily working on moving into its new building – no easy feat by any means, as the brewery was still producing beer at the current site and for local accounts all the while.
This Saturday, Birdsong will be ready to show off its newest feathers, celebrating the grand opening of the new location with a party that's running from 1 p.m. to 11 p.m. Located at 1016 North Davidson Street (just a couple minutes away from the current site), Birdsong's new facility stands at more than 17,000 square feet.
Inside those square feet sit a larger taproom, private event space and, most importantly, the ability to produce much more beer. Here are some quick facts about Birdsong's new facility:
First and foremost, the size itself: Birdsong's old site was around 4,600 square feet, with 700 devoted to the taproom. The entire building almost quadruples in size, while the new taproom triples at 2,200 square feet.
Speaking of the taproom, there are now 18 taps (with additional taps located in the private event room) and around 76 seats, compared to just 24 seats in Birdsong's old taproom. Another cool feature about the taproom are the outlets and USB plugs contained within, to charge your cellphone. One thing that's staying the same? No TVs, as Birdsong prefers conversation among its patrons (kudos to the brewery for sticking with this; I think it's a pretty cool idea in this day and age).
Production-wise, Birdsong's new facility is highlighted by a 30 bbl stainless brewhouse, 4 60 bbl fermenters and 2 60 bbl brite tanks (there's also a walk-in cooler). Increasing production is, of course, a good thing: Last year, Birdsong did about 3,300 bbls and now expects that number to go to 5,400.
And shortly after the new brewery opens comes more great news: Birdsong is set to can its first beer, Jalapeno Pale Ale (one of my all-time favorites). The new facility will house a Wild Goose canning line, which can produce about 24 cans a minute. Look for the Jalapeno cans (which will be the 16 oz. 4-pack cans) sometime later this spring.
The festivities will kick off this Saturday beginning at 1 p.m. Birdsong will be rolling out some of your favorite specialty beers along with its staples. There'll also be live music throughout the day from Alarm Clock Duo (1 p.m.), Shana Blake Band (4 p.m.) and That Guy Smitty (8 p.m.). You'll also be able to purchase food from Roots Farm Food and Chrome Toaster, which will both be on site.
Look for a full review of Birdsong's new location in next week's On Tap.