Birkdale: A Pretend Village Grows Up
Fifteen years after opening, it's a new kind of downtown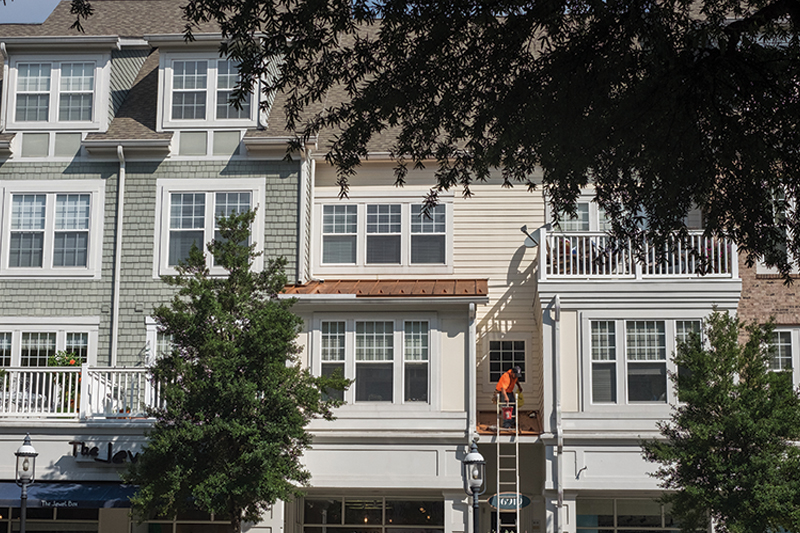 LANDON AND KAT Eckles moved their young family from the Northeast to the Lake Norman area last year, and this spring the entrepreneurial couple opened Clean Juice in Birkdale Village.
The Eckles, parents of four, keep the company's social media accounts full of cheery photos—customers and babies posed next to bottles of dark red beet-and-spinach combos; the Eckles sharing a smooch next to the Clean Juice logo on their eighth wedding anniversary. Inside the juice bar's airy space are chalkboards updated daily with messages reminding customers that ingredients are organic and raw either all of the time or whenever possible, "NOT SOME OF THE TIME."
On a recent weekday morning, several women leaving an exercise class filed into line behind a man who'd ordered ahead online and was worried about leaving his dog outside while picking up his drink. A customer quietly took a bowl of water to the dog, and an employee poured finished juice into Clean Juice's signature cup design, bearing 3 John 1-2: "Dear friend, I hope all is well with you and that you are as healthy in body as you are strong in spirit."
When construction began on Birkdale 15 years ago, towns north of Charlotte were already passing ordinances to minimize a sprawl that would continue to worsen. Birkdale's exit off of Interstate 77, number 25, leads to Sam Furr Road, which today has seven lanes near the entrance to the village.
The 52 acres that would become Birkdale Village were once a dairy farm. Huntersville town officials knew a huge development was inevitable. By enacting rules requiring mixed-use development, they reasoned, at least the farm wouldn't become another looming strip mall.
Projects using buzzwords such as mixed-use, infill, and new urbanism now seem to be announced daily for centercity Charlotte neighborhoods. Birkdale's plan, with stores on the ground floor, apartments above them, and a main street with blocks of benches and trellises, was futuristic when it first received site approval by Huntersville in 1997: a development, carved out of nothing but meant to look and function like a small town. It was heralded as a way to discourage sprawl. You can live here—suburbia!—but walk to whatever you need. People marveled.
Birkdale was sold as a lifestyle, of course. But even there it was a sly step ahead. "It's not about a lifestyle," Terry Shook of Shook Kelley, one of the developers, said in a promotional video. "It's about a life."
There is a more dystopian way to view mixed-use developments: Birkdale as a Trojan Horse for middle-class consumerism, a social-engineering project under the cloak of $75 million in "smart development." The village was created by heavyweight developers from Crosland and Pappas Properties, and the CEO of Crosland at the time was also the man behind Disney's Celebration, Florida.
But a curious thing has happened at Birkdale. The sidewalks are packed on weekend nights, and the apartments lease quickly (recently advertised for $1,285: one bed, one bath, 968 square feet, private laundry, balcony off of the living room). People from other neighborhoods bring their kids to play in the splash pad, and teenagers walk hand-in-hand and flirt over ice cream. The engineered community became a real community, with its own sort of norms. Birkdale has a dry cleaner, dentist, chiropractor, and bank, along with marketing firms, architects, a nonprofit organization, and a plastic surgeon. There are beloved local restaurants and local boutiques. It's become the sort of place a young couple can launch a juice business that rejects the artificial for the organic whenever it can, not some of the time.
Yet even Birkdale's "new urban" concept was not without a major environmental misstep. A 2003 study by researchers from UNC Chapel Hill and N.C. State University found that because developers paved eight acres of land for Birkdale's public parking lots—a far cheaper option than building decks—they hurt the protected McDowell Creek floodplain. The acres of parking lots reduced the ground's ability to absorb runoff. This could cause heavy metal and sediment pollution in Lake Norman during high rains or floods, the study warned.
The parking lots are a reminder that Birkdale is two things: a destination a lot of people want to visit, and a destination without easy public transportation. The current plan to relieve that clogging: widening I-77 with toll roads.
Although Birkdale was designed to be a town center for Huntersville, Huntersville's actual downtown is four miles away. The town's vision for 2030 is to redevelop the original downtown, a former mill village. It's currently one stoplight, with a handful of shops, a Lupie's diner, a children's museum, town offices, and a gas station. The town owns the 32-acre site that was once Anchor Mill. Like many of its peers in Charlotte, the mill village was created by the mill company to serve as a mini-town for employees, complete with stores and parks. Was the mill village model any more authentic—or less corporate—than the Birkdale version a century later?
Huntersville Town Manager Greg Ferguson says there are plans to add to the historic downtown, including a park, a veterans' memorial, and sidewalk projects. Meanwhile, if Birkdale serves as a second town center for Huntersville, it's brought great economic development.
"People say it's like Disney," Ferguson says, adding that some people forget what Disney World is: the place American families knock themselves out to visit.
"Birkdale is where residents take visitors from out of town, where you go on a Friday night, where you take your kids," Ferguson says. "It is real."
---
This article appears in the October 2015 issue of Charlotte Magazine
Did you like what you read here? Subscribe to Charlotte Magazine »
---