Bites and Brews
Two local culinary success stories have teamed up to create a menu packed with tasty choices -- and a beer list to rival any in town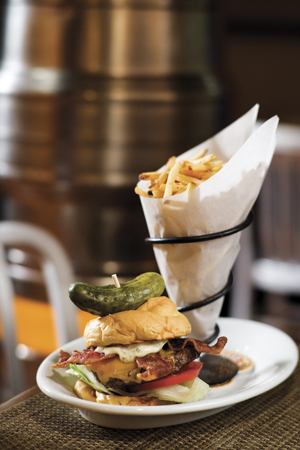 "She is liberty and she comes to rescue me." Perhaps these words to the U2 song "in God's Country" were clanging around in Tom Condron's and Matthew Pera's brains as they developed the concept for the liberty. they were certainly in mine as i first experienced the South end gastro- pub, thinking that this first step since both Condron and Pera left harper's restaurant Group was their way of saying to Charlotte, "We're still here!" Not that they needed rescuing. they have earned their places in Charlotte culinary lore with outstanding restaurants Upstream, Mimosa Grill, and the short-lived but inspired Arpa. but talents like Condron and Pera must keep rein- venting. And the liberty, while more casual than the above, is an excellent addition to the culinary scene.
Formerly Mcintosh's, the liberty offers ample space to stretch out, with seating for about 200 upstairs and a downstairs private function room. the design can best be described as modern "lagertecture." Kegs are everywhere, as are beery frescoes and accents — there's even a pint-glass- shaped chandelier in the bar. Vintage beer advertisements for brands like rheingold, Schlitz, and Schafer line the walls from floor to ceiling in the bar area. you'll find a small wine list here, but beer is at the front and center of the experience. the selection is loaded with handcrafted ales, lagers, stouts, and lambics from around the globe. there are about twenty on tap and forty or so in bottles. the hearty bells two hearted Ale is full bodied and strong. A head-numbing and hoppy harpoon leviathan (10 percent AbV) slugs you in the face, and the Victory Prima Pils is crisp and clean, pairing well with the large cheeseburger. Underneath the soft house-made bun, the charred burger mantle gives way to juicy, flavor-packed ground beef topped with cheddar cheese and two thick pieces of bacon. Crisp fries accompany the burger. tomato soup, whimsically garnished with cheddar cheese popcorn, is silky, full bodied, and delicious.
The lunch menu features nibbles, for example house-made pretzels and spicy pork rinds, that add to the menu's rustic charm, as well as an item called daily pickles.
What a great idea! Whole Kirby cucumbers arrive in their own brine in a thick mason jar. A cool presentation, but the benign flavors are disappointing. there are several salads and a handful of sandwiches that come with one of several sides, such as the robust mac and cheese and kettle beans. there are also seven main courses, many of which are also featured on the dinner menu.
The menus are well written and appetizing, highlighting the "farm to table" ingredients featured therein — Ashley Farms chicken, Sweet Grass cheddar, Georges bank haddock to name a few. the execution is, for the most part, impeccable. there is a sort of a palpable freedom in the kitchen that defines the experience. A shining example of this is the pork belly sliders. thick and rich pork belly is slow cooked for hours to a velvety tenderness that reflects a fine eye for detail. A vanilla bean apple butter adds a finger-licking smoky sweetness, and sliced pickles bring a satisfying crunch. When steamed mussels arrive, the fork jousting begins. A quick dip in the intense smoky tomato wine broth reveals an herby, earthy perfection. trout is crisp, moist, and flaky, served with lobster macaroni and cheese and spinach. And a gargantuan pork chop is grilled to a perfect medium rare, again showing off the kitchen's high standards. the real lesson here is that, in the right hands, simple comfort food can be every bit as good as haute cuisine — maybe even better. there are a few desserts on the menu. A warm chocolate cake is decadent and familiar, as are Americana selections like toffee pudding and rocky road crème brûlée. But an ice cream float with strawberry lambic (a sweet beer) is outstanding. Vanilla ice cream and fresh strawberries combine sion of flavors that has me scraping the bottom of the mug.
The service at the liberty is friendly but spotty. On one not-so-busy evening, our waitress forgets even the simplest requests, but most nights things run smoothly. the South boulevard address is in the middle of a growing and changing restaurant and bar scene. After my few visits there, I find myself — almost without thinking — recommending the liberty to several friends looking for good food in a low-key and casual, fun atmosphere. that is, after all, exactly what you get at the liberty.
E-mail: editor@charlottemagazine.com. All of Jon Luther's visits are anonymous. Read past reviews at www.charlottemagazine.com.