Bites at Bask on Seaboard
Bask on Seaboard serves savory fare in a swanky setting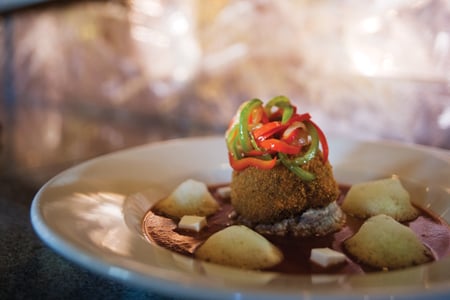 The NC Music Factory needed Bask on Seaboard. With train tracks, interstate, and a graveyard between it and anywhere else uptown, it's nearly impossible to walk between the venue and other upscale restaurants. And the other eateries on site include a saloon, a diner, and a beer garden, none of which cater to many in the crowds you're likely to find behind the velvet ropes at Butter on a Saturday night or at some of the concerts inside the swanky Fillmore.
But Bask, with its dark hardwood floors, white leather accents, and exposed brick walls, is perfect for upscale cocktails and bites before—or after—a show. And those looking for an elegant meal before hitting the dance floor at one of the on-site clubs will find entrées like filet mignon in a Coca-Cola demi-glace ($27) and pork tenderloin paired with colorful, sweet carrots ($23).
The name of the restaurant came from its three owners, Chuck Herrick (also the chef), Alex Shaw, and Craig Garceau. The friends feel that meals should be lingered over so that guests can bask in the experience. Lingering here should begin with enjoying a drink either at the marble-topped interior bar or in the patio's lounge area. While Bask offers several local beers and more than twenty wines by the glass, the cocktails are the stars of the show. The Champagne Julep ($12), a sweet mixture of cava, bourbon, mint, and simple syrup, is a charming start to a night.
There are a few fun options on the appetizers list including the Scotch Eggs ($6), an often hard-to-find dish featuring hard-boiled eggs rolled in sausage, deep fried, and served atop dollops of herb cheese. The Low Country Crab Dip ($9.50) is brimming with blue crab, but so heavy on Dijon that at times it's difficult to enjoy the delicate meat. However, the warm pita chips accompanying the dip make up for any inconsistencies with delightfully crisp exteriors yielding to dense bread.
The salads and sandwiches are light but satisfying dinner options; the grilled shrimp and asparagus on greens are tossed in a citrusy vinaigrette ($13). The wide-ranging larger plates include a traditional pork tenderloin and filet, as well as a Southern-influenced North Carolina trout with brown butter ($21) and a pan-fried chicken breast ($19). A vegetarian lasagna ($15) stands out with local vegetables baked in a fresh marinara. And if you're still in the mood for lingering, the apple turnover ($6), stuffed with warm roasted apples, wrapped in a flaky phyllo, and topped with cinnamon and rum ice cream, is a worthy dessert option.
Bask is open for lunch, which features many of the same options as dinner, and of course serves Sunday brunch, a meal designed for basking in the pleasure of one's food and company. But evenings here are what draw crowds, and considering its ever-expanding number of nightlife neighbors, that seems likely to continue to be the case for a while.