Black & Blue 6 recap, Burial tap takeover at Salud, Pizza Peel Rare Flight Night and more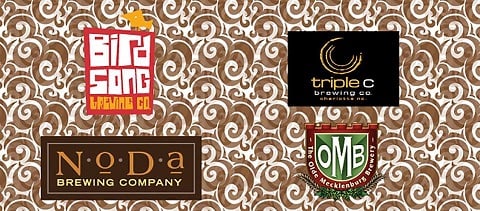 Some local craft beer news and notes on this fine St. Patrick's Day:
–Not surprisingly, Brawley's Black & Blue Festival was a hit. So many great beers, and a fine representation of Charlotte's (and North Carolina's and beyond) best offerings. Every year, there are always a few standouts above the rest. In my opinion (along with others I talked to), one of the most talked-about beers this year was Hop Rocks, a sour IPA collaboration between Wooden Robot, one of Charlotte's future breweries, and Fullsteam in Durham.
This was the first sampling of Wooden Robot for many, and the SouthEnd brewery shined with this offering. I'm looking forward to more from Wooden Robot, which is scheduled to open in the next few months. With the Charlotte brewery scene growing at a fast pace this year, it's important to distinguish yourself, and Wooden Robot seems well on its way.
— Lots going on at Salud Beer Shop as of late. The NoDa establishment is thisclose to opening its nanobrewery and Fud at Salud, recently held its first "Universidad de Salud" beer education class (Sours 101 was the first session) and is about to introduce Charlotte to crowlers (more on that next week).
Today, Salud is hosting a tap takeover featuring beers from Burial Brewing in Asheville. Featured will be Surf Wax IPA, Thresher Coffee Saison, Reaper Tripel aged on Defiant Whiskey Oak Spirals (a hit at Black & Blue), Bananas and Slow Dunkelweizen aged on French Broad chocolate nibs and Counter Culture coffee, Hatchet Hoppy Pilsner, Peanut Butter Skillet and The Shroud Dubbel. The event starts at 7 p.m.
–To honor the breweries that got this craft beer explosion started in Charlotte, Pizza Peel has made Birdsong, NoDa, Olde Mecklenburg and Triple C as its breweries of the month. And on Wednesday, the restaurant's Cotswold location will host "Rare Flight Night," with each brewery bringing a rare beer to Pizza Peel for the event. This will begin tomorrow at 7 p.m.; the list hasn't been shared so you'll just have to show up to find out what's on tap. While there, also try the 4 Amigos pizza, which was created by the staff of said breweries. It has fried banana peppers and a hop-infused balsamic glaze. And if you order it, 10 percent of the proceeds will go to Levine Childrens Hospital.
Quick Pours: Two great reads if you haven't yet: Creative Loafing's Jonathan Wells on the state of Charlotte craft beer, posing the question "Is there too much craft beer?", and CharlotteBeer.com's Daniel Hartis on several NoDa Brewing collaborations. … Speaking of NoDa, the brewery released its Ghost Hop White IPA at the taproom yesterday and it will be showing up around town beginning today. … If you happen to be coming down with March Madness and decide to start your weekend early, Good Bottle Co. will have $4 pints all Friday during the NCAA Tournament games.