Black Friday Parties, Shop Local Pop-Up, Kegs and Eggs, USC vs. Clemson Viewing Parties, Su Casa, and More – Nov. 28-30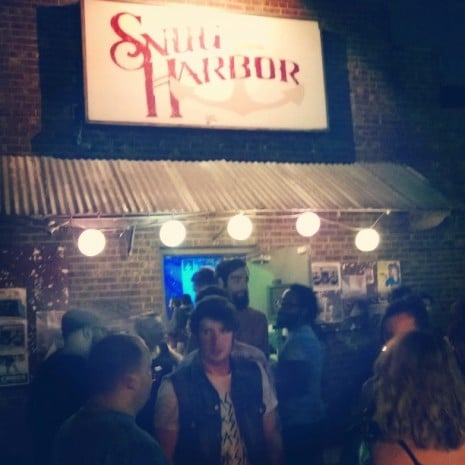 I hope you're thankful for being able to get together with your family over this holiday. And thankful that I've compiled your social itinerary for this weekend!
Friday, November 28
Sushi & Sake Pairing – Black Friday
They're offering a "turkey hangover cure" with this pairing of sushi and sake for $45 ($20 for sake flight, $25 more for sushi and sake pairing). 5-11 p.m. Eight Sushi & Asian Kitchen, 1000 NC Music Factory Blvd., eightcharlotte.com.
Golden State Warriors vs. Charlotte Hornets
Charlotte's prodigal son Steph Curry, whose Warriors have one of the best records in the NBA, returns home to take on the Hornets. Game time 7 p.m. Time Warner Cable Arena, 333 E. Trade St., hornets.com.
Hornets Viewing Party
Watch the Hornets' game on a 25-foot screen, while enjoying $3 Coors Lights and the chance to win prizes. Doors open 5 p.m.; game time 7 p.m. Free admission. Rooftop 210, at EpiCentre, 210 E. Trade St., facebook.com/rooftop210.
#FaceTimeFriday: We Give Thanks
At this edition of Moxie Society's monthly party, they're collecting new or gently used coats and winter clothes for families in need. Music by DJ DR. 10 p.m.-2 a.m. Free admission. Kanvas, 525 E. Sixth St., kanvasgallery.com, moxiesociety.com.
CIRF Fundraiser Party
It's a party to benefit the Chronic Illness Relief Fund (CIRF), featuring live performances by Grown Up Avenger Stuff, J & The 9s, Melt, Jason Herring, and The Mystery Plan. Doors open 9 p.m.; show time 10 p.m. $5. Snug Harbor, 1228 Gordon St., snugrock.com.
Black Hollywood: The Sixth Annual All-Black Affair
Heights Entertainment presents its popular, annual party, where guests will don their stylish black attire. 10 p.m. General admission, $10 and up; VIP admission, $20; VIP tables available. Ruth's Chris Steak House, 222 S. Tryon St., blackfridayatruthchris.eventbrite.com.
Black Friday Flag Party
It's a reggae-themed night, with music by DJ Princess Chow from New York City and Mix Master David from Atlanta, along with food and drink specials. Presented by Paradise Ent., BrightWorks, and LionTribe Ent. 10 p.m.-3 a.m. $10 before midnight. Twilight Lounge, 7030 Smith Corners Blvd., facebook.com/events/1545736875664179.
Saturday, November 29
Second Annual Shop Micro Local
Small Business Saturday is happening all around the country on this day, encouraging us to support local businesses. This pop-up shop event will feature more than 30 local small businesses selling gifts, food, beer, and there'll be music and more. Plus, donations will be collected for Assistance League of Charlotte. 9 a.m.-5 p.m. Free admission. Triple C Brewing Company, 2900 Griffith St., triplecbrewing.com, shopclt.wix.com/shopmicrolocal.
Kegs and Eggs: OSU vs. Michigan
The doors are opening early at this sports bar to welcome Ohio State Buckeye fans, for this annual breakfast-and-beer event. Doors open 9:30 a.m.; game time noon. Free admission. StrikeCity, at EpiCentre, 210 E. Trade St., strikecitycharlotte.com.
USC vs. Clemson: Gamecocks Fans Viewing Party
The big football rival between South Carolina's two leading universities goes down in Death Valley. The Charlotte Gamecock Club hosts this viewing party for local alumni and fans. Doors open 11 a.m.; game time noon. Free admission. Icehouse South End, 2100 South Blvd., icehousecharlotte.com, mycarolina.org/charlotte.
USC vs. Clemson: Tigers Fans Viewing Party
Clemson alumni and fans are invited to wear purple and come watch the game with the Charlotte Clemson Club. Doors open 11 a.m.; game time noon. Free admission. Draught, 601 S. Cedar St., draughtcharlotte.com, charlotteclemsonclub.com.
New Year New U Vision Party 2015
Motivation Marketing Firm presents its annual vision board party, where guests will put their dreams and goals to paper to make them a visual reality. 2- 5 p.m. $10. Red @ 28th, 2424 N. Tryon St., redat28th.com, newyearnewu2015.eventbrite.com.
Signature Saturdays
Taking place the second and last Saturday of every month, this edition features live jazz by QC Vibe, followed by hip hop and R&B music from DJ Freedom. Drink specials include $6 martinis and $99 Moët bottles, and the food menu is available until midnight. Presented by Eddietainment. 9 p.m.-2 a.m. Free admission before midnight; VIP tables available. Vapiano, 201 S. Tryon St., facebook.com/vapianoclt, eddietainment.com.
Make It a Montford Night
This is a Saturday night hotspot along the bustling Montford Drive, offering cocktail specials, music by resident DJs, a dance floor, and large patio. 9 p.m.-2 a.m. Free admission. Southside, 1600 Montford Dr., southsideclt.com.
Su Casa: The Classic Soul Edition

The crew is paying homage to the sounds of classic soul for this edition of the monthly house party, which means music from artists such as Chaka Khan, Donny Hathaway, Stevie Wonder, Curtis Mayfield, and Diana Ross, spun by DJ Justice. There'll also be a live performance, visual art, photography, face-painting, and more. 9 p.m.-2 a.m. $5 before 11 p.m.; $10 after. Petra's Piano Bar, 1919 Commonwealth Ave., petraspianobar.com, facebook.com/events/737045623046136.
[photo credit: Su Casa]
Sunday, November 30
Carolina Panthers vs. Minnesota Vikings
The Panthers need a victory this Sunday to keep their playoff hopes alive. Game time 1 p.m. panthers.com.
Where to Watch the Game
@ All American Pub, 200 E. Bland St., facebook.com/allamericanpub.
@ Angry Ale's, 1518 Montford Dr., facebook.com/angryalesmofo.
@ Draught, 601 S. Cedar St., draughtcharlotte.com, facebook.com/thecansrecycled.
@ Fox and Hound: Ballantyne, 15235 John J. Delaney Dr., facebook.com/fox.hound.ballantyne; Northlake, 9325 Center Lake Dr., facebook.com/foxandhoundnorthlake.
@ Hickory Tavern, at Metropolitan, 1100 Metropolitan Ave., facebook.com/ht.metropolitan.
@ Sports One Bar & Lounge, 521 N. College St., sportsoneclt.com.
@ StrikeCity, at EpiCentre, 210 E. Trade St., strikecitycharlotte.com.
Verify dates, times, prices, and other info at the web addresses listed for each event.
Be sure to bookmark www.charlottemagazine.com/Blogs/Dusk-Till-Dawn to stay plugged into Charlotte's nightlife and social scene. Click here to sign up to receive the weekly Dusk Till Dawn e-newsletter. Follow me on Twitter @HollidayInk; email me at jarvish@grownpeopletalking.com.