Blind Hiker Trevor Thomas Takes the Pacific Coast Trail
In January 2009 we profiled Trevor Thomas, who is blind and hiked the Appalachian Trail. Now, he has outdone himself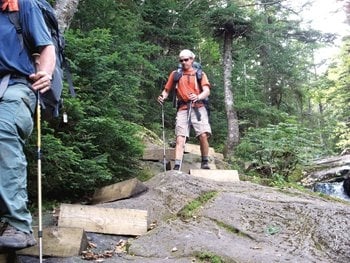 Talk about keeping a tight schedule. Back in April, Trevor Thomas' hiking team was traveling to the Mexican border and had to answer a tough question. How long it would take two sighted hikers and a blind guy to make it from one end of the Pacific Crest Trail to the other? Someone suggested they would reach the northern terminus on the Canadian border on September 25th. They wrote it on their permit. Turns out, they were exactly right.

Thomas, forty-one, goes by the name Zero/Zero on the trail because of his blindness. He reached the monument at the end of the grueling 2,800 mile Pacific Crest last Saturday, and is now recuperating at his home in Charlotte. "It was fairly injury free," Thomas says of his journey across California, Oregon and Washington. "My feet are beaten up, but there are no broken bones." The worst problem he encountered was a lost filling in the high Sierras. The tooth became abscessed and unbearable, and eventually Thomas reached a dentist, who told him that he made it in the nick of time. Left untreated, the abscess could have turned deadly in the high altitude.

Thomas started losing his vision in 2004. It was gone by the time he thru-hiked the Appalachian Trail in 2008 by himself, mainly by following the sound of other hikers' footsteps. This time, he found three other hikers and sponsors to help him pay his way, and he may now be the first blind hiker to finish the Pacific Crest Trail end-to-end. He and his team shot more than 60 hours of video, which they plan to whittle down into a makeshift documentary.

It was an amazing trip, Thomas says, but after five months of twenty-five-mile-a-day backpacking and punishing weather, he's glad to be home. In Washington, he and his team only had one sunny day–their last. Thomas once said that even though he can't see the sun, he can feel its warmth on his face. His team has the pictures to prove it, but as Trevor Thomas has long known, you don't have to see it to believe it.
Read the award-winning January 2009 story, "Blind Faith."
Read our June 2010 update with Thomas, just before he began the Pacific Coast Trail hike.