Blogger for a Day: Meet One of The Hardest Working Men In Charlotte's Showbiz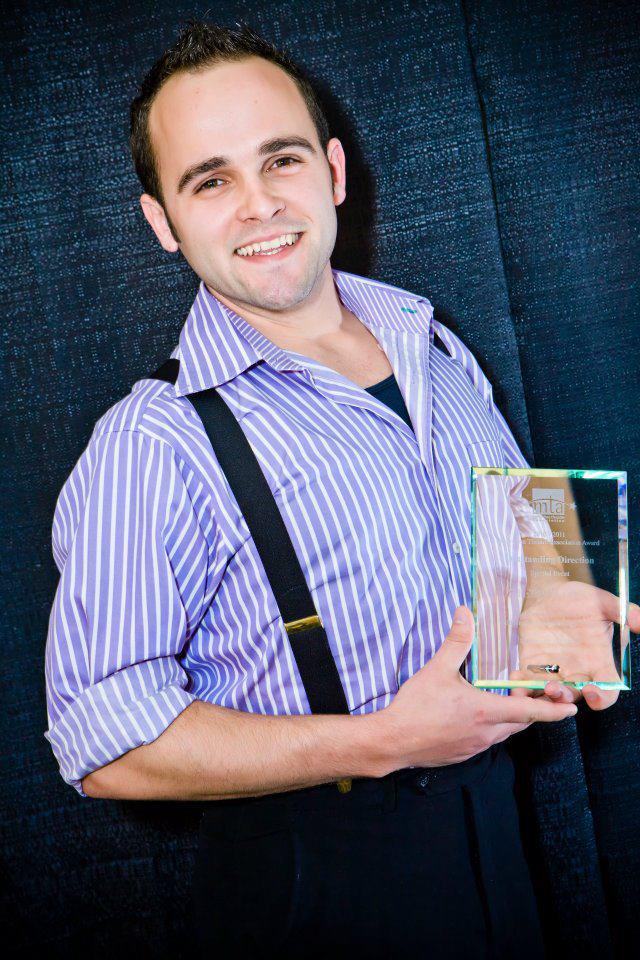 Stephen Seay can't stop.
At 27, he's made himself one of the most prolific performers, writers, producers and directors in Charlotte's theater scene. His shows have drawn big crowds and recieved great reviews. Along with his work at Stephen Seay Productions, he is a full-time member of the Children's Theatre of Charlotte's Tarradiddle Players. You can find him on Twitter @SSProductionsNC or on Facebook.
He's currently directing the upcoming comedy All the Great Works (Abridged), set to hit the stage March 1, 3,7 and 9 at Wine-Up in Noda. He was kind enough to pull himself away from his countless number of responsibilities to take over the Revue blog tomorrow, but first, let's get to know him.
When did you realize you wanted to be an actor/producer/writer?
I was first introduced to theatre when I was in middle school. I got my first big part in a musical when I was a junior in high school. I directed my first full-length play as a senior in college. And four years ago, I thought it would be fun to get some of my friends together for a 'one-act series' … and that was my first time being a producer.
What are you looking for when read a script? What makes you want to be a part of a project?
When I read a script, I look for things that make me laugh. If a script is able to carry my humor, I start looking at the set requirements and I look to see if I can cast most of the roles from the actors I know. I think the most important thing about script selection is finding one that gets me excited. Since I have a full-time job, I really only involve myself in projects I believe in because I don't have a lot of free time to waste. It has to be good. It has to be strong. And it has to be able to make me laugh every time I read or rehearse it. If the people behind the project aren't invested the show suffers, and I don't want to present myself to an audience in a negative way.
Who inspired you to pursue your stage dreams?
When I was in middle school my sister performed in a high school performance of Schoolhouse Rock Live! The bus would take me from my school to hers, and I was allowed to sit in on her rehearsals while I waited for mom to come pick us up. The rehearsals just looked so fun — the costumes and props and set pieces and music. The high school drama teacher would even let me stand slightly offstage and do all of the choreography. It was exactly what I needed because I was a sad and lonely kid in middle school. I got to watch my sister having fun while working hard to be good at something – and that's what I wanted.
So, when I got to high school, I did it too. And now, my sister has two daughters and they come see everyone of my shows at Children's Theatre of Charlotte. It's nice to think that my six-year-old niece is growing up with Uncle Stephen's plays. Maybe one day she'll think "I want to do that" and she'll try it out too – I know she enjoys her ballet classes that she started this past fall.
What's your proudest moment as an actor/producer/writer? Can you tell us a little about it?
There's no feeling like the one I get when my actors are onstage making a curtain call after a successful performance – I'm always really proud of the work I get to produce with my company. And it's always a treat to hear what I call "a dad laugh" when I'm performing shows at Imaginon with the Children's Theatre of Charlotte. But I think one of my personal "proudest moments as an actor" comes from my senior year of college. I was auditioning for Oklahoma! and I really wanted the part of Will Parker. I felt I did fine with the cold readings section of the audition and I wasn't worried about my vocal section. So when it came to the dance section, we all learned the routine and we were given our groups to run the choreography. The choreo ended with me going down to one knee and a nice musical theatre "pop" with the arms in that presentational style. When I hit that last beat, I knew the part was mine – and I was so proud of myself mostly because I knew I did a good job. And I HATE auditions! So that was a nice moment – I think everyone wants to feel that way about the work they do.
Any good road stories?
Oh God, there are so many good stories from my travels with the Tarradiddle Players. After six years with CTC, I've travelled everywhere from Georgia to Connecticut. And we're really just a group of four actors who work hard at promoting the theatre's philosophy of inspiring young people to explore their world, believing in the power of theatre and being dedicated to excellence – not only to children, but to all generations.
And I've done some really great shows with CTC. Some of my favorite roles have been playing "the bad guy" because it's so fun to have a gym full of angry first graders HATING you and everything my character is trying to do. But I also get to play the prince or the male love-interest in fairy tale stories.
So this one time – we're doing a show called Commedia Aladdin, which is essentially four Italian actors coming on stage in the Commedia dell'Arte style and presenting a fairy tale story – basically a play within a play. So, I'm Arlequin – the fun-loving, trickster of the group (which isn't too far from me in real life) – and he always has to be the lead. In the play, I'm in disguise as Aladdin and I'm meeting the princess because that's the genie's big plan of how I'll be able to get her to fall in love with me. The princess comes into the scene and asks "Who are you?" I'm supposed to grab the prop nearest to me which happens to be a flower or stick or something and my line is "Uhh … I'm the gardener." And then from somewhere in the audience this little boy screams out: "That's not the gardener, that's Aladdin!"
The moment was SO surreal and totally took me by surprise, but I was determined not to break character. And of course the princess (Leslie Giles) is standing there in shock too. So then the audience starts to laugh because it was totally a Carol Burnett Show moment where two actors are trying so hard not to break which only made it that much harder not to break. I think everyone eventually stopped laughing and Leslie and I continued on with the scene, but children are the best audience members sometimes.
Any local theaters or companies we should be on the look out for?
PaperHouse Theatre: they're new to Charlotte and doing some really great theatre. They'll also be performing at Wine Up for March 14-16 with a play called Drinking Game. They'll be presenting another show at Wine Up for March 21-23 with a play called Hospital Cops, in collaboration with The Machine.
Three Bone Theatre: They're brand new to Charlotte. Their first Charlotte production will be The Vagina Monologues (also at Wine Up) for April 12-13 and 19-20. From what I've heard of the cast list, it's looking to be a very strong Charlotte premiere.
Any advice for someone looking to do what you do?
There's a fortune cookie that I got when I started college that read: "You cannot love life until you live the life you love." I've kept it taped to my computer monitor since the day I found it. If you want to do what I do, you just have to go out there and make it happen. Of course, having talented friends is a great support system, but you just have to try it. Be ready to make mistakes, but learn from them. And always, always make sure each performance counts – you never know who is watching you just waiting to be impressed.
About Seay's next production:
All the Great Books (Abridged), starring Brandon Ballard, Christopher Jones and Jay Russell, examines 86 classic books in 90 minutes. Think of it as a hilarious Cliffs Notes.
And don't feel discouraged if you've never read any of the books — neither have any of the performers.
Tickets are on sale here. All shows begin at 7:30 p.m