Blogger for a Day: Meet the Charlotte Bureau of Awesome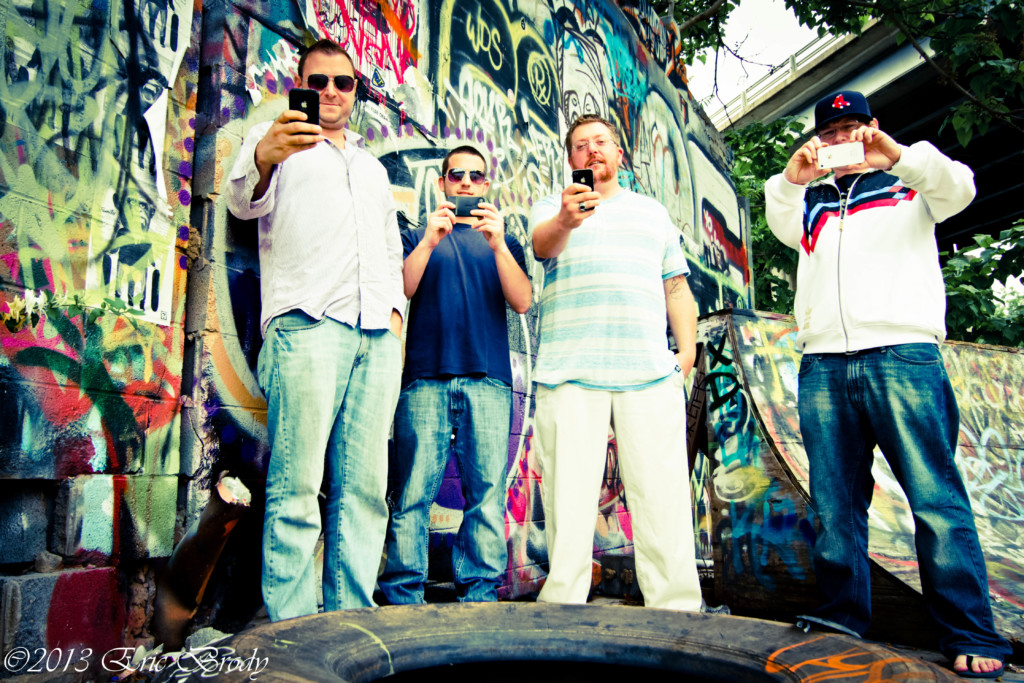 You may not know it, but Charlotte has two unofficial mascots and tour guides that for the past year have been gaining in popularity. With Hugo making a triumphant return, the high-flying hornet may need to box out these two upstarts.
One is a boozy, cocksure, NASCAR devotee named StockCar Johnson, the other is a transplant who could pass as a member of the city's Illuminati named QC Banks. The two characters are the creation of the Charlotte Bureau of Awesome, a four-man comedy team dedicated to promoting … well all things awesome in our fair city.
Made up of Eric Brody, Jarrett Tolman, Andrew Epperson, and Jason King, most all Charlotte natives, the Charlotte Bureau of Awesome was born about a year ago as a creative venture for the team that was looking for a new project. The guys fell upon the idea during the Democratic National Convention as a way to impress the city's value upon the throngs of visitors and up their page views. The concept blossomed however and grew into a comedy promotional website of sorts full of videos, essays and meanderings written by the two shadowy characters StockCar Johnson and QC Banks.
Today, The Charlotte Bureau of Awesome will take over the Revue Blog to explain what makes Charlotte so awesome. But first, let's get to know them and the guys pulling the strings.
Can you tell us a little about yourselfs?
Eric Brody: Charlotte native, Air Force veteran, Full Sail grad, new dad, and project manager. When not on duty for CBA, he works on combining his two favorite sports: Base Jumping and Wake Boarding.
Jarrett "Turtle" Tolman: A non-native who has paid his dues to represent Charlotte. Turtle has been involved in the local arts scene since he was cast in a student directed play at UNCC in fall of 2000. Web development when the sun is in the sky; he is a poet. Yes, that is a haiku.
Andrew Epperson: Professional colleague of Brody, and a Charlotte native. Coming from a background in theatre, music, radio, and marketing, he's helped CBA build bridges and avoid FCC violations.
Jason King: A self-proclaimed think tank, and holder of a 298 high score ring for bowling, King is a fifth generation native who claims to have been on every road in Charlotte at least once. He holds the distinction of the last Charlottean with a "real" rat-tail, which he cut in 2008. Though disappointed at the time, he's been gainfully employed ever since.
And your 'leaders?'
QC Banks (Played by Turtle) Originally from the Northeast, though exact location unknown. Independently wealthy, QC claims to have spent time "getting to know the criminal mind." These days, he focuses on CBA and his award winning bonsai trees.
StockCar Johnson (played by King) Son of the legendary short-track racing flag man Dogwood Johnson, StockCar is a more than proud Charlotte Native. In 1997 after graduating at the top of his Job Corp class he joined .38 Special as a tour bus driver. In 2010 after a 13-year run as a Music and Entertainment Transportation Specialist, Johnson placed his shackled feet firmly back in the Queen City.
What are the goals of the Charlotte Bureau of Awesome?
We want to create. The four of us with unlimited funds and time could, in theory, make anything funny. The problem is we want to do everything. By choosing Charlotte as our vessel, we've focused our talents on one muse. This saves us from creative think sessions that include lines like "what if Kanye named his kid … That's when Joe Biden says 'not in my house.'" The singularity helps our focus, and hopefully makes us better humorist.
Also, we want to restore the public image of StockCar Johnson to the tipping point where voters overlook his past transgressions and support him in a successful mayoral campaign.
What's the most awesome thing about Charlotte?
The people. Our city is a mix of hometown folk, transplants, very rich, very poor, and all that can be imagined in between. To see this you need only to visit one place: Price's Chicken Coop.
Price's, the Coop, whatever you want to call it. Sure there are more popular things or events per se, but if you want to see what I mean, drop by one weekday during lunch. A cordial mix of flat brim caps, tattoos, suits, and yoga pants. Each person in one of the many lines is visibly so different, but at some point that day said they all said, "I'm going to Price's."
Charlotte's people take the cake. For purpose of acknowledgment the US National Whitewater Center was a close second. StockCar still is in disbelief. QC Banks noted it as a "Build of proportions only a Field of Dreams could sow" StockCar went on record as saying "we have a national what-water team?"
What would the Bureau hope to see changed to make Charlotte better?
Let's preface this question with a disclaimer. We here at the Bureau live demanding, booze fueled lives that even a shaky cup of black coffee in the morning can't snap us out of. We by no means think we should ever have any absolute power in an official capacity to change anything about Charlotte on a level affecting anyone but ourselves.
With that in mind, the Bureau's what-needs-fixing list is short. We have a working theory on the greatness of Charlotte called Fractal Awesome Connectivity, named after turtle's dog, One-Eyed Willamina. FAC should not be confused with StockCar's theory that locking one's car doors during a traffic stop means the officer has to obtain a search warrant to talk to him.
Our theory maintains that the largest amount of great anything in Charlotte is found in a proportionately identical form even at the smallest level. We as a community, stifled by lack of awareness, exposure, or routine, are not successfully connecting the level-one fractal components together to foster a larger entity of greatness.
And the driving is terrible. We should also change that.
Are there other groups in Charlotte who do what you do?
There are, and we would praise them, but this is kind of about us.
While you attempt to wrap your mind around that, check out these sites: charlottebeer.com, pmcradio.org, ablacktv.com, facebook.com/CultureInitiative, shutter16.com, or type "we beelieve" or "bring back the buzz" into the Google machine.
There is no shortage of people and groups celebrating life and creating in this city, and that's part of what we love about it.
Other comedy groups we should pay attention to?
City Council.