Blues Musicians Featured in Levine Exhibit Perform at Showcase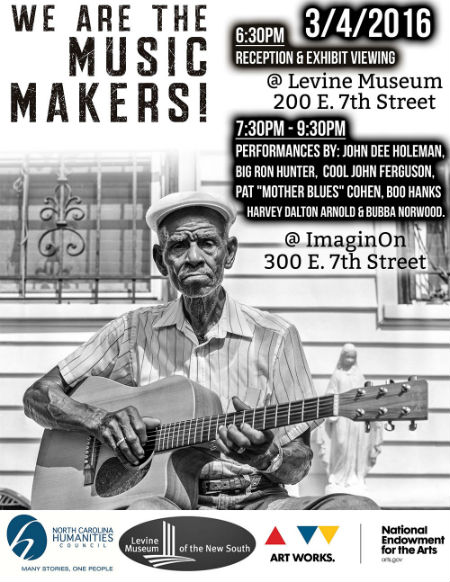 SINCE 1994, Tim Duffy and his Music Maker Relief Foundation have been on a journey. The goal is to find, document, and support musicians that keep the roots music of the South alive, but face poverty and other issues at an advanced age. After two decades and more than 300 artists assisted, it's now easier to see Music Maker's vision. Though it hasn't always been that easy. "When we started, everyone told me there weren't any blues guys around anymore and they were all dead," Duffy says.
We Are the Music Makers, a photo exhibit at the Levine Museum of the New South, features vivid portraits of musicians helped by the foundation. On Friday (March 4), an event showcases several of those blues-players from the exhibit in We Are the Music Makers Blues Music Revue. Support for the program comes from National Endowment for the Arts. The event kicks off at 6:30 p.m. at the Levine, before visitors head to ImaginOn's Wells Fargo Theatre for the performances. (And it's all free, but registration is required.)
"It's an honor to be there with these musicians," says Duffy, who will give the opening remarks for the event. "This is the roots of American music. This is music that will never die; it's really the aquifer for all modern music. So we need to nourish that."
John Dee Holeman, Big Ron Hunter, Cool John Ferguson, Pat "Mother Blues" Cohen, Boo Hanks, Harvey Dalton Arnold, and Bubba Norwood perform at the revue. Duffy maintains that though the foundation do whatever they can to help elderly blues musicians to feel relief from poverty, they often just have one request: They want a gig. That's why the group helps them book tours and record their music as part of a professional development program. Some have gone on to stages like Carnegie Hall and the Lincoln Center.
Several musicians in the exhibit went on to play shows across the world, which Duffy says is particularly special for musicians. "This art is very powerful," Duffy says. "The music that was created in the South is our country's legacy to the world."