Bob Rucho's Idea of 'Local Control'
It's great for local governments to decide for themselves, unless the legislature wants something else.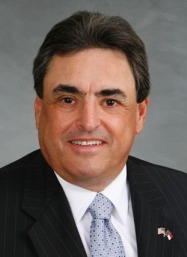 Republicans love the idea of smaller government. Local officials know their needs better than state ones, and state officials certainly know their needs better than the Stormtroopers of Washington. It's right there in, for example, the North Carolina GOP's platform, which champions "a limited government which serves the people" and decries "unfunded state mandates for counties and municipalities." Local control is best.
Except when the locals are Democrats. Then all bets are off.
The Charlotte airport mess is a fine example. Here's another: a bill that passed the Senate Finance Committee yesterday that would prevent Mecklenburg County voters from deciding whether to hike the county's sales tax rate to cover raises for teachers (from WFAE):
Mecklenburg residents currently pay 7.25 percent in sales tax. Most of that goes to the state. But 2.5 percent goes to the county.
That rate would go up another .25 percent if voters approve the referendum this fall.
Eighty percent of the additional revenue would go towards raising teacher salaries and 7.5 percent would help fund the city's struggling arts and cultural institutions. The remaining money would go to libraries and Central Piedmont Community College.
But this new bill would effectively kill that plan. As legislative staffer Trina Griffin told the Senate Finance Committee, "The bill provides that in no case can a county levy a sales tax in excess of 2.5 percent. So it creates an overall cap."
Since Mecklenburg already has that 2.5 percent sales tax, no additional sales taxes could be levied by County Commissioners or voters.
The bill would affect all counties except Wake and Orange, which already levy more than 2.5 percent sales tax. They would be grandfathered in.
"This is a rather large change to be making so quickly," said Joanna Reece of the Association of County Commissioners, one of two members of the public to address the committee. She suggested sending the bill back for further study.
Shortly after, the bill was approved with a voice vote.
Mecklenburg County Commissioner Dumont Clarke said, "It basically takes away the people's right to decide."
And no one need be surprised that a key figure behind both of these episodes of legislative f*ckery is Sen. Bob Rucho of Matthews, whose myriad f*ckeries have been chronicled at length here and elsewhere.
He insists that the sales tax measure is unrelated to the Mecklenburg County referendum. I do not believe him. He also says the measure is designed to bring uniformity to sales tax collection throughout the state, which is another way of saying local control is a virtue only when it's convenient for the people in power in Raleigh to see it as one.