Boem Replaces Scout & Molly's in SouthPark
Owner Megan Orrell discusses keeping her boho boutique local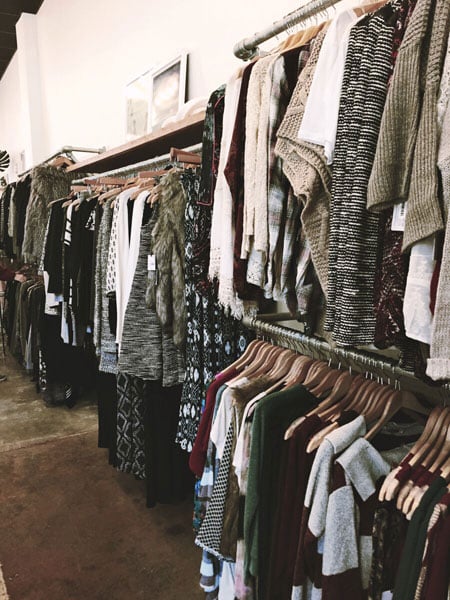 After seven years of operation, Scout & Molly's, located at Morrison shopping center in SouthPark, has been rebranded as a new concept called Boem. At the grand opening of Boem on Saturday, owner Megan Orrell was surrounded by customers and staff members all wanting her attention. With beachy, California-inspired décor as a backdrop, Orrell made what could have been a stressful situation seem easy. Greeting customers, restocking, and working the register checking people out with a smile, Orrell was in her element.
Boem, an eclectic, boho-inspired boutique, features many of the same brands that devoted fans loved from Scout & Molly's, a chain boutique that originated in Raleigh. Remodeled and reimagined, Boem has an easy elegance noticeable as soon as you enter the store. Walking around the store, looking at all the clothes, accessories, and decorations made me envision a new life for myself: Selling everything, buying a Volkswagen van, and living at the beach with an amazing new wardrobe.
After browsing and shopping, I e-mailed Orrell to further discuss her store, her plans, and what Charlotte shoppers can expect from Boem. Here's what she had to say.
What does the name Boem mean?
Boem doesn't have any real meaning … yet, which was the point. We wanted a name without any previous connotation that we could create an entire lifestyle around. So we are Boem and there is nothing else out there like it.
How will Boem differ from Scout & Molly's?
Our clothing style will stay the same; it's just the branding and the renovation of the space that will be different.
Why did you decide to go out on your own with a different concept?
Scout & Molly's sold to an investor and is franchising nationally, which is different than the licensing agreement I signed on under. It means something to me (and I think to my customers) to be truly locally owned and operated, as I always have been, so I didn't want there to be any confusion as to who is running my store and doing the buying, etc.
What are the price points and some of the brands carried at Boem?
I would say our average price point is around $100. We have jewelry starting in the $20 range and clothing starting in the $50 range, with most everything under $200. Some of our favorite lines are Show Me Your Mumu, Blue Life, Bella Dahl, BB Dakota, Tolani, Chaser, Gypsy 05… plus many more. We probably have about 100 vendors. We also focus on locally-made jewelry and carry five designers that are based right here in Charlotte.
What do you want Charlotte shoppers to know about Boem?
Our goal is to have something for everyone. We want a mom and her daughter to both come in and buy something. We have a range of prices depending on your budget. We want to have an atmosphere so that you feel like you're stepping into our home.