Bon Appétit at Georges Brasserie
SouthPark's newest restaurant offers traditional French fare in an inviting venue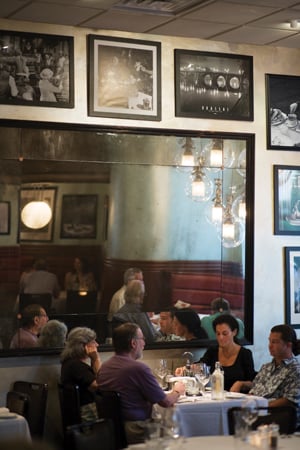 It may take you a whIle to get around to looking at the authentically French menu at the new Georges Brasserie. You'll likely be caught up admiring the SouthPark restaurant's chic interior, with its vibrant red accents and booths and vintage French photos and posters. But once you do peruse the extensive menu, expect to be impressed — and probably salivating.
French-inspired hors d'oeuvres like steak tartare ($8) and chicken liver mousse ($6) are flavorful and complemented by perfectly crisp brioche toast points. The goat cheese and caramelized onion tart is a must with a flaky crust and warm and creamy filling. Entrées range in price from $11 for flavorful ratatouille brimming with fresh vegetables and served over creamy polenta to $29 for the free-range roast veal chop served with potatoes and asparagus. For a seriously deca- dent dish, try the gratin de macaroni ($12). Served bubbling hot, this upscale version of mac 'n' cheese comes with bacon and Gruyère. The raw bar may be the restaurant's most impressive feature, though, with options includ- ing clams, shrimp, oysters, lobster, crab, and ceviche, as well as mussels available five ways.
Open for lunch and dinner, the new restaurant offers a prix fixe business lunch ($9.95) with soup or salad, an entrée, and a drink. However, for the full French brasserie effect, go in the evening and ask for a table near the bar to soak up the convivial atmosphere.
Watch an exclusive video of Georges Brasserie by Victoria Uwumarogie