Bon Appetit Honors Kindred
The Davidson restaurant makes the magazine's 50 best list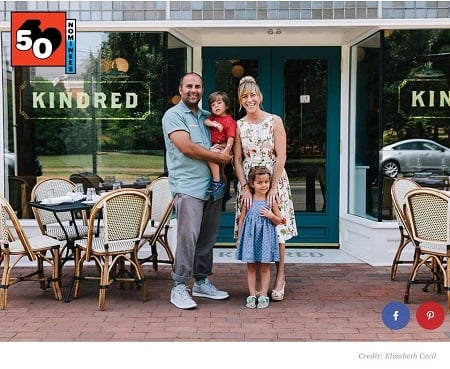 The team at Kindred has another honor to add to a growing list. Bon Appetit magazine has named the Davidson eatery one of the country's best new restaurants in a list only 50 names long.
The list of nominees are now contending for Bon Appetit's Hot 10, a list of America's Best New Restaurants as decided upon by the magazine's staff, which will be determined and released on August 18.
"We are so honored and blessed to be included in such an amazing list!" said Chef Joe Kindred. "We will take a moment at line up to toast our team and their hard work and dedication and then get back to work and focus on continuing to grow as a restaurant. Thank you so much to the Charlotte community for trusting our restaurant and letting us try and create a unique dining experience. Special thanks to the Davidson community and local business owners for their continued support."
In the write-up, Bon Appetit noted the charm of Kindred's restored pharmacy turned eatery (complete with exposed brick and turn-of-the-century mantle), the fresh pastas – ranging from squid ink shells to green garlic gnocchi – and, of course, the habit-forming milk bread which has already created a pocket of addicts residing in the Davidson and Charlotte areas.
Kindred was also the only restaurant nominated in North Carolina AND was recently featured in Garden & Gun for its crispy oysters with green garlic yogurt. Congratulations to the team and we look forward to seeing what happens next!