Bonjour, Lumiere
The duo behind The Liberty brings French fine dining to Myers Park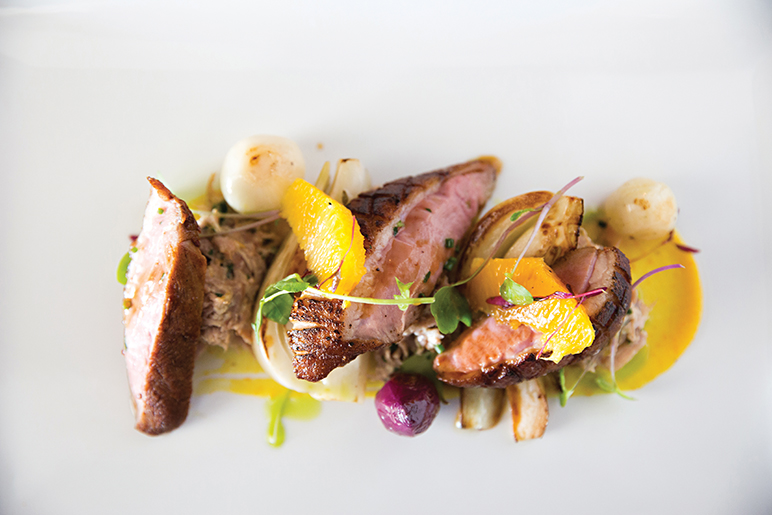 A fancy French restaurant can feel stuffy and unapproachable. But classic French cooking employs techniques that are at the heart of many favorite American dishes. "The idea of French cooking [includes] the principles and techniques that are ingrained in our everyday cooking," says Matthew Pera, co-owner of Lumiere, a new French fine dining restaurant in Myers Park. "When you roast a chicken, that's French cooking."
Pera and Tom Condron, the duo behind The Liberty in South End, opened Lumiere in February, promising a modern take on classic French dishes. The menu, developed by Condron, offers several French standards, presented in a fresh way. "We're not doing fusion this or fusion that—it's French," Pera says. "Everything is prepared with modern cooking techniques and very modern plating style."
A freshly baked bread of the day starts the meal. On a recent night, it was gourgere, a popover-like biscuit with a crispy exterior and a warm, doughy interior bursting with gruyere. Starters are dainty but rich, as is typical in French cuisine. Bourgogne of escargot ($14) prompts diners to crunch through airy puff pastry to reach the mushrooms, sauce, and escargot within. Salads are called salads in a rather loose sense (don't look for greens with topping and dressings here), but each plate is exquisite. The Hudson Valley foie gras ($18) "salad" offers the delicacy charred on the outside, preserving the warm, soft texture within—and it's paired with a brûléed Lady apple, on top of espuma. For the main course, the modern duck a l'orange ($32) is beautiful, with segmented fruit and braised fennel playing off chive oil and Grand Marnier reduction drizzles.
With just 55 seats, the cozy eatery is the culmination of a long-held dream for Condron and Pera. They'd wanted to open a true French restaurant in Charlotte for years. Condron longed to return to his classical French training with the late Jean Louis Palladin, a renowned chef and James Beard Award winner; and Pera missed his days with a former Charlotte French restaurant, Marais. But during the recession, they didn't believe the Charlotte market was ready. The duo had success with The Liberty, a gastropub that came along at a time when the idea of a gastropub was still new to Charlotte.
Now, with Lumiere, they've reminded us of what we've been missing.