Border Wars: The Fight Over North and South Carolina
How the search for the North Carolina–South Carolina border turned into a 238-year-old scavenger hunt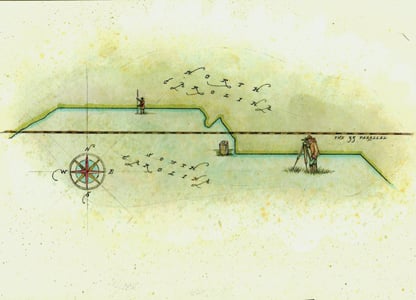 Ever fight with your neighbors about where your property ends and theirs begins? It could be worse. North and South Carolina were split in 1729 and to this day there are still surveyors walking through fields, forests, and along rivers trying to figure out exactly where to draw the invisible line that separates the states. The latest attempt at finding the border has been going on for fifteen years. Currently, surveyors and researchers commissioned by both states are looking at the portion that runs along Mecklenburg and Union counties. They're rummaging through old property records and trying to find stones and other markers, but few of the originals actually exist. In 1772, surveyors marked the border on trees; today every single one is dead and gone.
There's another problem: the state line isn't as straight as it appears on your road map. Instead, it zigs and zags between property corners and former trees. "It's not so much jagged, but slightly serpentine," says Dennis Lee, a geometrics engineer and North Carolina's boundary expert. To turn it into a straight line, South Carolina's attorney general says he would need an act of Congress. Lee says it's crooked because the original surveyors had less-than-accurate equipment and their compasses were thrown off by mineral deposits. Cut those guys some slack. There was no GPS in the mid-eighteenth century.
So why is this so important? For one thing, both states want to make sure they're taxing people along the border correctly. They also want to make sure people know which police or fire department will arrive when there's an emergency. To settle all of that, surveyors will pound small metal discs into the ground every couple of miles to mark the state line and tell us once and for all where North Carolina starts and South Carolina ends. And in case you were wondering about those highway signs at the border—"Welcome to South Carolina"—Dennis Lee says they're not his doing. Instead, highway crews often place them in places where they can turn around their paving or mowing equipment. "They're close," he says, "but not exact."
Click along the state line on the map below to learn more.

View The State Of The Line in a larger map