Bowling For Books, First Friday Fort Mill, Electric Luau Party, Soulmatic Carolina Music Fest and More, Aug. 6 to Aug. 9
Whether it be a luau or a corn hole tournament, Charlotte's got your summer socials squared away this weekend.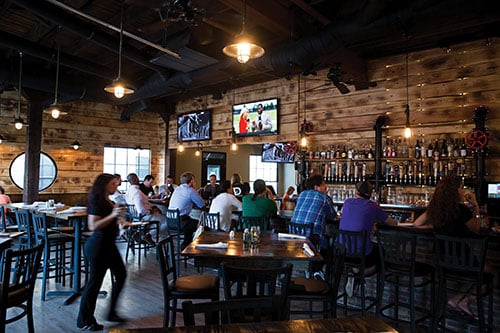 As we simmer into August, we welcome a few more summer social events. Whether it's a luau you're seeking, a cruise around the lake or a corn hole tournament, Charlotte has your summer covered. Looks like a great one, Queen City. See y'all out there.
Thursday, Aug. 6
Bowling for Books
You get to bowl. Children at high-poverty schools get free books. It's a win-win situation for sure. The bowling s at 210 E. Trade St., and the charity event runs from 6 p.m. until 9 p.m. Registration costs $20, and you can pay here.
Young Leaders Networking Night
Join the United Way Young Leaders of the Central Carolinas tonight for an evening of both beer and business. Saying "United Way Young Leaders" at the door gets you free entry to this night of networking. The event is at Howl at the Moon, 210 E. Trade St., from 6 p.m. until 9 p.m.
Friday, Aug. 7
Under The Lights Nights
Starting tonight and lasting every Friday evening through August, Village Tavern invites you to its patio for live entertainment with DJ That Guy Smitty. The night, which includes plenty of drink specials, runs from 8 p.m. until 11 p.m. at 4201 Congress St.
First Friday Fort Mill
Featuring the second month of a two-month corn hole tournament, a slew of food trucks and live entertainment, this once-a-month gathering right across the border is worth a trek. The fun is from 6 p.m. until 9 p.m. at Walter Elisha Park in Fort Mill. The event is free, but you can buy food and drink tokens ahead of time to save time.
Electric Luau Party
It's most definitely summer, and this party will heat things up even more. Come get a free LED lei at BAR Charlotte's luau party, which also features DJ Freaky. Doors open at 9 p.m., and there's free admission with an RSVP before 11 p.m. BAR Charlotte is at 300 N. College St.
A soPHIsticated Soiree
This scholarship event, which features the hash tag #blackmindsmatter, also features DJ 360. The name of the event has sophisticated in the title, and that should give you an idea of what attire is encouraged. The night runs from 10 p.m. until 2 a.m. at Chima, 139 S. Tryon St. Tickets start at $19. Buy them here.
Saturday, Aug. 8
Soulmatic Carolina Music Festival
Hosted by V101's Fly Ty and Old School 105.3's Eddie Owens, this music festival features a whole slew of artists, including Maze, Frankie Beverly, Jagged Edge and more. Doors open at 4 p.m., and the show starts at 5 p.m. at the Metrolina Expo, 2100 Old Statesville Road. Tickets start at $25, and you can buy them here.
Saturday Night Lights Corn Hole Tournament
To help Draught celebrate its one-year anniversary, RockHouse Events hosts this free nighttime corn hole tournament. With live music and prizes like Panthers tickets, gift certificates and free beer for a year, this seems like an anniversary party worth attending. Registration begins at 7 p.m., and the tournament starts at 8 p.m. at 601 S. Cedar St. Send Kaitlyn@rockhouseevents.com an email to register your team.
Booze Cruise and Island BBQ
The tick tock of summer is quickly coming to an end, and this is one of your last chances to hop aboard a summer booze cruise. The cruise takes you around Lake Norman, stops for an island barbecue and ends with a sunset view on the lake. Your $30 ticket gets you lunch and an entire afternoon of summer fun. Meet at Blythe Landing Park in Huntersville at 4:30 to hop aboard. The cruise is, sadly, BYOB. Register here.
Bringing Back the '80s Social
Get your workout gear or your best '80s-themed costumes ready for this social outing. A $10 ticket gets you a free dinner buffet from 8 p.m. until 10 p.m. at Whisky River, followed by free cover at the after party at an Uptown spot. Additionally, raffles for gift cards starts at 9:30 p.m. Whisky River is at 210 E. Trade St. Buy your tickets here.
Sunday, Aug. 9
Spin Sundays Brunch One-Year Anniversary
To continue with Draught's one-year anniversary celebrations, the bar and restaurant hosts its annual Sunday brunch with a build-your-own mimosa and Bloody Mary bar. The brunch runs from noon until 4 p.m. at 601 S. Cedar St.
Private Brunch
The event description says, "what happens at this brunch…STAYS at this brunch." We have no idea what that means, so you'll have to attend to find out. Power 98's DJ LP will be at brunch along with Slate's dozen billiards tables and Ping Pong tables. A ticket to the bottomless mimosa and bellini bar costs $20. Buy your tickets here. Slate Billiards is at 200 E. Bland St.