Braised Beef Short Ribs
From Chef Joe Kindred at Rooster's Wood-Fired Kitchen uptown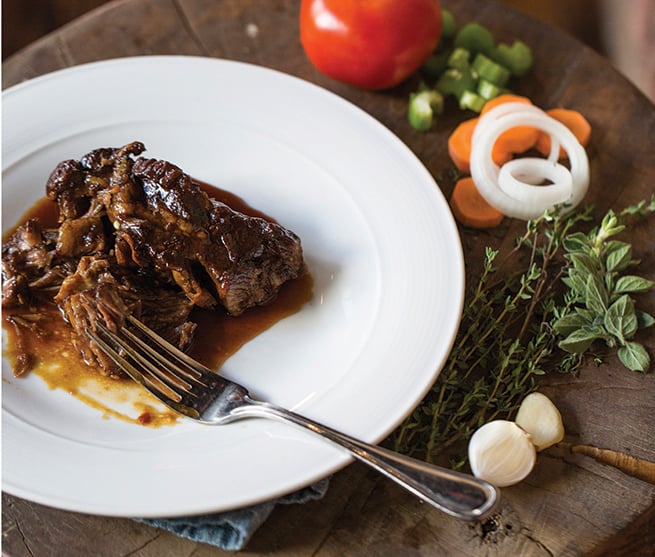 "I love to braise," says Joe Kindred, executive chef at Rooster's Wood-Fired Kitchen uptown. A simple cooking technique, braising's biggest requirements are patience and time. This comforting recipe for braised beef short ribs is a great example of what makes the technique such a go-to for chefs. Try it on a weekend, when the dish will fill your home with great aromas all day. Kindred likes to serve it with other comfort foods, like sweet potatoes, braised kale, or even grilled romaine lettuce.
Braised Beef Short Ribs
From Rooster's Wood-Fired Kitchen
Serves 6-8
5 pounds beef short ribs (10 pounds if using bone-in short ribs)
4 carrots, peeled and sliced in ½-inch slices
3 white onions, largely diced
1/2 bunch celery, diced
2 large tomatoes, diced
4 cloves garlic, peeled and whole
2 cups red wine, preferably Cabernet Sauvignon
1 bundle thyme
1 bundle parsley
2 quarts low-sodium chicken or beef stock
Salt and pepper to taste
Olive oil as needed
Season the short ribs liberally with salt and pepper and set aside. On the stove top, add enough oil to coat the bottom of a large, heavy braising/roasting pan (such as a Dutch oven) with the heat on high. Brown the short ribs on all sides and place in a separate container. Drain extra fat from the pan and add carrots, celery, onions, and garlic. Cook on high heat, stirring often to caramelize the vegetables (cook them until they are golden brown on the edges).
Add tomatoes and herbs and cook down until all the juice from the tomatoes is gone. Then deglaze the pan: Add red wine and stir/scrape the bottom of the pan until it appears mostly clear of all the brown bits that were stuck from browning the meat and cooking the vegetables. Next, cook until the wine has been reduced by half. Then add stock. Bring this to a simmer before adding the short ribs. Make sure the liquid mostly covers the short ribs. (It's OK if a little bit is sticking out.) Cover with parchment paper and then foil, and braise in the oven at 225 degrees until the meat is fork tender, about 4 to 6 hours, based on the size of the short ribs. Remove meat from the liquid and serve.
To make a sauce, strain all of the solids (vegetable, herbs, and bits of meat) from the red wine and stock mixture and cook the liquid on the stove top at medium heat until it reduces to a nice, thick sauce. Season if necessary with salt and pepper.
Tips
"What makes [this dish] special is the ingredients," says Kindred. "Definitely you want to get [certified Angus beef]. We like to cut ours about two inches thick and cut them bone-in. If you cut them bone-in, you get better flavor, but then you have to compensate for that in your recipe."
Don't toss the braising liquid. "You always want to serve [this dish] with that braising liquid, which is key," says Kindred.
Aim for fork tender. You absolutely do not want to undercook the meat, but "if you overcook, it's going to taste like beef stew, which is OK," says Kindred, although not ideal. "Fork tender is literally what you're going for. If you insert a fork, there should be no give whatsoever. The short rib just slides right off that fork."