Brandi Carlile's Solo Tour Hits Charlotte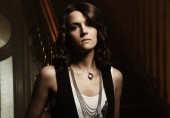 Well, this is good news for a Monday.
I'd normally try to come up with a witty headline, but there's simply not time. I wanted to share the news as soon as I got it. The divine Brandi Carlile is returning to Charlotte's McGlohon Theatre on Nov 11. It's her first-ever solo tour. I'll miss the twins, but I think a stage with nothing but Brandi, her guitar, and a piano is going to pure magic.
No sale date has been announced yet. Tickets will be available through www.carolinatix.org