Breaking and Entering
My sister's home is robbed, and I learn more about crime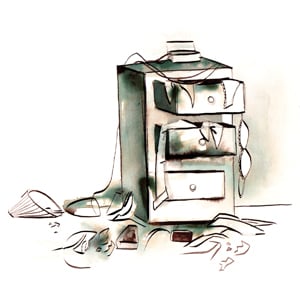 I had that anxiety you feel when the school calls. You know it's going to be bad, but you don't know how bad—will it be a bus accident or no lunch money?
Debbie and I slowly opened the back door and walked into the kitchen. The desk was empty; yes, the laptop had been stolen. I slipped my digital camera out of its black case and took a picture.
It was early Sunday afternoon; I was in my sister's house in Sharon Woods with her neighbor. My sister and her husband were in Washington, D.C., for the Labor Day weekend to visit their daughter. Debbie was watching the family dog in their absence, and that morning when she arrived to let out their Lab, she found the back door ajar and the dog by the pool. She called my sister, and then the police. When things calmed down, my sister called from Washington to see if I could go over and find out what was missing. With camera in hand and a list of specific items they were concerned about—mostly documents and jewelry — I began looking around.
Debbie pointed to drawers ajar in one room after another. Even the drawers in the master bathroom were open. I felt waves of anger and resentment. Who were these people, these thieves who had so boldly rifled through my sister's home?
We were tense, angry, sad. After walking through all the rooms, we returned to the master bedroom. I photographed the mess — things strewn on the floor and drawers in disarray. In the top drawer of my sister's dresser, open jewelry boxes lay on top of panties and bras like shells spit from ocean waves. A nearby jewelry cabinet that held mostly costume jewelry had been searched. Click, click. Click.
My niece called from Washington to check on us; my sister was too upset to talk. Setting down my camera and holding the phone, I walked back to my sister's antique mahogany dresser to begin looking for specific items. With an eye on the list, I reported back. "Yes, I found it." "No, it's gone, too." I looked for an heirloom diamond necklace, a large round diamond set in a sunburst of baguettes. It once belonged to Aunt Margaret, our only aunt. I found the box it was supposed to be in. Empty. After searching other open cases, I finally said, "No, it's not here." I heard my niece cover the phone and repeat the words to her mother; there was a lot of "Oh, my God."
I kept reporting. Sifting through the disorder of the top drawer, I reached for an embroidered box lid that had been knocked aside. As my fingers closed around it, I felt a soft lump underneath. Tucked under the top was a red velvet bag. Loosening the strings, I gently shook the contents into my hand — Aunt Margaret's diamond necklace. Somehow it had slipped into a safe place during the storm. Relief poured in from Washington.
Who would steal a twenty-five-year-old wedding band engraved with a sentimental message?
We moved on to my brother-in-law's elegant antique dresser. He had left his gold wedding band on top, unable to wriggle it over a swollen knuckle. I couldn't find it. The phone conversations stopped. Debbie looked; we moved through trays and a wooden case, we got on the floor, we searched along the wall. Who would steal a twenty-five-year-old wedding band engraved with a sentimental message? I handed off the phone, unable to tell them it was gone.
An hour passed. We went through all the rooms and finished the inventory. I got in the car and went home. As the pictures loaded into iPhoto, I felt numb. My sister and brother-in-law later calculated that $10,000 worth of possessions had been stolen, nearly all of it exceeding category limits on their insurance policy. They would absorb the loss. "The only thing I must replace," Will told her, "is my wedding band." Coming from a man who rarely thinks of himself, his words were poignant.
Later that Sunday I sat down to read our neighborhood newsletter. On page fifteen was an article about crime in the area. It began with these words: "The same 400 repeat offenders commit 80 percent of the crimes in the Charlotte Mecklenburg area. In case you weren't paying attention, let me say it again—80 percent of the crimes committed in the Charlotte Mecklenburg area are committed by the same 400 repeat offenders. Now do I have your attention?"
Yes, you have my attention, I thought. How could so few people cause so much trouble? I had no idea that breaking and entering had become a court-sanctioned career, nor that on-the-job training was so easily acquired. I went to the computer and looked up how many people lived in Mecklenburg County last year — 902,803. Four hundred criminals and nearly a million potential victims? That was too much unchecked opportunity.
I called the organizer of CharMeck Court Watch, Marcus Philemon, who was the source of the information on repeat offenders.
Philemon told me that he started the citizens group last year after moving into the Grier Heights neighborhood. He and other community members wanted to learn about local crime issues and how to protect themselves, so they met with the police captain and others from the police department, as well as assistant district attorneys. They were told that the biggest crime problem facing law enforcement was the repeat offender. Philemon and his neighbors wondered how such criminals kept getting out of jail. They learned that assistant DAs had trouble prosecuting offenders because victims didn't come to court. "They said the biggest problem they had was victims showing up," Philemon said.
The Grier Heights group decided to track the court cases of thieves caught in their neighborhood, and thus arrived at the name "Court Watch." They began visiting courtrooms to promote transparency and accountability. They wore matching blue T-shirts so judges would know who they were. (In North Carolina our judges are elected.)
In a bizarre coincidence, during this time Philemon's own home was broken into, giving him and his wife an eye-opening experience with the Mecklenburg County court system.
"During our breaking-and-entering case, my wife called the DA's office three times with no response." He began to wonder about the complaints he heard from the assistant DAs, about victims not showing up in court. Things didn't seem so simple anymore. Sitting in court one day on behalf of CharMeck Court Watch, he had a shock. "They read out the charges and it happens to be our case," he says. Not only had the district attorney's office not returned their calls, but it had failed to notify them about their case.
"You're victimized more than once," Philemon says. He quotes staggering statistics of the charges that are dismissed, and adds that most cases that go to court are resolved by plea bargains. Criminals figure out how to work the system, which acts as no more than a caution light to their tax-free earnings. It's been a discouraging journey for Philemon, a real estate broker; he now volunteers twenty hours a week with the organization. "I told my wife that I almost would have rather not gotten involved — and walked around naive." The system is broken; its problems are complex.
They began visiting courtrooms to promote transparency and accountability. They wore matching blue T-shirts so judges would know who they were.
The conversation with Philemon prepared me for what I heard later from the detective assigned to my sister's case. The police arrested two groups of thieves who had been working in the same area a few days before her incident. There was no evidence linking them to the break-in at my sister's home. Detective Steve Simono questioned them, but, he says, "they weren't real cooperative." He had a list of items that were missing, and owners had provided identifying details. If a computer had a serial number, he had it; if a ring had special markings, he was told. The same night my sister's house was broken into, a neighbor on a nearby street — out of town for the weekend — was also robbed. His door was pried open with a crowbar. This is a decent neighborhood minutes from SouthPark mall.
All of this was depressing. But this story does not end as you might expect.
One Friday my sister was at home and there was a knock at the door. As she walked down the hall, she saw through the glass a man on her porch, wearing a polo shirt and slacks, with a badge and gun. She unlocked the door and opened it, wondering what was going on.
"Didn't you have a break-in?" Detective Simono asked.
Before she could answer, he asked another question.
"Did you lose a wedding band?"
She thought of Will's ring. "Yes," she said.
"Come out to the car with me."
She walked with him, nervous, flushed. At the car he pulled out a canvas overnight bag—her bag. She struggled to connect the dots, then realized she left the bag sitting at the foot of the bed when she packed for Washington. She had forgotten about it. The thieves used it to take her jewelry and valuables.
The detective held out the ring to my stunned sister. He told her a neighbor had just called to report he found the bag with the ring inside it, in a remote area of his yard. Simono drove to his house and picked it up, and headed straight to my sister's. There was nothing else in the bag, only the ring. Simono suspected it was Will's ring because he recognized the inscription from the police report.
My sister took the ring and looked inside the band, hardly believing this could be true. There were her words.
"My life, my love, my all. October 1, 1983."
E-mail editor@charlottemagazine.com, or comment online. Laurie Prince's award-winning essays run in this magazine every other month.