Breaking Bread: Peter Reinhart Finds Purpose in Baking, Teaching, Writing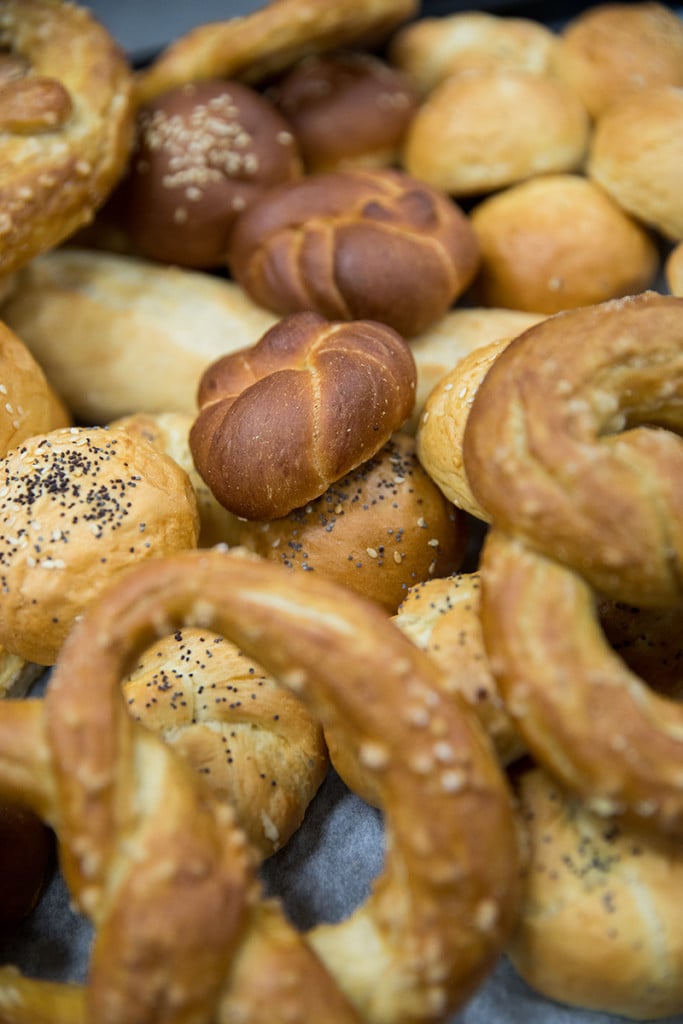 IN SAN FRANCISCO sourdough country nearly 40 years ago, Peter Reinhart began experimenting with bread recipes.
One night, he made bread following Julia Child's precise recipe and the baguettes came out just as they should, long and cylindrical like a torpedo. But the dough reserved for the next day wasn't so lucky: It was over-fermented, resulting in misshapen loaves.
When he went to score the tops of the already oddly configured loaves, they collapsed. With only 45 minutes until dinnertime, Reinhart had a choice: Throw the bread away or make do. He decided to toss the loaves in the oven and bake them. The bread got enthusiastic reviews. This formative experience gave rise to one of Reinhart's key axioms of bread-making.
"Fresh-baked bread is always a hit, no matter how it comes out," says Reinhart, now a baking instructor at Charlotte's Johnson & Wales University. "Never apologize."
Reinhart is known as a leading bread authority on and off the campus, and after he received over 850,000 views on his TED talk, The Art and Craft of Bread, his presence has only grown.
Admiring students greet Reinhart with a "Hello, chef," as he passes through the halls at JWU's Third Ward campus, to which the spry 68-year-old, ever gleaming in his crisp white chef's coat, responds to each admirer by name. Reinhart's reputation across a national community of artisan bakers and culinary professionals is one of an avuncular neighbor, sharing secrets, science, and stories behind mastering the world's quintessential food.
Twelve baking-related books contribute to his bona fides, including the James Beard Award-winning Whole Grain Breads and Crust and Crumb. His seminal book, The Bread Baker's Apprentice: Mastering the Art of Extraordinary Bread, is considered an essential bread baker's guide and garnered both James Beard and the International Association of Culinary Professionals "Book of the Year" awards.
"No one is more respected as a baker than Peter," says Elizabeth Carduff, editorial director of books for America's Test Kitchen. "We use his books as reference guides and have had him in to meet with our team. He is a very forward thinker, particularly when it comes to sprouted grains."
Carduff worked with Reinhart in the early '90s, while at Addison-Wesley, when the publisher acquired Reinhart's breakthrough first book, Brother Juniper's Bread Book: Slow Rise as Method and Metaphor. "Peter is such a gifted food writer," she says, explaining how he connects with amateur and professional chefs alike. "He has such a big heart and is a tireless explainer. His spiritual and caring nature comes out in his passion for teaching others."
Reinhart's pursuit of writing is one he takes as seriously as his baking. So much so, he got his master of fine arts in creative writing from Queen's University.
"I've always envisioned myself as a storyteller," Reinhart says. "I was the editor of my high school paper, and then I finally published some books. I realized if I'm going to transition into literary writing, I needed to hone that craft."
Reinhart's bread wizardry came almost accidentally, after a late start to his culinary education.
Reinhart grew up in Philadelphia in the 1950s and was raised Jewish. His given name was Joseph Douglas Reinhart, a tribute to his godfather, the World War II hero-turned-actor Melvin Douglas, a family friend. He attended Boston University as a film major, but didn't finish the program.
"I was at a rebellious stage then, questioning everything," Reinhart says. "I knew I wanted to write, but I didn't really know what I wanted to write about."
Reinhart left school to join a commune that had an organic, vegetarian restaurant where he honed his cooking skills. He eventually joined a non-denominational, non-sectarian Christian service order modeled on the Jesuits and Franciscans in San Francisco, becoming Brother Peter.
"Peter was the disciple who stumbled often, but always got up," he says. "The name Peter became a striving for me to overcome my limitations."
Reinhart eventually turned to running a small, seminary-owned bakery and café, Brother Juniper's, with his wife, Susan, in Forestville, California. This became the setting where his technique and reputation as a baker blossomed.
His bread's popularity led to commercial orders from area restaurants. Twenty loaves daily turned to 60 and then 200. Reinhart expanded into a former tortilla factory, baking 2,000 loaves daily. Ultimately, the unceasing demand of production took its toll, forcing Reinhart to reevaluate his career.
"What I loved to do was to write and teach," Reinhart says. "I finally knew the story I had to tell—and told it through the simple metaphor of bread and living a purposeful life with meaning."
Reinhart became a baking instructor first at the California Culinary Academy, and then at JWU Providence. He landed in Charlotte in 2003 when Art Gallagher, JWU Charlotte's inaugural president, asked him to help with community outreach and recruiting.
"I came to realize I could use help with external messaging and telling the Johnson & Wales story as we became established in Charlotte," says Gallagher, recalling how Reinhart transferred from JWU Providence. "My deal with Peter was we'd give him the opportunity to be the ambassador, but he had to wear the chef coat with 'Chef on Assignment' embroidered on it. This was always a conversation starter and gave entree for Peter to talk about JWU."
It was that Chef on Assignment coat Reinhart wore as he stood in front of the 150 people in April as he hosted bread lovers from around the globe at JWU's second annual International Symposium on Bread.
The two-day conference, conceived and organized by Reinhart, attracted bread-head-glitterati including grain growers, millers, food scientists, and commercial bakers, alongside restaurateurs and home baking enthusiasts to wax over, debate, and predict the trajectory and future of this staple food of life.
"For years, I envisioned a forum for influencers and thought leaders to engage in discussion," says Reinhart. "It's stimulating to bring people together to create community and context for conversation."
Reinhart, a star among stars at the symposium, held court with the roomful of bread geeks enthusiastically discussing obscurities like the micro-organisms in pre-ferment starters, sprouted-grain flours, affordability of mass produced artisan-style bread, the growth of home milling, and the role of science in the future of bread.
For Reinhart, baking borders on the philosophical. His signature bread Struan, a rustic harvest bread he developed at Brother Juniper's, has come to serve as a life-metaphor for him.
"The bread is a based on a concept associated with a Christian festival called Michaelmas," Reinhart explains.
Struan, a Gaelic word, means a convergence of streams. In western Scotland, men would harvest whatever grains were ready, and women would use those grains to bake bread that night. In the morning, the bread was blessed, dedicated to lost loved ones, and given to the poor.
"Life is about being connected to something greater than oneself," Reinhart says. "The symbolism behind Struan is powerful—it occurred to me that this bread became a metaphor or symbol of me. I had become the confluence of many streams. Struan is not merely bread—it is bread that represents the essence of bread, which is one of the great analogies of life itself."