Brew Stash Bash, Art & Soul of South End, Queen City Jazz Fest and More, June 16 to June 19
Celebrate summer with the Queen City Jazz Fest, the annual Brew Stash Bash and a neighborhood festival featuring about 15 food trucks.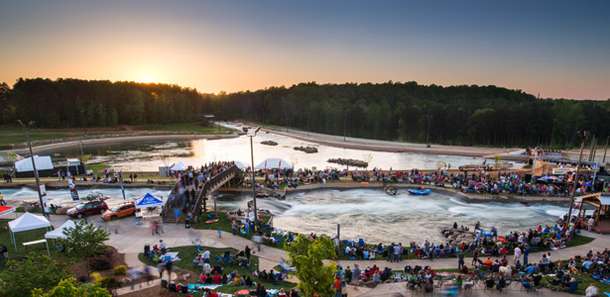 Get your calendars out now, Charlotte. You'll need them this weekend with the long list of events in Charlotte. From Father's Day markets to a super hero bar crawl to a comic book convention, this is one of those weekends that makes you realize Charlotte really does have a lot. See y'all out there!
P.S. If you haven't read our piece on the Orlando massacre and what it meant for Charlotte's gay community and its nightlife, read it here. You'll be glad you did.
Thursday, June 16
Lunchtime Jazz Concerts
As part of the Queen City Jazz Fest, there are four free lunchtime jazz concerts for you, all from 11:30 a.m. until 1:30 p.m. Grab some lunch and listen to live jazz music during lunch. The locations of the concerts are: Charlotte Government Center, 600 E. Fourth St; Wells Fargo Plaza, 301 S. College St.; Polk Park, 105 N. Tryon St. and the Father's Day Pop-Up Market, 212 S. Tryon St.
Friday, June 17
Father's Day Pop-Up Shop
Don't forget Dad! Father's Day is Sunday, and this pop-up shop features unique, artisan-made gifts for dads of all kinds from at least seven different vendors. The Father's Day market runs from Wednesday to today, 11 a.m. until 5 p.m., at 212 S. Tryon St. There is no admission fee.
Heroes Convention
Attention all comic book lovers! The city's annual comic book convention is this weekend, and it has a long list of special guests this year. A three-day pass to the comic book convention at the Charlotte Convention Center, 501 S. College St., costs about $42. Buy it here.
Petey Pablo at Suite
Remember "Freek-a-Leek"? Well, Petey Pablo is still around, and he's coming to Suite tonight. Doors open at 9:30 p.m., and tickets cost about $12. Buy them here and get ready to "Freek-a-Leek," of course. Suite is at 210 E. Trade St.
Saturday, June 18
Art & Soul of South End
It's looking to be a beautiful weekend in this beautiful city of ours, and South End wants to you to celebrate. From 2 p.m. until 10 p.m., this free neighborhood festival will feature the Carolina Food Truck Chow Down, a food truck rally featuring about 15 food trucks. Judges will decide which food truck goes home with $7,500 and everyone else gets a chance to name the People's Choice winner. The festival also includes a free craft brewery trolley tour, a live music stage, an "artist alley" and more. The food truck rally is on Camden Road from South Tryon Street to Tremont Avenue.
Brew Stash Bash
Now in its fifth year, the U.S. National Whitewater Center brings together the outdoors and beer today (isn't that every day for the Whitewater Center?). A sample card, which buys you four four-ounce samples, costs $6. There's also breakfast that starts at 9 a.m. and costs $15. The beer sampling and live music, though, get underway at 1 p.m. and lasts until 6 p.m. More than 30 breweries will be on hand today at 5000 Whitewater Center Parkway. For more information, go here.
Queen City Jazz Fest
If Thursday's lunchtime concerts weren't enough for you, you're in luck. The Jazz Fest continues tonight at the Charlotte Metro Credit Union with a concert featuring at least five live acts. The doors open at 5:30 p.m., and the show begins at 6:30 p.m. at 1000 NC Music Factory Blvd. To purchase tickets, call 1-800-745-3000.
VTGCLT Summer Market
Usually at The Fillmore, this semi-annual collection of vintage goods and hipsters takes to the old Goodyear building today, 514 N. College St. Aside from all the wonderful vintage items you can pick up for dad before Father's Day Sunday, The Daily Press, Legion Brewing, Hiya food truck, Hart's Soda Shop, Viva Raw, King of Pops and Bleu Barn Bistro will all be on hand. The market runs from 11 a.m. until 6 p.m., and there is no admission fee unless you want early-bird access at 10 a.m. for an extra $5.
Unknown Brewing 2.5 Year Anniversary and Music Festival
Here's an excuse to party we've never seen before. Celebrate Unknown Brewing's 2 ½ year anniversary with five live bands, three food trucks and, of course, local beer. There's also rumored to be…tricycle races. An $11 ticket gets you in the door at 1327 S. Mint St. Buy tickets here.
Super Hero Bar Crawl
Grab your cape and mask and get ready to fly: the fifth annual Super Hero Bar Crawl is here. Registration is from 5 p.m. until 6:30 p.m. at Fitzgerald's, 201 E. Fifth St. From there, you and your gang of crime-fighting super heroes will go to Flight, Connolly's, The Local, SIP, Prohibition, Ri Ra, TILT and Roxbury (all with free entry with a ticket). Throw down about $17 for a ticket, and you'll be on your way.
Sunday, June 19
Father's Day at Tabor
Take that special man (Dad) in your life to Tabor, 421 Providence Road, today for free shoe shining, Sycamore Brewing beer tasting from 2 p.m. until 4 p.m. and Not Just Coffee beverages from 8:30 a.m. until 3:30 p.m. Happy Father's Day!
Charlotte Symphony Summer Pops
Celebrate Father's Day to the sounds of all of your favorite John Williams movie scores, including "Jurassic Park," "ET," "Superman," "Star Wars" and more. Bring along a picnic basket for Dad, too. The gates open at 5 p.m., and the concert begins at 7 p.m. at Symphony Park, 4400 Sharon Road. Tickets cost $12. Buy them here.
Verify dates, times, prices, and other info at the web addresses listed for each event.
Be sure to bookmark www.charlottemagazine.com/Blogs/Dusk-Till-Dawn to stay plugged into Charlotte's nightlife and social scene. Click here to sign up to receive the weekly Dusk Till Dawn e-newsletter.
Want your event featured in Dusk Till Dawn? Follow me on Twitter @Jared_misner and let me know about your event, or send me an email at dusktilldawnblog@gmail.com.
Send Jared an email at DuskTillDawnblog@gmail.com, or send him a tweet @Jared_Misner.

Also by Jared Misner:

→This Weekend's Social Events
→Bowling For Books, First Friday Fort Mill, Electric Luau Party, Soulmatic Carolina Music Fest and More, Aug. 6 to Aug. 9
→The Moon Walk, Candy Fest, Silly String Party, Booze Cruise and More, July 30 to Aug. 2
→Christmas in July, More Christmas in July, National Dance Day, National Tequila Day and More, July 23 to July 26