Bridal registry idea: Depositagift.com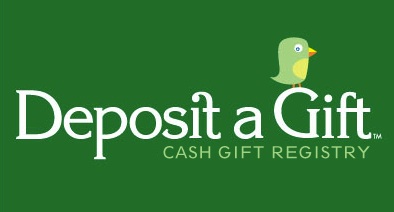 Sure, you'll want a new set of china, new sheets that aren't the ones you've been sleeping on since college, and some new towels (monogrammed with your new initials, perhaps?), but do you really need another coffee pot?
Brides and grooms looking to register for items a little different and non-traditional should check out depositagift.com. At depositagift.com, couples can register for cash for a down payment on their first home, funds for their honeymoon in Europe, or a donation in honor of their guests to their favorite charity.
It's seriously simple, too, (and less tacky than straight-up asking for cash):
Brides + Grooms make a gift registry (no scan gun involved!) of anything from cribs for your first nursery, honeymoons, first home, or even home improvements on the abode you already own.
Guests log on to choose one of your gifts to purchase within their budget and price point. The money gets deposited into your (that's you, bride and groom!) gift account. (Your guests don't have to write a check and they will know they aren't spending money on a blender you'll never use or return.)
When you're ready to spend the money, you'll cash out your gifts in the form of a check, VISA gift card, or direct deposit.
See? So easy and no customer service return line required. (And no need to explain to Aunt Patricia that you can't seem to find the casserole dish she gave you that doesn't match a single dish in your home because you returned it for a new pair of earrings.)