Bride idea: Send off with wish lanterns
The best send off for the bride and groom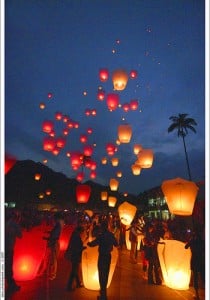 I'm seeing these Thai Wish Lanterns quite a bit on television lately (namely in "The Hangover II" and on this season's "The Bachelorette") and I'm beginning to think it's a must for any wedding this fall.
I found some Thai Wish lanterns in Charlotte when I picked up my takeout from Akahana Asian Bistro in Plaza Midwood on Friday night. Wish Lantern offers a bunch that we love.
That sure beats the sparklers, confetti, rice-throwing, bubble-blowing traditions for any wedding event, no?
What creative way(s) have you thought about or decided to do with your send-off?