Bright Blessings: Parties with Purpose
A local nonprofit offers the chance to celebrate and help others at the same time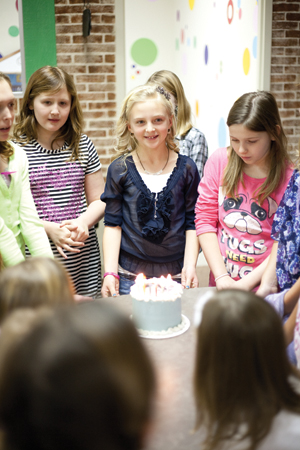 Nine-year-old Madison Claudy wanted something different for her birthday this year. She wanted to have a party with a purpose. Madison was among the first Charlotte celebrants to do just that with a nonprofit called Bright Blessings.
Matthews resident Amy Cervantes founded Bright Blessings to help throw birthday parties for kids living in homeless shelters. Last spring the charity moved into the Giving Village, a 4,000-square-foot space near Presbyterian Hospital Matthews, which houses its offices, workspaces, and event space.
The parties "are service-focused celebrations," Cervantes says, "and the party activities are coordinated based on the ages of participants and our program needs at the time of the party." So far, she says, a popular party activity has been "Fill a Fun Box"—creating a personalized gift set for a homeless child. Madison invited seventeen of her friends, and they all created art to give to homeless children.
There have been about two-dozen parties so far. They include decorations and goodie bags and require a $100 donation to Bright Blessings. Madison loved her party so much that she and her mother, Claudy, are now regular volunteers at the Giving Village. More information is at brightblessingsusa.org.