Bright Whites and Bold Patterns in Eastover
An Eastover home mixes traditional and modern for one-of-a-kind design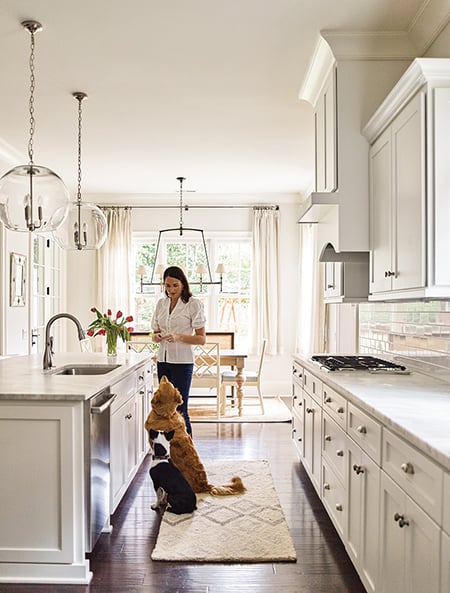 IN 2012, John and Jen McAuley sold their brick ranch in Cotswold and started searching for a new home while living in a rental property. After they had toured countless houses without making an offer, a friend encouraged them to build, not buy, their new home.
"We liked the idea of a new house in an older neighborhood," Jen says. "To get that, building made a lot of sense."
The McAuleys bought a vacant lot in Eastover later that year and contracted with Simonini Builders to build a home that could meet their current needs and accommodate their family as their children, now six and eight, grew up. They selected a floor plan with 4,000 square feet of living space, including four bedrooms and four bathrooms, and construction began in 2013.
"We liked this plan because it had a simple layout that flowed well," Jen explains. "We knew we didn't want a whole lot of rooms we'd never use."
From the moment the builders broke ground, there were decisions to make.
During construction, Caroline Brackett, principal designer and founder of CBB Interiors, made recommendations for construction finishes, paint colors, light fixtures, and other design elements. Once construction was complete, Brackett used her design expertise to help the couple choose furniture and accessories and coordinate the interior design.
Some of the biggest challenges of designing a home from scratch, Brackett says, are "making the hundreds of selections, big and small, and ensuring they are going to achieve the look you desire—and having the vision to ensure the finished project is going to be cohesive."
Throughout the home, Jen mixed pieces she already owned with discoveries from local retailers and designer pieces. The result is a home that is both casual and luxe.
In the formal living room, a sofa and chairs from the McAuleys' former home are paired with a hand-me-down rug from a friend and a nature-inspired brass chandelier that complements the sconces hanging over the sofa. Brackett chose a pair of stools with antique brass bases and animal print fabrics to flank an iron-and-glass console table—a pick Jen wasn't sure about.
"My style is more matchy-matchy; Caroline is good about helping me think outside the box," Jen says. "The stools are different and unique, but still comfortable, and they look great."
"The leopard print on the benches keeps the room from being too serious or stuffy," Brackett says. "By taking chances and throwing in the unexpected, the rooms end up feeling more interesting and unique."
McAuley also had reservations about the bold, patterned wallpaper that Brackett chose for the dining room. Her fear: The print would be too overwhelming for the space.
She trusted the designer's judgment, though, and paired with the crisp, white wainscoting on the lower half of the wall, a woven jute rug, and traditional furnishings, the wallpaper makes the perfect statement.
"I think the wallpaper is really special," Brackett says. "I love traditional elements mixed with more modern items."
Like most families, the McAuleys spend a lot of time in the great room.
They eat in the kitchen, which has white cabinets, honed marble countertops, and glass light fixtures. It's both elegant and livable.
A quartet of barstools covered in white leather with metallic accents provides a kid-friendly space for breakfast and snacks, while a wooden table paired with four white Chippendale chairs and a bench provide a fitting place for informal family meals.
In the adjacent family room, a traditional sofa covered in a neutral, woven-wool fabric is accompanied by linen swivel chairs. Each is comfortable enough to sink into for movie night, and—paired with velvet tufted stools and a vinyl cocktail table with wooden inset tray—the room is still chic enough for entertaining.
"It's traditional, with a restrained edginess to it," Brackett explains. "It feels very classic and comfortable, but current at the same time."
An area rug with a subtle geometric print in a blend of cream, tan, and light blue was the first piece in the room, and its inspiration. McAuley admits that neutrals were a bold choice for a home with two small kids and two active dogs. Fabric protection, she jokes, was a worthwhile investment.
"It's my favorite room in the house," Jen says.
The home also has a mudroom, office, playroom, and full bathroom on the main floor.
Upstairs, the guest room feels like an upscale hotel room. It has an iron bedframe topped with neutral bedding, a pair of gray, three-drawer nightstands, and a tufted bench at the foot of the bed. A mirrored desk and chandelier add a touch of sparkle.
Less than two years after moving in, the McAuleys are still finishing their master bedroom. The bed, with its tufted headboard, is flanked by chests of drawers with a geometric print. An upholstered bench sits at the foot of the bed, and Jen hopes to complement it with a pair of chairs in front of the windows.
There is still artwork to hang, landscaping to upgrade, and future projects, including building a detached garage, to consider. In the meantime, McAuley is enjoying the space and believes building a home was the right choice for her family.
"The location was very important to us," she says. "Having a house that is perfect for us in a location we love is the best of both worlds."