Bringing Down the Curtain
'People are finally getting the message that voting matters'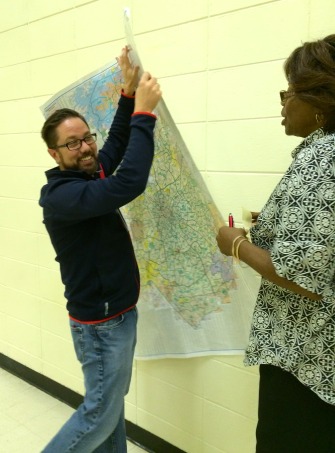 Closing time: Kelly Hall, the chief judge at Precinct 30, started rolling up posters and maps within a few minutes after the polls closed at 7:30 this evening. The day had been long, of course, starting with a few early risers lined up outside the Plaza Road Pre-Kindergarten Center gym when it opened for voting at 6:30 a.m.
But then they kept coming, and coming. "It's been busy, busy, from the very beginning. (Turnout) exceeded all expectations," said Hall, a 45-year-old Bank of America vice president who's served as a chief judge here since 2010. "We had huge lines all through the morning, then it died down a little bit after noon, then it picked up again around 4:30, and it's been steady ever since." He estimated some voters had to wait as long as 45 minutes, and people were lined up right up until the polls closed.
As was the case in University City, population growth and the end of straight-ticket voting likely contributed to the lines; the registered voter population of the precinct, which includes part of NoDa, has risen from 2,186 four years ago to 2,740 now. Turnout in 2010, the last midterm year, was a little more than 30 percent. This year, Hall guessed, turnout will be "close to 40 percent, which is pretty good for us."
Why? Hall had another educated guess.
"People are finally getting the message that voting matters."