Brittney & Marvin
March 15, 2014: Bella Sala, Iowa City, Iowa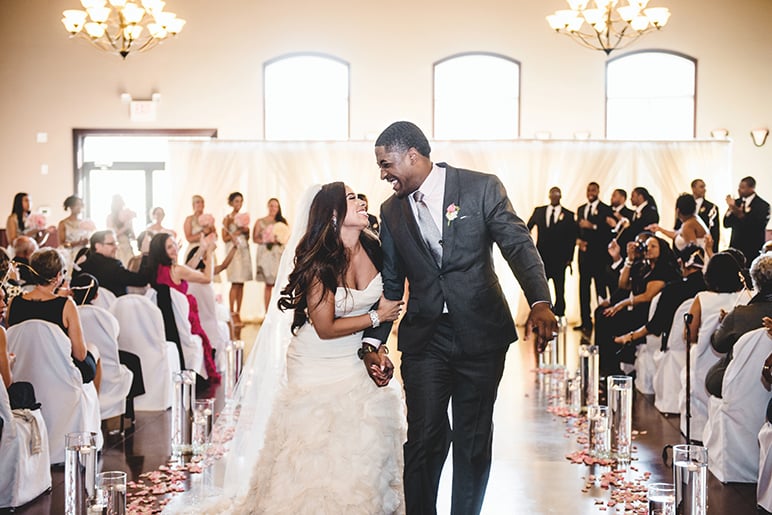 Photographs by Amanda Basteen
When Marvin McNutt and Brittney Brown said their vows, they didn't just become husband and wife; they became a family. The groom, who signed with the Carolina Panthers as a wide receiver last fall, walked up the aisle to greet his two new daughters, Paris and Sophia, where he gave them rings and promised to always love and support them. "There wasn't a dry eye in the room," says Brittney.
With the guest list topping 300, the bride was hard-pressed to keep the feel of the wedding intimate and personal, but the rose-petal-and-candlelight ceremony at Bella Sala in Iowa City, Iowa, looked like a dream. The bride's grandfather walked her down the aisle, where Marvin's godfather officiated. "My grandfather said how proud he and my grandmother were of me and how much they trusted my relationship," says Brittney. "Hearing that and seeing Marvin with Paris and Sophia gave me all the clarity I needed … I felt like I was walking into my future."
The blush-pink and antique-gold reception offered comfort food and romantic décor—gold Chiavari chairs, pink and gold linens, soft blush flowers, and a sequined cake. But there was plenty of fun too, with gold footballs, blue Air Jordans, and a custom bobblehead cake topper. After a sparkler sendoff, the pair left for a Cancun honeymoon to swim with dolphins and feast on lobster.