Brooklyn Decker Gets FUGGED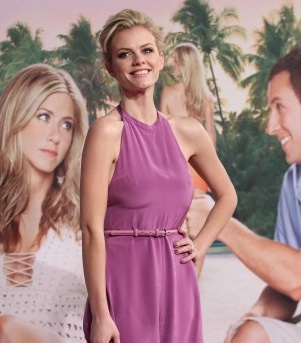 In case you haven't been tracking Brooklyn Decker's every move (or in case you got distracted by her, uh, other assets and accomplishments), then allow me to fill you in: she's co-starring in a movie with Adam Sandler and Jennifer Aniston entitled "Just Go With It." One of the upsides to being a newly-minted movie star is that people are anxiously awaiting your first few appearances on the movie premiere red carpet. The downside, of course, is that as soon as you step foot on that scarlet rug, you risk the WRATH OF THE FUG GIRLS.
Now, the Fug Girls (www.gofugyourself.com) are maybe my two favorite people on the entire internet (read a few entries and you'll understand why), but when I saw Brooklyn's beautiful face on pop up on their home page today I immediately felt protective. How dare they mock and critique the infallible beauty of our homegrown supermodel! But then, I clicked. And I saw. Oh, Brooklyn. No one, not even one as shockingly gorgeous as you, should wear a formal jumpsuit. Ever. However, I would like to note that that color is gorgeous on you.
Speaking of the color, I wonder where she got the idea to pair vibrant purple with bright red heels? (Hint: Check out photo #3.)
What do you think of Brooklyn's red carpet ensemble?