Brooklyn's Last Stand: Original McCrorey YMCA Wins Historical Designation
It was a cornerstone of the long-gone Black neighborhood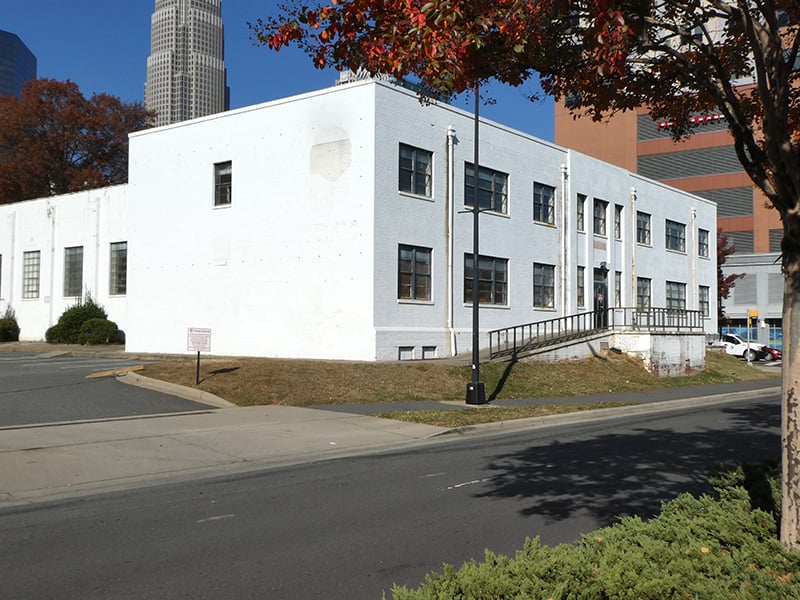 Only a handful of buildings survived the bulldozing of Charlotte's Brooklyn neighborhood in the 1960s. One of four that remain—and the last to win local historic designation—is the original McCrorey YMCA at 334 S. Caldwell St., a community hub for the Black neighborhood until urban renewal forced it and many of its patrons to move.
The old Y, long vacant, won historic designation in 2021 from the Charlotte-Mecklenburg Historic Landmarks Commission. The designation means that the commission could, if need be, delay demolition for as long as a year. But the owner, a private developer, hasn't announced any plans. One hopes the building will share the happy fate of the three other survivors, all landmarked and handsomely renovated: Grace AME Zion Church and the adjacent Mecklenburg Investment Company office building on South Brevard Street, as well as the Second Ward High School Gymnasium on East Martin Luther King Jr. Boulevard.
The McCrorey Y opened in 1951, not just as a place for physical exercise but also an active community builder. That strain ran deep in the DNA of the Young Men's Christian Association movement. In an era when many youngsters were leaving rural life to try their luck in America's burgeoning cities, YMCAs offered classes, club meeting rooms, and educational programs as well as "manly" athletics.
But Charlotte's white YMCA, like others in segregated America, excluded Black people. So African Americans started their own organization. Charlotte's first Black YMCA, in 1880, was a college branch at Biddle University, now Johnson C. Smith University. A separate branch opened in 1897. It offered activities in borrowed spaces and rented a building in Brooklyn in 1937.
Brooklyn was the bustling center of Black life in Charlotte. Deed restrictions barred Black residents from Charlotte's new "streetcar suburbs" starting around 1900. So African Americans established churches, schools, shops, offices, and more—their own city-within-the-city—in Second Ward, what's now the area that surrounds the Government Center. Houses sprang up, some owner-occupied but many built cheaply by absentee landlords. Residents of every economic level mingled in the streets.
For decades, Black advocates had yearned to vacate the YMCA branches in borrowed and rented spaces and move into a Y built to be a Y. They used post-World War II prosperity as leverage and convinced white Y leaders to join them in raising money for a new building. Highly respected architect Louis Asbury, who designed Myers Park Methodist Church and the old courthouse on East Trade Street, drew up plans for a two-story structure in the moderne style. The clean-cut design projected a no-nonsense, forward-looking appeal.
It honored the Rev. H.L. McCrorey, JCSU's president and the city's foremost Black leader in the mid-20th century. He secured impressive endowments that transformed Biddle University into JCSU and developed the suburb of McCrorey Heights out of his concern for Black life off campus.
The McCrorey YMCA opened April 15, 1951, with speeches, prayer, and song. White leaders, including Charlotte Pipe & Foundry CEO W. Frank Dowd and real estate developer J.H. Perrin, and institutions like Wachovia Bank had endowed meeting rooms. Black social clubs and the Prince Hall Masons had paid to furnish and decorate offices and public spaces. All attendees joined voices in the hymn "How Firm a Foundation," and McCrorey himself gave the benediction.
The McCrorey Y quickly became a community hub, promoting civil rights as it championed healthy living. The NAACP met there. Jackie Robinson spoke at a fundraiser. When African Americans sued to desegregate Charlotte's public golf course in 1951, the McCrorey Y offered golf classes in anticipation of victory—which came with a court ruling four years later. During the sit-in protests of the early 1960s, Mayor Stan Brookshire went there to take part in community discussions.
Then came urban renewal. Federal grants promised "slum clearance" in Brooklyn. But the bulldozers destroyed everything, the good along with the bad: 1,007 families displaced, 216 businesses closed. With no one left nearby, the McCrorey YMCA reluctantly departed in 1969 for Beatties Ford Road, where it flourishes today.
Building History is a monthly series that highlights Charlotte's historic buildings. Tom Hanchett, a local historian since 1981, is the author of Sorting Out the New South City: Race, Class, and Urban Development in Charlotte and former staff historian at the Levine Museum of the New South. Follow him on Twitter at @historysouth.