Brothers In Beef: Brooks' Sandwich House
In NoDa, twins David and Scott Brooks serve the same burgers and chili their dad did more than 40 years ago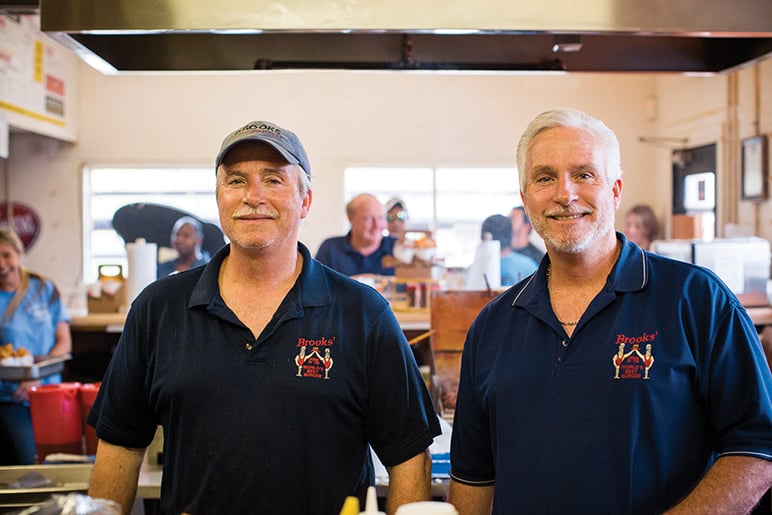 At noon on a Thursday, the gravel parking lot of a tiny cinderblock hamburger joint in NoDa is packed with everything from BMWs to work trucks. Elderly couples sit inside their cars, gingerly eating burgers with both hands. Clusters of men in work boots and dusty jeans inhale double cheeseburgers and chili cheese fries under a community awning, while businessmen in suits await their orders.
Brooks' Sandwich House is a madhouse. Scott Brooks, half of the ownership duo that includes his brother David, calls it "rock and roll." Looking into the restaurant's only walk-up window, through the iron bars nailed to the building, David Brooks is well into lunch service. He tips his hat up and opens his eyes wide as he tends to 16 sizzling patties on the grill.
The 41-year-old institution is just off North Brevard Street near the railroad tracks, which eventually will become the light rail extension. A neighboring defunct hosiery mill was reborn as an apartment complex. Old buildings have been demolished for new ones, mill houses replaced by bungalows at more than double the price. Much has changed in the neighborhood formerly known as North Charlotte. At Brooks', though, the burger remains the same.
Three dollars and fifty cents will buy a cheeseburger "all the way"—one beef patty, smashed on the flat top, with cheese, Brooks' signature chili, yellow mustard, and diced, white onions. Add a side of wedge-cut fries for a total of just five dollars.
Food like that was the stuff of weekends when David and Scott were growing up. C.T. Brooks, the patriarch of the operation and the twins' father, painted cars for 20 years before opening the burger joint in March 1973. Lawrence Welk ruled the television set, and David and Scott were just teenagers.
Those teenagers grew up to have silver-white hair. Their blue eyes are the same, and the only difference between them at first glance is the presence or absence of a baseball cap. That's because whoever wears the hat grills the meat.
Since day one, the burgers have been made one at a time, by hand, David says. Besides the burgers, the homemade chili, a secret recipe perfected and passed down to them by their father, is king. Patrons buy it by the pound to put on everything. In a typical day, the brothers prepare about eight pots of chili, at least 300 burgers, and another 150 hot dogs.
Most days, David's 18-year-old daughter, Lauren, runs the front counter. She's excited to become the third generation and first female to run Brooks' Sandwich House—and she still is not privy to the chili recipe.
"He [C.T.] had a little saucepot where he worked on his chili recipe, and we knew on Saturday night for certain, Daddy was gonna cook hamburgers and chili," David says. "That's what we always looked forward to as kids."
C.T. Brooks, now 87, took a chance on a piece of property in what was once a crime-ridden area of town. Zoning laws allowed for a structure just big enough for a walk-up counter and the necessary kitchen equipment. That structure still stands today, a testament to the Brooks' philosophy: "If it ain't broke, don't fix it."
"We've done this for 41 years, so apparently we've done something right," David says. "It's worked up until this point, and I'm certainly not gon' change that."