Bubblyfest III, Whiskey Warehouse Turns Five, Panthers Playoff Watch Parties, Al Jefferson's Birthday Celebration, and More – Jan. 9-11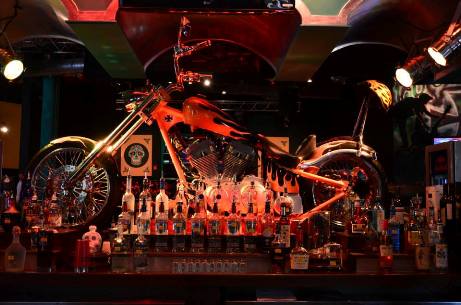 The weather's been cold. This is the end of the first full week of the year. Time to come out of hibernation and heat up at one of this weekend's social events.
Friday, January 9
Wine & Dance (Friday and Saturday)
This annual, two-night event pairs professional dance with a wine tasting, as Charlotte choreographers unite. 7:30 p.m. $20 in advance. The Chop Shop NoDa, 399 E. 35th St., facebook.com/wineanddance.
January Birthday Club
If your birthday is this month, you're invited to come celebrate, where you'll receive a $20 gift card and you and your friends will receive birthday drink specials. 8-10 p.m. RSVP to party@whiskyrivercharlotte.com. Whisky River, at EpiCentre, 210 E. Trade St., whiskyrivercharlotte.com.
Bubblyfest III
Uptown's champagne lounge presents the next edition of its quarterly tribute to the bubbly drink. Enjoy five samples from some great brands. 8:30-10:30 p.m. $50; must be purchased in advance. Bubble Charlotte, at EpiCentre, 210 E. Trade St., bubblyfestiii.eventbrite.com.
Whiskey Warehouse's Fifth Birthday Party
This Plaza Midwood hotspot is turning five years old, and will feature music, $2 Miller Lite bottles, $3 birthday cake shots, and $5 cupcake shots. Drink specials available all day; party, 9 p.m.-2 a.m. Whiskey Warehouse, 1221 The Plaza, whiskeywarehouse.com.
Social Fridays (weekly event)
The weekly party rolls into its second month, with music by DJ Will DC, hosted by Joel Silverio, and featuring drink specials. 10 p.m.-2 a.m. Free admission. Texicali Taco & Tequila Bar, 900 NC Music Factory Blvd., texicalicharlotte.com.
Saturday, January 10
Third Annual Flip Your Gift Party
If you received a gift you don't like or want, here's your chance to swap it out and have fun doing it. Simone McDowell of HoneeBee Gifts hosts this annual gift exchange, which also features pop-up shops, food, and drinks. 11 a.m.-1 p.m.; visit link for schedule and instructions. General admission, free; VIP, includes gift bag, $10. Hydrate Medical, 228 East Blvd., flipyourgift.eventbrite.com.
Art, Wine and Desserts
ArtWineDown and Southern Cake Queen present an evening of wine tasting, desserts, and mature, artsy fun. Instructor Cathay Dawkins will lead your painting lesson. 6-8 p.m. $35; $60 for couples. The Last Word, 230 E. W.T. Harris Blvd., artwineanddesserts.eventbrite.com.
Carolina Panthers vs. Seattle Seahawks
A month ago, who would've predicted the Panthers would be playing in the second round of the NFL playoffs? But here we are! The team visits Seattle on Saturday, and game time is 8:15 p.m.
Where to Watch the Game
@ All American Pub, 200 E. Bland St., facebook.com/allamericanpub.
@ Angry Ale's, 1518 Montford Dr., facebook.com/angryalesmofo.
@ Dilworth Grille, 911 E. Morehead St., dilworthgrille.com.
@ Draught, 601 S. Cedar St., facebook.com/thecansrecycled.
@ Fox and Hound: Ballantyne, 15235 John J. Delaney Dr., facebook.com/fox.hound.ballantyne; Northlake, 9325 Center
Lake Dr., facebook.com/foxandhoundnorthlake.
@ Hickory Tavern, at Metropolitan, 1100 Metropolitan Ave., facebook.com/ht.metropolitan.
@ The Men's Club of Charlotte, 444 Tyvola Rd., mensclub.com/charlotte-mens-club.
@ Sports One Bar & Lounge, 521 N. College St., sportsoneclt.com.
@ StrikeCity, at EpiCentre, 210 E. Trade St., strikecitycharlotte.com.
Signature Saturdays
Taking place the second and last Saturday of every month, this edition will feature live jazz by 5th & York and music from DJ 360, and will show the Panthers playoff game on a big screen. Drink specials include $6 martinis and $99 Moët bottles, and the food menu is available until midnight. Presented by Eddietainment. 9 p.m.-2 a.m. Free admission before midnight; VIP tables available. Vapiano, 201 S. Tryon St., facebook.com/vapianoclt, eddietainment.com.
Late Night Saturdays (weekly event)
Keep your night going in South End, with music by DJ BWillacker, drink specials include select $2 beers and $4 vodka cocktails, plus the late-night food menu will be available. 10 p.m.-2 a.m. Free admission. Nan and Byron's, 1714 South Blvd., nanandbyrons.com.
Uptown Saturday Night: Capricorn Season
If your zodiac sign is Capricorn, this nightclub is offering you a free VIP table on this night. Music by DJ CA. 10 p.m.-2 a.m. Admission cost varies; RSVP for free table, 704-277-0855. Vanity Charlotte, 500 W. Fifth St., vanitycharlotte.com.
Sunday, January 11
Martini & Poetry Sunday
Take in an entertaining Sunday evening, featuring performances by the Rebirth Band, an open mic, poetry, spoken word, and singers. Hosted by Queen Sheba. 6-11 p.m. $5. Sydney's Martini and Wine Bar, 401 N. Tryon St., martinis-poetryclt.eventbrite.com.
Sunday Fundae (weekly event)
Different guest bartenders are featured each week, serving great drink specials, and there are games such as beer pong and cornhole. Plus, DJs Wiggz-n-Wonz (beginning at 10 p.m.) get the dance party going. 8 p.m.-2 a.m. Free admission. Prohibition, 200 N. Tryon St., prohibitionclt.com.
Al Jefferson's Birthday Celebration, Hosted by R. Kelly

The Charlotte Hornets star is celebrating his birthday, and will be joined by music legend R. Kelly and TV and radio personality Big Tigger. 10 p.m.-2 a.m. General admission in advance: women, $15; men, $20. Label, 900 NC Music Factory Blvd., labelcharlotte.com.
[photo credit: Label]
Mark Your Calendar
Thursday, January 15
Dusk Till Dawn Social Series
Are you ready for the next edition of #DTDsocial? This time Charlotte magazine invites you to South End hotspot Nan & Byron's for an evening of mixing, mingling, drink specials, and complimentary appetizers. 5:30-7:30 p.m. Free admission; RSVP requested. Nan and Byron's, 1714 South Blvd., www.charlottemagazine.com/DTDSocialSeries.
Verify dates, times, prices, and other info at the web addresses listed for each event.
Be sure to bookmark www.charlottemagazine.com/Blogs/Dusk-Till-Dawn to stay plugged into Charlotte's nightlife and social scene. Click here to sign up to receive the weekly Dusk Till Dawn e-newsletter. Follow me on Twitter @HollidayInk; email me at jarvish@grownpeopletalking.com.