Bubblyfest, Moo and Brew Craft Beer and Burger Festival, Zombie Bar Crawl, Bands For Bullies and More, April 9 – April 12
Enjoy craft beers, paint your face like a zombie or bring your pit bull out to play this weekend, Charlotte. Looks like another great weekend here in the Queen City.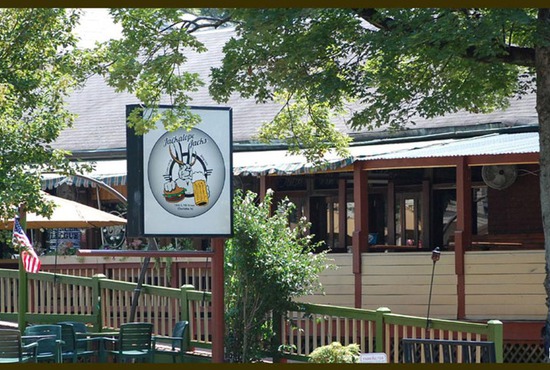 This weekend in the Queen City finds us having a killer time dressed as zombies, celebrating our pit bulls and downing drinks at Bubblyfest. Of course, there's a whole lot more if dressing like the undead isn't your style. Have a great one, Charlotte, and see y'all out there.
Thursday, April 9
Drag-Tacular
Featuring an evening of some of Charlotte's best drag queens, this event is sure to be "drag-tacular." Doors open at 7 p.m., and the show begins at 8 p.m. The party's at the Visulite Theatre at 1615 Elizabeth Ave. Tickets are $5 at the door.
R&B Live Thursday
Join Studio Movie Grill in the EpiCentre tonight for an evening of great live music after a long day of work. Doors open at 9 p.m., and tickets are $10. The evening is at 210 E. Trade St. Buy tickets here.
Friday, April 10
Bubblyfest
If Prosecco's your poison, this one's for you. A $30 ticket buys you entrance into the event and five samplings and music from a local DJ. Doors open at 8:30 p.m. Bubble is at 210 E. Trade St. Buy tickets here.
Aries Bash
If you're an Aries, tonight's your night. All Aries get in for free before midnight, and tickets cost $15 for everyone else. Music from Reggaeboyz will keep you jamming all night long. The party is at Mynt Restaurant and Lounge, 1508 S. Mint St. Buy tickets here.
Spring Fling Paint Party
Come get down and dirty at this paint party. Partygoers should come in white and be ready to leave covered in paint. Doors open at 9 p.m., and admission is free before 11 p.m. with an RSVP. BAR Charlotte is at 300 N. College St. RSVP here.
'70, '80s, '90s Dance Party
Request your favorite groovy tune and learn some line dancing along the way. At this request-only dance party with music from the final three decades of the last millennium, you'll be sure to turn back the clock and get your groove on. Additionally, line dancing lessons begin at 8 p.m. with the party starting at 9 p.m. Tickets are $6. Your night is at Lynn's Dance Club, 4819 S. Tryon St.
Saturday, April 11
Moo and Brew Craft Beer and Burger Festival
With more than 40 breweries sampling their beers and local restaurants vying for the title of best burger, Charlotteans will have the chance to eat and drink the best burgers and brews in the city while enjoying live music. General admission begins at 2 p.m. at 1000 NC Music Factory Blvd. Tickets are $45, and you can buy them here.
Zombie Bar Crawl
The undead will walk the streets of Charlotte tonight. For the third year, the Zombie Bar Crawl takes over Uptown's bars. No worries on doing your zombie makeup. Starting at 6 p.m., free zombie makeup artists will be on hand at Tilt on Trade to make you look as hideously dead as possible. Tickets to this killer event are $15 in advance or $20 the day of for "survivors," those without makeup, or $20 in advance and $25 the day of for the zombies with makeup. Tickets include entrance to all six participating zombie bars. Tilt on Trade is at 127 W. Trade St. Buy your ticket here.
Bands For Bullies
This festival, which benefits the American Pit Bull Foundation and Running For Rescues, is three hours of bands, a corn hole tournament, beer and raffles. A $20 ticket gets you entrance to the festival, a pint glass, a pint of beer and 25 percent off food. Register your corn hole team for an extra $40. The winning team gets $250, second place gets $100 and third place gets $50. The festival is at Jackalope Jacks, 1936 E. Seventh St. , from 2 p.m. until 9 p.m. Buy tickets here.
Masters Watch Party
Come watch the Southern golf classic on the roof at Whiskey Warehouse. This Plaza Midwood favorite will have $5 shot specials each for Tiger, Bubba and Mcllory. Whiskey Warehouse is at 1221 The Plaza. Doors open at 11 a.m. Free admission. Whiskeywarehouse.com
Sunday, April 12
I Am Fashion Hair and Fashion Show
Featuring the top salons and designers in the Queen City, this competition holds the promise of $1,000 for the best of the best. This is a fashion and hair show, so come dressed to impress. The event is from 3 p.m. until 6 p.m. at the Hilton Charlotte University Place at 8629 JM Keynes Drive. Buy tickets here.
Mark Your Calendar
Wednesday, April 15
Dusk Till Dawn Social Series
Are you ready for the next edition of #DTDsocial? Charlotte magazine invites you out after work to enjoy food and drinks with Charlotte's finest. This month's social gathering is at Blackfinn from 5:30 p.m. until 7:30 p.m. Free admission with RSVP requested. Blackfinn is in the EpiCentre at 210 E. Trade St. RSVP here.
Verify dates, times, prices, and other info at the web addresses listed for each event.
Be sure to bookmark www.charlottemagazine.com/Blogs/Dusk-Till-Dawn to stay plugged into Charlotte's nightlife and social scene. Click here to sign up to receive the weekly Dusk Till Dawn e-newsletter.
Want your event featured in Dusk Till Dawn? Follow me on Twitter @Jared_misner and let me know about your event, or send me an email at dusktilldawnblog@gmail.com.